Interview: Echo Lake
Producer/guitarist Thom Hill chats about the band's second album Era with Richard Lewis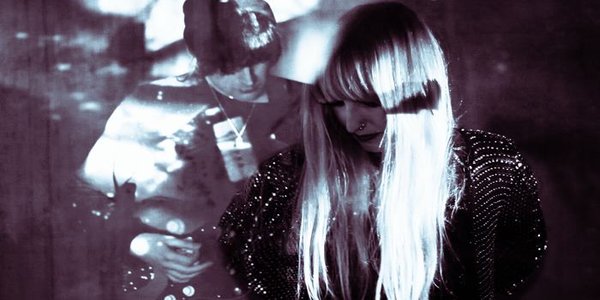 One of the most acclaimed UK debut albums released in 2012,
Wild Peace
saw London shoegazers
Echo Lake
garlanded with praise across the critical spectrum. Led by the stunning vocals of former choirgirl Linda Jarvis and producer/guitarist Thom Hill, the band honed in on a shimmering dream pop sound that mixed melody and shoegazing inventiveness in equal measure.
The LP however was surrounded by tragedy with the passing of drummer Peter Hayes at the age of twenty five, days before the album's release . Understandably taking time away from music to recover the band reconvened in early 2013 to begin work on what became stunning second album
Era
(
review
). A full two years in the making, the LP builds on the ethereal indie pop foundations of their debut and sees the band travelling deeper into psychedelia, with track lengths extended, looser song structures and a woozily hypnotic atmosphere throughout.
First question then, when the band began work on the LP did you expect it to take as long as it did to complete? 'No, we started recording it in January 2013!' Thom recalls. 'I can't speak for Linda but I thought it would be ready and out by the end of that year. I think it just got to the point where we had to let it go. I can get a bit obsessed with mixing and recording and eventually Misha (Hering, our producer) made the call, he said we could keep going forever but we might go past the stage of having the strongest mix and lose focus. I'm glad he did, I love the sound and it was the result of two years of really hard work'.
Given the circumstances that surrounded the release of the first LP how difficult was it re-adjust and start making music again following Peter Hayes' passing? 'It was very hard' the guitarist says. 'We took time out but we never really re-adjusted as such. In terms of making music it was pretty tough not having him around and to play new ideas to. Getting on with normal day to day stuff was the hardest thing, we were really good friends'.
From the title onwards ('Linda suggested
Era
and it just felt right. A fresh start maybe?' Thom suggests)
Era
stands as something of a definitive statement. 'For this record we purely just wanted to make a record that sounded timeless, in the sense that we didn't want people to be able to say that it sounded nineties or C86 inspired, like the last record' Thom explains. 'Linda and I don't really sit down and talk about influences and what sound we want to go for, it happens in a different way. The biggest influence was working with Misha in his studio and having him challenge us.
Wild Peace
was totally different, they were bedroom songs that Linda and I worked on separately until recording. This was way more collaborative'.
Given that the album involved much more co-operation in the writing process early on between Linda and Thom, much of the album was constructed in the studio. 'For this record we didn't really bother that much with demos' Thom explains. 'The only tracks that were built from a home recording into something more were 'Dröm' and 'Nothing Lasts', they were already quite old songs anyway. I found it quite hard to sit down and start recording new ideas after everything that happened with the last album, but I still had a lot of ideas floating in my head. I started trying to memorise the best ideas, like on the bus to work or walking home from somewhere and they eventually started to stick and I'd build them up. When we went in to the studio I knew what I wanted to record but I didn't know how to play most of it'.
Helmed at Holy Mountain Studios in Hackney, the sessions were the first time Echo Lake had worked in a professional studio. While there a groundbreaking piece of 1960s music technology suggested a new direction for the LP. 'Having access to the Mellotron was a turning point for the whole record' Thom says of Echo Lake's acquisition of the vintage proto-sampler used on psychedelic masterpieces by The Beatles and The Rolling Stones. 'Misha made the suggestion and the whole record completely changed shape and sound from that point. That was during the session for 'Sun' and by that point we had only recorded 'Waves', after that we sort of went for a more expansive and progressive sound. At first I thought we were going to write another ten dreamy pop songs, but after that moment we experimented a lot with vintage mics, synths, pedals, tape machines, analog tape delays, compressors and as a result I think we got a really rich sound'.
In addition to the band deliberately avoiding pre-production on the tracks, to bring an additional edge to the recording sessions many of the parts were written on the spot. 'When we recorded the drums with Dayo (James) and Seb (Truskolawski) they just had to play and they had no idea what the songs sounded like. Then I'd make everyone wait around for half an hour while I figured out a bass line or a guitar solo in my head and then we'd record the first good take, stuff like that' Thom recalls. 'I think it gave the overall sound a quite spontaneous feel because of that'.
With almost all of the tracks on
Wild Peace
clocking in around the four minute mark, several of the songs on
Era
extend far beyond this, with epic closer 'Heavy Dreaming' breaking the ten minute mark. Was it conscious move to push the envelope on the track lengths? 'Not really a decision we made to be honest' Thom explains. 'It went from being 10 or 11 shorter, more immediate songs to something much more loose. We just got into the habit of doing whatever we wanted in the studio and had the most fun just making drones. When we realised that (lead single) 'Waves' was something like seven minutes long, we thought that it might be a bit intense, but then just thought, fuck it. The same thing happened with 'Dröm', 'Era' and especially 'Heavy Dreaming'. That track was really fun, I just got Kier (Finnegan, guitarist) to play anything he wanted on guitar at the end of the track and I hit record, then I did the same and mixed our two solos together. It extended the song by about five minutes but it was really great to capture something that wasn't rehearsed and we decided that it had to be kept on the record'.
Its combined seven tracks running to classic one-side-of-a-C90-cassette-length, the initial version of the LP was significantly longer before revisions. 'The first draft of the album was over an hour, so yeah we had to knock a couple of songs off to cut it down a bit' Thom states. 'I think 45 minutes is enough, an hour would have been cool but also we've been away for three years, it's a bit much. And smug'.
While 'Sun' and 'Nothing Lasts' exemplify the band's fondness for immediate pop songs, the maximalist likes 'Waves' and 'Heavy Dreaming' showcase Echo Lake's journey into more expansive pastures, was it important to counterbalance these two elements on the LP? 'Yes, track listing is really important to the flow of the record and we wanted to make sure that the longer songs felt as easy to listen to as the shorter ones' the guitarist/producer says. 'I think the album is best listened to as a whole, so in the context of hearing it as one piece, we put a lot of thought into it. I think that lyrically, the album has a cool narrative, but that's a personal thing. I always think the best part of listening to a record is making your own interpretations'.
Forming the centerpiece of the LP, swooning eight minute reverie 'Dröm' initially began life outside of the band and ranks as the oldest song of the set. 'Dröm was the name of and first track from my side project to begin with. It was just before we released
Wild Peace
and I wanted to do something different' Thom recalls. 'Linda convinced me to use it for Echo Lake, I couldn't imagine it with vocals but she convinced me otherwise. I thought it would be really out of place for the album but actually I think it ties the whole thing together really well'.
'It wasn't influenced by Swedish bands' the guitarist explains referring to the title (Swedish for dream), 'but funnily enough I really got into stuff by bands like Dungen and GOAT during the
Era
recordings. Jeniferever were a big influence when I was growing up, I was really into post-rock stuff. It's just such a great word, when spelt out in capital letters. I just loved how it looks so mean and imposing but it's this really sweet, nice word'.
With the album finally out in the world following its lengthy gestation, the band are turning their attention to the stage, with a handful of shows in the offing and a tour later this year in the planning stages. In view of
Era
's colossal scope is it easy to transfer the material to the stage? 'No, we have to try and recreate this massive sound and there's only four of us, but I think we do it in a really cool way and make the most of what we can do' Thom states.
'It's different, we try to give our live performance its own thing, not trying to duplicate how the record sounds. I think that way it keeps the songs fresh for us too'.
Era is out now through No Pain in Pop
Echo Lake play live:
London (album launch show) Hoxton Bar Kitchen, 12th March
Birmingham (hometown launch show) Hare & Hounds, 19th March
Cardiff, Wales Goes Pop! Festival, 4th April,
Brighton, The Hope, 25th April