Interview: Cody ChesnuTT
Ben Wood chats to soulman Cody ChesnuTT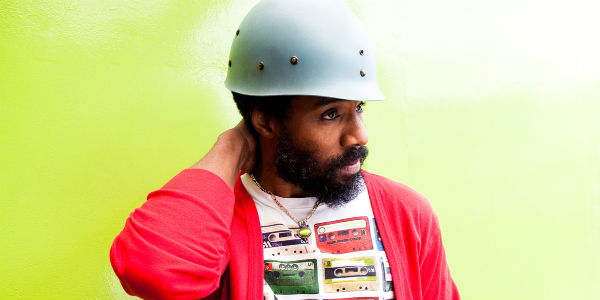 Soul man
Cody ChesnuTT
has made two of the finest records this millennium: 2002's sprawlingly eclectic double-album
The Headphone Masterpiece
and last year's long-awaited follow-up
Landing On a Hundred
. Before his barnstorming gig at London's Bush Hall, Cody talked to Bearded about his time out of the public eye; his super-soulful new sound; and just why he wears that helmet...
Nowadays, Cody ChesnuTT seems like a man at peace with himself. While his home-recorded debut album was a slice of self-indulgent lo-fi genius, its lyrics suggested a man living hard and slightly lost. Ten years later, Cody is a happily married father who is pleased to have put those days behind him. Chatting to
Bearded
in an office at Bush Hall, hooded and clasping a bottle of water, he looks like a boxer getting ready for his next fight. And he's making sure he's match-fit...
Cody and his band have been touring for weeks and he's conserving his energy for when it's needed. "It's very demanding on the body so the main thing is to get as much rest as possible," he says. He's an energetic frontman, and 90 minutes of old-school soul moves, while clad in an army helmet ("it's symbolism... it's representing me being a soldier in terms of the issues I'm dealing with"), will tire anyone out.
This time round, it's all about the singing for Cody: "I'm playing very little guitar on this tour. I'm really a rhythm guitarist anyway. Playing less helps free me up to express myself more on-stage." He certainly does that: the Bush Hall gig saw him conducting mass sing-a-longs, jumping into the audience and generally giving it absolutely everything. By the encore, clad in a towel, he looks happily spent.
Landing On a Hundred
is inspired by soul greats such as Marvin Gaye and Sam Cooke, and Cody reckons people are ready to respond to the grit and sincerity of proper, from the heart, soul music once more: "I believe we're at a point right now where people are demanding a little more out of the listening experience. There's only so much you can get out of computers. I don't think anything can compare to real human interaction. People want to feel the humanity."
Those who haven't heard from Cody since his debut album will encounter a changed man, one very aware of the significance of his lyrics and determined to communicate positive messages. He says: "I began to realise, after my last record [2002's
The Headphone Masterpiece
] just how impactful lyrics can be. At gigs, people would be reciting my lyrics word for word and I'd think 'Oh my God, it does matter what you say'. So, the time I took away, I tried to open myself up, to evolve as a person and an artist, and tried to be more conscious lyrically."
As a result, he's only playing the songs off his new record on this tour. He feels grateful that his fanbase has respected this decision, despite the love many have for his debut album: "Because my fans have been so supportive over the years, and my music has always been so personal, I try to have a personal conversation with them and let them know that things have changed: ten years have passed, I've grown, I've had a lot of different life experiences, and my music sincerely reflects that evolution. People understand that."
However, this stance may mellow slightly with time. While the likes of 'Bitch I'm Broke' won't be getting an airing any time soon, Cody says that "there are two or three songs, in terms of the tone, that would fit with the
LOAH
material." Watch this space...
The new record addresses issues such as the struggling economy, his pride in his African roots, the importance of marriage, the need to respect the women in your life, and the traps of the street-life. 'That's Still Mama', a lost Curtis Mayfield anthem if there ever was one, is one of several attempts he's made to recompense for the philandering, 'playa' attitude sprinkled throughout his first album.
The man who once sang, on 'The Seed', that "I only wanna fertilise another behind my lover's back", says: "I've made my own contribution to misogyny as well, and I have to own that. But becoming a parent, you start seeing things differently. I wanted to uplift the respect and raise the issues in terms of how our children are responding to authority in the household."
Graceful and effortlessly soulful, Cody's singing has attracted frequent comparisons to the great Marvin Gaye - though anyone who has seen him play live will know he is very much his own man. Does that annoy him? "I've heard it many times, and I have no problem with it whatsoever. When you're growing up, you have no idea why certain singers move you the way they do, but you internalise them.
"I've been around all these great artists all my life, so they're in me: Sam Cooke, Stevie Wonder... they're all part of my training in terms of how to express a certain emotion, a certain inflection. I remember how those things made me feel, and I always wanted to make sure that if I ever created anything musically, I wanted to feel the way those songs made me feel."
Landing On a Hundred
was recorded in the studio that Al Green used for his genius 70s' Hi recordings, and Cody has more sympathy with the artists of that era than most of today's performers. He explains: "I turn the radio on every now and again just to see what's going on, but that's about it. I'm expecting more out of music [than most modern artists are providing]. My uncle has just recorded me this amazing Billie Holiday collection. There's so much amazing stuff from the past, I'm not too bothered about what the industry is pumping out now."
This ambivalence is understandable - Cody's experience of the music industry has been a hard one. As a writer for hire for Death Row Records in the 90s (yes really), most of his tunes were turned down, though a ballad, 'Deliberation', finished up on the Tupac / Tim Roth film
Gridlock'd
. And his rock band The Crosswalk recorded an album for Hollywood Records which never saw the light of day. After such a bruising apprenticeship, it's no surprise that he decided to record
The Headphone Masterpiece
at home, where he could be as idiosyncratic, and personal, as he liked.
Over a decade on, Cody's not bitter about his hard apprenticeship in an industry notorious for eating up and spitting out talented artists: "I've come to terms with it. I treat the past as a lesson to be mindful of the choices you make."
Understandably, he now has little desire to chase fame and hit singles - it's all about making something that feels real, and touches people. Trying to write hits to order "never really worked for me. I just try to write what feels good... it's really not about having a catchy phrase: the feeling itself can be the hook. Just try to trust the feeling."
If you get the chance, you should do the same. This is one hot Chesnutt.