Cody ChesnuTT @ Bush Hall, London 18.03.13
Joyous return sees cult soul man knock us dead with stunning show as effects of personal rebirth are clear for all to see. If you love Marvin, Al, Stevie and Curtis, you'd have loved this.
Mar 18th, 2013 at Bush Hall, London / By
Ben Wood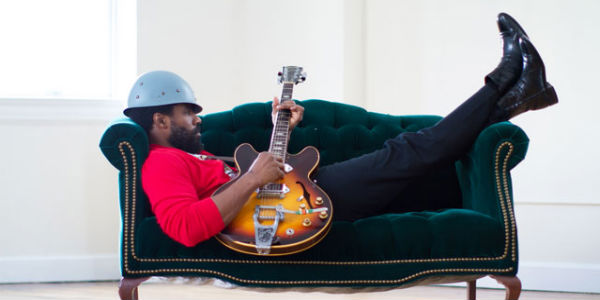 Cody ChesnuTT
is back... and how. The creator of 2002's trippy epic
The Headphone Masterpiece
has been rarely spotted in recent years, leaving a devoted cult following desperate for a follow-up. But Cody had other priorities: he retreated to the country, concentrated on raising his family and reconnected to his faith.
Last year's
Landing On a Hundred
saw Cody turn his back on partying and womanising, for a stunning socially conscious soul album reminiscent of early 1970s classics like
What's Going On
. Tonight, as he explains to us, he's only going to play his new material, as he's a new man nowadays and only wants to play songs he'd be happy for his kids to hear.
If you think this sounds ominously goody-goody, fret not. Clad in his trademark army helmet, Cody's slightly loopy charisma is still in full effect. And to see a man so humble, grateful and at ease with himself is a beautiful thing. Backed by a tight-as-hell band, he had the crowd in the palm of his hand as he delivered an energetic, inspiring set of old-school soul magic.
Opener 'That's Still Mama' sounds like a forgotten classic, a propulsive stormer that would sit comfortably alongside Curtis Mayfield's 'Superfly', before 'Till I Met Thee''s tale of renewed faith brings gospel vibes and choppy funk guitar.
Shaking hands with the front row, sweating up a storm under his helmet, Cody's vocals channel Marvin Gaye and Sam Cooke as he and the band display a telepathic understanding. Several weeks into the tour, this is a band playing in top gear.
'Everybody's Brother' ("I used to smoke crack back in the day...") is a testament to lives turned round, and by this time the audience are at his mercy. The first of several singalongs comes with hard-times anthem 'Under the Spell of the Handout'; while 'What Kind of Cool Will We Think Of Next' pleads for people to drop their attitudes and get real. It's played as a jazzy nightclub stroll, the audience accompanying Cody on fingersnaps.
'Love Is More Than a Wedding Ring' is a loved-up paean to coupledom, prompting mass snuggling. 'Where Is All the Money Going' gains a spacey groove, as the band stretch the album into interesting new shapes.
Cody and the boys take a breather before slaying us with the encore. Perched on a stool, cup of tea in hand, Cody suggests there's more to life than Facebook before launching into the back-to-nature anthem 'Chips Down (In No Landfill)', complete with barbershop breakdown.
Another Afro-funk groove shows that this bunch are no strangers to Fela Kuti, before what sounds like an old gospel tune ends in a manic speeded-up blur. Cody ends the gig by singing his gratitude to us, and heads offstage touching his heart.
There was a lot of love on the room tonight, and no-one seems to want it to end. A good chunk of the crowd lines up to shake the great man's hand as he meets his public, until the (very friendly) security suggest it's time for everyone to head home. This was a special gig, from a man clearly enjoying every moment of his renaissance. Let's hope it's not ten years until his next record...