Interview: By the Rivers
Jack Sibley chats to Leicester darlings By the Rivers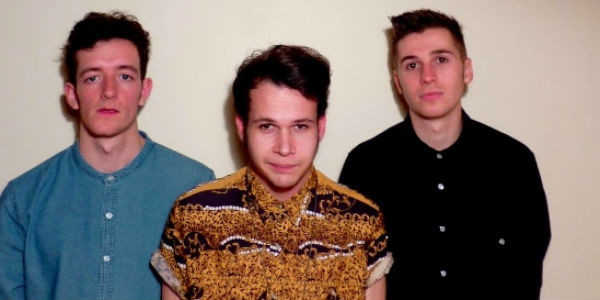 Sitting down with
By The Rivers
, it's hard to fathom what they've accomplished at such a young age. Having spent the summer cantering through European festivals on the saddle of their new album, we caught up with them on their acoustic tour to discuss things, more things and some other things (that's three things!).
Bearded: So, we've got to start with 'future stars of the pyramid stage'. It's on all of your publicity! How do you feel about that?
Nile: It's pretty nuts. It's pretty crazy to be included with bands like the Foals and well established bands. We've done all of this ourselves with Kompyla records which is a local Leicester label. So it's all a bit surreal really.
Does it feel like a lot of pressure?
Nyle: I guess you could see it like that but it's just nice to know there's more recognition. People are noticing our music.
Sam: Yeah it's just exciting really
It sounds like you've spent a long time building it up. How long have you been touring for now?
S: Well we formed By the Rivers three years ago in 2010 but started properly touring in 2011. I think the first proper tour we did was with The Specials.
Yeah that's a good first step. How did that come about?
Jordan: We supported Neville Staple in Derby and then Nyle gave him a CD and we got a call a few days later saying he really liked it. A few weeks later their manager rang and said he wanted us to come on tour with them.
Are they a good group? Did you get to hang out with them?
Nyle: Yeah really nice guys. Awesome. Big inspiration to us growing up so to be on the road with them...
All: It was weird. Really weird
Nyle: It was weird to be hanging around with them and just thinking "we've been listening to these guys for years."
S: A few times when we were just eating dinner, Lynval [Golding, rhythm guitarist of The Specials] would come down and talk to us about the whole industry; what they've been through and generally giving you little tips. It was really cool - someone you've been listening to all your life and sitting down and chatting about what you want to do.
J: It was just a taster of what the possibilities are. Touring on that scale gives you something to aim for.
You've had some really good support slots in the past, playing alongside acts like Madness and Taurus Riley. Who's been your favourite act to support? Who did you have a really good time with?
J: Taurus Riley was a wicked one because that was in France. We had to do a gig earlier in the day to a load of kids. When they said kids we thought "ok they'll be sixteen or whatever" but they were literally three year olds.
S: All with little ear-protectors on.
J: We were thinking "what's going on?". These kids are all just on the floor, rolling around, doing an aeroplane around the space. It was pretty Rock 'n' Roll
N: Yeah, that was when I first thought "Right this is what I want to do."
Get big on the toddler scene?
S: Don't put that in
Ok, a change of subject. How was playing at Glastonbury last year?
J: Yeah that was sick. For any musician, that's the biggest festival so you always want to play it and we feel really privileged to have played the BBC Introducing stage our first time.
N: It's a great platform BBC Introducing and to have that at a festival like Glastonbury, it's kind of guaranteed that people are gonna be there because it's new up-and-coming music
Did you do a lot of other festivals?
S: Yeah it was a really busy season this year. We did quite a few over in Europe as well. Festivals are fun and it really suits out sound. Of course we don't want to be just a festival band but it's a great platform to get yourself heard. And a great atmosphere, just the vibes. The cool bit is we get to hang out there
Apart from all this playing abroad, do you still have a good connection with your hometown? Do you play a lot in Leicester?
N: Yeah we try not to play there too often but when we do it's always a big event and we always make sure it's in the tour. It's always fun coming back. Last year, after all the festivals and then going on the road, we'd done so much but hadn't played in Leicester at all so to come back and play the O2 there was great. They're so supportive and we've got such a good following in Leicester. It means a lot.
Is it a good music scene there?
S: There's a lot of good bands...
N: It could be a lot better. There's lots of amazing bands there but Leicester's not really on the map
S: No not at all. There's not enough places to play. Most of our friends are in bands or write music but there's literally a couple of venues that are worth putting a gig on in. We play lots of other places, you know. You go somewhere like Bristol and almost every other place and there's something going on. In Leicester there's just nothing.
J: But it's got potential. There's so many students in Leicester and there's some great bands but it's just not there for some reason.
With all the other influences in your music, do you strictly describe yourself as a reggae band?
S: It's really the bane of our lives to try and define it or even talk about our style. It's reggae in that the basis of the music is reggae. A lot of people you talk to say reggae is more about the culture - more than just music. Lyrically it's all about struggles and we find that hard to relate to, being based around Jamaican culture.
N: British reggae is what we tend to say because that seems to make a lot more sense but there is a lot more to it like you say. It's one of those things - everything has to be categorised doesn't it - but I guess British reggae is what we'd say.
S: We need a journalist or a marketing man to name it for us. We always talk about this. We know exactly what it is we're trying to do and where we want to take our music but when people ask us what it is...
Perhaps it would be more insightful to ask what your song-writing process is?
S: It changes a lot. Nyle brings songs down or Jordan will. A lot of the first album was already written before we sat down as a band.
N: I'll sit down with an acoustic guitar when I write. In the group, sometimes it's an idea that's half done that someone brings in or sometimes we'll just be jamming and feeding off each other and something will come out of that. So there's not really a set structure for how we write our songs which is nice.
J: It keep it interesting, keeps it fresh. There's always different influences coming in from each member of the band
S: There's stuff we'll take down and it might be something Nyle's got on guitar and a vocal line then Jordan will come in and add a second part and it'll completely change the song. I think it's good having those different dynamics present. We all write music and songs and always have so it just benefits the band to have as many people writing and as many ideas floating around as possible
N: Yeah there's always new songs coming in. There's a big list at the moment that we're just working through which is a great position to be in.
Do you write a lot on tour?
N: Not so much. Jordan wrote a pretty catchy tune in Holland but I'm not sure it's gonna go on the record
J: Why not man? (laughter)
S: A lot of what we write when we're not together, it's good but, it's not really By The Rivers tunes. We've got some songs that are just comedy, ridiculous stuff.
J: I think we're gonna try and set up some sort of sitcom at some point. It might be where By The Rivers goes, who knows?
S: You'll see it tonight. Half our set is basically stand up
J: Yeah I've got a few card tricks I'm gonna be doing too
S: That's the really good thing about doing the acoustic tour is it gives us a chance to have fun with it. It's not a stand-up show but there's a lot more freedom.
J: I think the first gig we did, we genuinely did spend half of it just talking. Chatting a lot of breeze.
S: Usually, in our live show we don't talk between songs. A lot of the songs run into each other but with this, we get to just talk to people. A lot of the people who are coming to see us on this tour have seen us before so it's nice to be really chilled out and personal with things. With talking to the audience, you can keep the feedback more constant
J: Just lay into 'em