Interview: All Them Witches
The Nashville psych/blues quartet chat about their superb new LP Dying Surfer Meets His Maker, plus info on EU & US tour dates.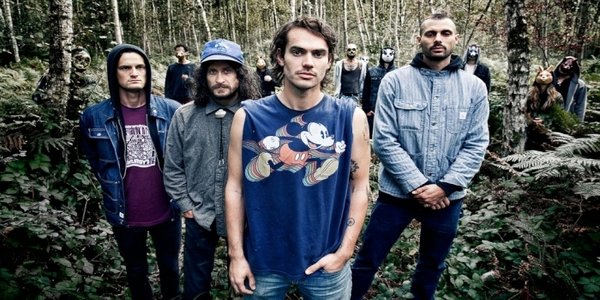 Recently in Blighty to play a series of sold out dates on their debut UK tour, Nashville psych/blues rock quartet
All Them Witches
are currently making waves with their excellent new set
Dying Surfer Meets His Maker
(
review
).
Released in the States last October and unveiled in Europe last month, the disc plots a course between hard-hitting psych jams, slowly uncoiling blues riffs and ventures into folk music and alt. rock.
A startling live act who have steadily documented their shows through their
Bandcamp
page, the four-piece are currently on the road across the European mainland before a tranche of North American dates over the summer.
We chatted with the group about the band's formation, their influences and the inspirations behind the new album.
Bearded: How did you guys meet?
ATW: We all moved to Nashville to play music, and at some point Ben (McLeod, guitar) and Robby (Staebler, drums) met at a bar, and recognized the light in each other. I think there's a word for that. Anyway, we all felt an immediate connection.
What are some of your formative influences that got you into playing music?
Parents and environments had a lot to do with it. I think we all had parents that said 'Hey, you wanna learn to play this thing?' to us at some point or another. But you have to enjoy the learning process too, which we do.
What made you decide to adopt the All Them Witches name? (presumably from Rosemary's Baby)
It's as deep as Ben and Robby jamming and needing a name. We play a game where we come up with new names (songs, albums) until we are sick of it. And we usually settle on whatever comes last. We could've been called Rob Z and the Boyz.
What inspired the album title Dying Surfer Meets His Maker?
Same process. Ben came up with that one too. He made a song with that title under his solo project (Woodsplitter), and we all loved it so much we stole it. Seems to move us in mysterious ways. Ben did actually almost die while surfing though.
Your influences seem to extend beyond a lot of psych bands at present, stretching into blues on This Is Where It Falls Apart and folk with Mellowing), what bands inspire this side of the group?
Inspiration is hard to pinpoint. Ben figured out how to nail blues licks before he could even wipe his butt. Robby was a freak on a leash before it was cool. Parks (vocals/bass) has been travelling the musical landscape all his life, and Allan (Van Cleave, keys/violin) grew up listening to classical music. We've cited a lot of bands as influences in the past, but we come up with something different every time. Right now we really like Can.
What's it like being based in Nashville, the capital of country music for a psych/blues band?
Nashville is where you go to play music if you don't want to live in New York or LA. It's only about half a million people, so you don't feel smothered. But your experience depends on your approach. If you want to rise above the rest, it can be pretty frustrating because everyone else is so goddamn talented. On the other hand, you can look around and realize everyone is talented, so you should go make friends and start a band and have a good time. That's what a lot of people in Nashville are doing now, and it benefits everyone.
Was much of Dying Surfer... recorded live? It certainly has that feel to it.
It's hard for us to record any other way. The bones and muscles of the songs are live recordings from our cabin sessions in Pigeon Forge, Tennessee. But we did some overdubs to dress up a few tracks toward the end. This Is Where It Falls Apart has the most overdubs.
On the LP, cuts like Call Me Star and Dirt Preachers showcase ATW's more concise songs while lengthy jams like El Centro air the more expansive tracks, were these two strands always present in the band, or has it developed over time?
It is constantly developing, and yet it was always there. Parks and Ben have real talent for writing songs, each in their own distinct style. Sometimes they blend, sometimes one style takes the lead. Parks wrote Call Me Star and Dirt Preachers on his acoustic guitar. El Centro is basically us jamming in C, but Ben definitely shines on that one.
This Is Where It Falls Apart is one of the mellowest tracks on the LP, what inspired it and the almost spoken word vocal?
Ha ha, well we had been recording, the tape was rolling, Allan started doing a simple walkdown on the keys, and we all just joined in. Listening back to the recordings later, we liked everything except that song. We said 'Hmmm this is where it falls apart...' so we asked Mickey Raphael to add harmonica, added some dubs, and Parks had a dream or something. So that song turned out OK. But it took some work.
You seem really keen on documenting your live shows with the Bandcamp releases, is this an important side to the group?
For sure. We want to share the experience as much as possible. The live recordings started as a way for us to improve our shows by reviewing them, and we posted the recordings as an afterthought. But people responded, and that's great. We encourage our fans to make their own recordings or whatever.
Who are you currently listening to at the moment, are there any bands from Tennessee you can recommend?
Sometimes we'll play with a band we've never heard, and they'll become our favourite band for a while. Gooon, Good Buddy, L.A. Witch, Tiny Fingers, Chrome Pony, Slothrust, The Well. In Nashville, we met a kid named Charlie, and felt he was something special. Songs just come out of his gut and into his hands. Ben helped him record some stuff, and now he has a band called Charlie and the Evil Mothers. There's so much good music out there, you'll never hear it all. But keep exploring. Follow your nose and trust your gizzard.
Dying Surfer Meets His Maker is out now through New West Records

European dates:

Fri Mar 4th, Burgerweehuis Deventer, Netherlands
Sat Mar 5th, Studio 672 Cologne, Germany
Sun Mar 6th, Musik & Frieden Berlin, Germany
Mon Mar 7th, MiniZ7 Pratteln, Switzerland
Tue Mar 8th, Mecanique Ondulatoire Paris, France
Thu Mar 10th, L'Usine Geneva, Switzerland
Fri Mar 11th, Lofi Club Milan, Italy
Sun Mar 12th, Chelsea Bezirk-Ottakring, Austria

North American dates:

Sat Apr 30th – Sun May 1st, Moonstone Music Festival Orlando, Florida
Fri May 13th – Sun May 15th, Shaky Knees Music Festival Atlanta, Georgia
Thu 2nd – Sun 5th Jun, Nelsonville Music Festival Nelsonville, Ohio
Fri – Sun Jul 15th – 17th, Forecastle Festival Louisville, Kentucky
Fri – Sun 22nd – 24th Jul, WayHome Music & Arts Festival Oro-Medonte, Canada