Bearded Premiere: Juffage 'Sonic Cauldron'
We're at the end of the road with the latest spate of Juffage videos and, lo and behold, the promised pot of gold is here.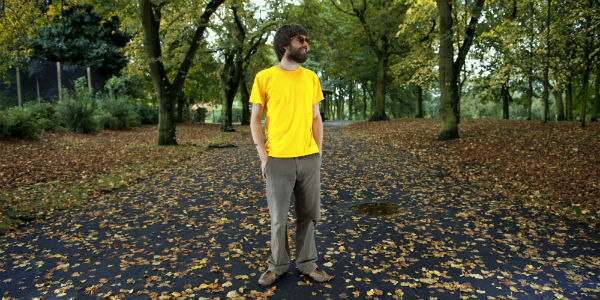 Today , on the anniversary of
Juffage's Sonic Cauldron
gig, footage has finally surfaced from that extraordinary night. A nostalgic feast for anyone present when Juffage and his hand-picked assemblage released the speakers, the video should also serve as a tasty treat for absent fans and newcomers alike.
After an electric introduction from a friendly vessels-ite, four Juffages stand around the room and beg for communication before centring themselves onstage with partners for the night and commencing a concentrated instrumental wander through 'Bury'. Starting like a Sunday morning, Juffage builds up a chorus of guitars as wavering electronic whimpers wisp around, encircling the mood. The track by itself is aimless but it sets a scene - it lays a foundation timbre - for the play to commence.
The last shades of 'Bury' creep away and, without further ado, we are presented with 'Last Few True'. Here we are thrown straight into the song, with 'Bury' still providing a hazy backdrop. A few bars in and Katie Harkin (of Sky Larkin) adds her natural, sincere vocal to join the timbral precedent. Climbing a small contour with the additional harmonic tension of the second chord progression, it's not until the drastic change of tone that you feel the piece grow to completion, like watching a flower bloom. This section is key - we have steadily broken out of the backdrop of 'Bury' via Harkin's vocals and harmonic tweaks and now Juffage explodes with his furious strumming and distorted guitar (a trademark for this artist who regularly implements washes of not-quite-distinguishable sound).
The team emerge the other side. They seem beaten by the experience but still serene. We have returned to a place of comfort but now with knowledge of the terrors that could come. As a song, this is an understandable end; as the end of this video, you can feel there is more to be told. There has been a highly descriptive journey complete with prologue, setting, character introduction, build-up of tension and an overcoming of that tension to return to a slightly-altered version of the original scene. However, despite the powerful full-stop at the end, it still feels like we have landed in yet another calm before the storm.
How the narrative progresses we might never know. Part of the beauty of these tracks though, is that they do work as stand-alone songs. It is also interesting to note that the pieces are not particularly complex and yet, structurally and otherwise, they still speak volumes more than you might expect.
Bearded
caught up with the man himself to explore some of these ideas further and hound him for more:
Bearded: It's now been three years since the release of Semicircle. Are there any plans to record another album?
Juffage: Yes, I'm doing it now!
This video marks the anniversary of the last time you played in England. When will we see you again?
I have just started doing some shows again actually, and my first two since the Cauldron were last weekend. I'm doing lots more UK gigs and festivals starting in May, which I'm really looking forward to. I have lots of new songs since the last tour, and it's great to finally get out and play them.
Sonic Cauldron was the first time Bearded saw you in such a collaborative effort. Is this an environment you enjoy working in?
Oh yes, definitely. It was great to play alongside some of my favourite Leeds musicians.
Why did you choose 'Last Few True' to record and release?
Well, there's two new tracks here, so I'm releasing them both - though 'Last Few True' is an obvious single, I guess. It was also the most collaborative of all the songs, as in it was the only track that wasn't 100% written by me. Everything from the gig was recorded, but for me the performance of that song worked really well. I like the sparseness of it, so I just wanted to release it like that instead of doing a studio version. Plus, unlike some other songs from the gig, it worked well in a stereo mix. The concert was originally spatialized by a computer programme I built to distribute the performance to several loudspeakers encircling the audience, and some tracks really needed to be heard in that format.
The video shows the introductory twelve minutes of the gig from which you can see the way individual songs came together to inform a more complete whole. How much time, proportionally, goes into the planning of a show as opposed to individual songs?
Since all of the songs we played at the gig were new, it didn't really seem like I was ever planning them individually. I was demoing the tracks and teaching everyone the parts to play, so I definitely had the big picture of how it was going to come together early on. Same with the whole "cauldron-based" ambisonic spatialization idea - I had that in my mind from the beginning, so I was sort of focused on the big picture the whole time.
The beauty of 'Last Few True' is in its simplicity and yet some of your music is full of complexity. What is your view on the place of musical complexity in songs? Is it ever a necessary feature, or just something you would introduce for fun?
I think a big part of being a good songwriter is just doing what a song actually needs, no more no less. I'm drawn to a certain timeless quality that pop songs can have, and some of the best melodies throughout history are quite simple. Sometimes though, complexity is necessary for certain ideas or sounds in my head to come into fruition, irrespective of "fun". So I suppose complexity is only necessary when it's actually necessary (or something like that)!
Juffage's new single 'Last Few True' is available with the b-side 'Bury' from his Bandcamp page and he will be touring the UK throughout May