Ben Ottewell & Ian Ball @ Jimmy's, Liverpool, 20.02.22
Two-fifths of the Southport indie rock outfit back on almost home turf for a celebratory Liverpool gig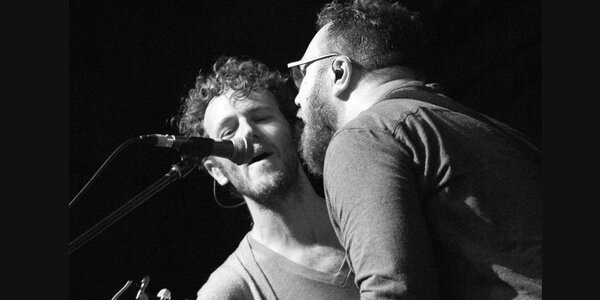 After several Covid related rescheduling impositions,
Ben Ottewell and Ian Ball
of Mersey Delta bluesmen
Gomez
take to the basement stage at a long sold-out gig at Jimmy's, Liverpool. Armed with acoustic and electric guitars with Ball on additional keys and beats supplied by a laptop, after Ball's introductory "Let's hope this laptop works", a cheer goes up as the techno country gumbo of Revolutionary Kind gets proceedings underway.
Early days landmarks placed near the outset of the show, talking blues Love Is Better Than a Warm Trombone and woozy debut single 78 Stone Wobble are aired alongside new track Selena. The title of the latter possibly indicating a Trojan Horse method of infiltrating the upper echelons of the Spotify playlists, as Ball quips "It'd be great to see Selena: Gomez on the charts".
Amongst the more downbeat material, the tender title track of 2002s In Our Gun is a standout, while How We Operate founded on a series of gorgeous, understated chord changes demonstrates how its parent album deserved far greater attention on release in the mid-2000s. Showcasing one of Gomez's hallmark elements, the intertwining of Ottewell's gruff baritone with Ball's plaintive mid-range, the "
Try anything twice
" hook of the quintet's highest charting single Rhythm And Blues Alibi is choursed by the capacity crowd.
A beautifully poised cover of 10cc's I'm Not In Love retains the delicate atmosphere of the ground-breaking original, while support act Buddy is brought back onstage (along with Ian's Dad) to assist with a rendition of Dance Hall Days by MIA 80s popstars Wang Chung. A slightly bonkers but brilliant choice, the cut from the OST to William Friedkin's genius, undervalued
To Live And Die In LA
chimes with the present day yacht rock revival.
Hitting the closing stretch, Beck homage Whippin' Piccadilly provokes the loudest audience chorus of the night, its melange of percolating electronic backdrop, slide guitar and anthemic chorus undimmed almost a quarter of a century on.
An epic rendering of live favourite Tijuana Lady segueing into Rie's Wagon, onto Bring It On and back round to where it started underlines the track's adaptability as previous live renditions regularly featured a series of metal riffs. Paring things right back to just Ball on acoustic and Ottewell on vocals, a raucous, venue wide chorus of Make No Sound last brings a superb, celebratory set to a close.