Suede @ Philharmonic Hall, Liverpool 18.03.23
Indie icons on superlative, career spanning form, Desperate Journalist supply stellar support
Mar 18th, 2023 at Philharmonic Hall, Liverpool / By
Richard Lewis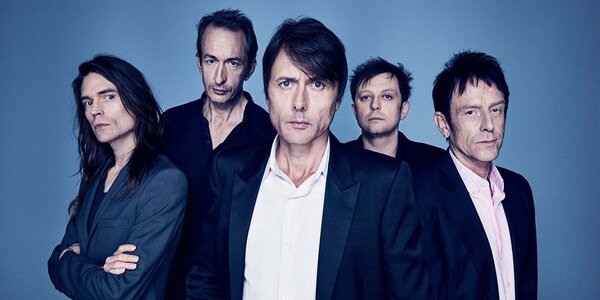 A group whose material deserves to see them headline venues of this stature, London indie noir specialists
Desperate Journalist
are greeted with a sizeable early crowd prior to headliners Suede. Onstage at 8pm sharp in the palatial surroundings of the Liverpool Philharmonic, the New Wave-y glide of Everything You Wanted gets the evening underway.
With songs that have the emotional impact and dynamic power to easily fill stages this size Jo Bevan's stunning, stentorian vocals make the most of the room's perfect acoustics. Founded on Simon Drowner's electric eel bassline and Caz Helbert's thunderous drum work, Fault booms along with added sulphurous power.
The dual pronged axes of Rob Hardy and live guitarist Charley Stone wring the absolute maximum out of acidic indie pop gems Why Are You So Boring? and Personality Girlfriend while live favourite Cedars is wonderfully evocative. As the volume of applause increases after each song, a storming take on traditional set closer Satellite recruits new converts and should deservedly see word of their exemplary output spread further.
Their first time in Liverpool since 2002, tonight's instantly sold out status underlines how much indie icons
Suede
have been missed. Any thoughts that the Philharmonic's ornate surroundings might be a slightly incongruous venue for a band touring their hardest rocking record to date fade as soon as they hit the stage. Framed by two huge backdrops of last year's superb, primal punk rock fixated
Autofiction
, Turn Off Your Brain And Yell is first, Mat Osman's bassline piloting the gorgeous New Order-esque textures.
Brett Anderson, making his entrance last ensures the entire place is on their feet, all the way up to the Gods, "Is anyone still sitting down? Stand Up!" he demands as the quintet blaze through the opening troika. Someone who surely has a picture in his attic that is aging horribly, Anderson is a matchless, seemingly possessed frontman, practically sweating a hole in his shirt as he tears around the stage his voice stronger than ever.
Simon Gilbert's thunderous drum pattern heralds the start of landmark debut single The Drowners, as Anderson hops off the stage into the aisles. Piloted throughout by Richard Oakes one of the most ridiculously underrated guitarists of the past few decades, amidst the roof raising stone cold bangers: Trash, Animal Nitrate, Can't Get Enough, a heartbursting rendition of She Still Leads Me On is greeted with every bit as much enthusiasm as the nailed-on classics. Elsewhere the treblely arpeggiated rush of Personality Disorder sounds every bit as urgent as a band in their late teens.
The breadth of Suede's catalogue is showcased by a brace of tracks from
Bloodsports
, the band's sterling comeback LP, somehow already a decade old. A tender version of Always sees Brett backed by Neil Codling on piano while an anthemic It Starts And Ends With You showcases how the band really had "Got their demon back" during their time away. "This seems the kind of venue that people usually sit down to listen to music in, so could everyone do that please?" the singer asks before a beautifully tender solo acoustic rendition of
Dog Man Star
jewel The Wild Ones. ("Elephant Man?" he says puzzled when a glam stomping deep cut from
Head Music
is requested).
A triple hit of audience assisted bellow-along classics, So Young, Metal Mickey and New Generation closes the main set before an extended reading of Beautiful Ones, preceded by a venue wide chorus of the track's "
La la la
" refrain concludes the evening. A group nine albums and a stunning alternate history of B-sides and deep cuts in, Suede shine brighter than ever, with inspiration to burn and the outstanding live show to boot. Can you not leave it another twenty one years before returning please?