Anna B Savage @ Village Underground, London 28.03.23
Ascendant London via Dublin singer songwriter tours new LP In / FLUX in spectacular fashion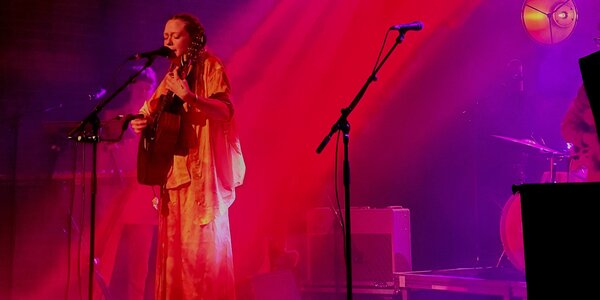 "I will open my eyes at some point, I'm just trying to hold it together". Standing in the dark, shoulder to strangers whilst bathed in the intermittent grapefruit glow, there is a sense that we are watching musical history unfold.
Hyperbolic it might seem, and yet there is little doubt that any of that crowd would say the same. We've come to witness that rhythmic, textured sound. Those ASMR-worthy vocal stylings. Yet we have been dismantled by
Anna B Savage
, her reception of the crowd. Teeming in the dark, calling for her. Attentive, jubilant, in love.
And there she stands, jubilant too. But shy in her assessment of just how many people out on a Tuesday night to bear witness. Her outfit a physical representation of her efforts on this latest record
in|FLUX
. Oranges, yellows, reds. Colliding together. Trousers and shirt, stitched by a dear friend and silky with lyrics from the record. Literally, all of them! A shimmering Goddess, sharing the stage with six angels – including two saxophonists and a clarinet player ("It's so fucking exciting!" Savage exclaims away from the mic).
Everything in this setup is an homage to this offering. And oh, dear doves, whilst the musical musings traverse all that it is to be human, not an ounce of disappointment could touch this space!
The title track eloquently showers us in this purest expression. A delicious flexing of artistic ambition that begins low, arching to a beautiful dance track. Brittle with the sentiments "
I want to be alone / I'm happy on my own / believe me
". Soft with the delicate power of
that fucking range
.
This is it, what Savage does best. Deep tones of Laura Marling and Joni Mitchell dance with angelic heights of the latter's early years. Her output musing on what it means to be alive, to want, and want differently. To be capricious with your feelings.
Yet there is softness, a time to ruminate. A performative cushion that feathers our nest, before the electronic rush kicks us out into frenzy. It is everything. Hope, fear, lust, love, peace and plenty. Feast and famine.
The Orange, crooning and relaxed in soft strings and a steady beat, beautifully preserves that notion. And so delicately walks the line Savage treads often in her record. Being enough for ones-self. Classic and simple, twirling with delicately played saxophone as she notes "If this is all that there is, I think I'm gonna be fine".
And that certainly seems true. As her eager eyes rove over the crowd, finding the familiar faces and blooming in the sights of the hungry crowd. Treating us to the spacious Hungry, the lyrics take a more immediate turn. "
What's true, and what I feel is hunger for more time with you
". Pavlov's Dog similarly captures the drive of musicians and punters alike.
And no Anna B Savage gig could ever be complete (we imagine) without the jazzy un-anchoring of Say My Name. Aching lyrics "
Something's changed, quick somebody say my name
" swept up in the mellifluous tumult of symbols carried with the wind, crashing into carefully snipped sax.
Savage's creative chops know no bounds. This must be seen to be believed. But what is much more astonishing is the way her music translates to the stage. A folkish, electro feat that doesn't shy away from what it means to feel. From humour to heartache. Every note has been cultivated to tell a story. Her vocals as much a part of this as the lyrics she artfully spills. To be a part of it is special, transforming a dreary Tuesday into a magical haven. To be there is to capture a special moment. There are no other words.
Photo Credit: Clementine Lloyd