The Boo Radleys / Cud @ O2 Academy Islington, London 04.11.23
Recently reunited, often underappreciated Wirral melodicists do their masterpiece Giant Steps proud in inspired double-header nostalgia-fest
Nov 4th, 2023 at O2 Academy Islington, London / By
Ben Wood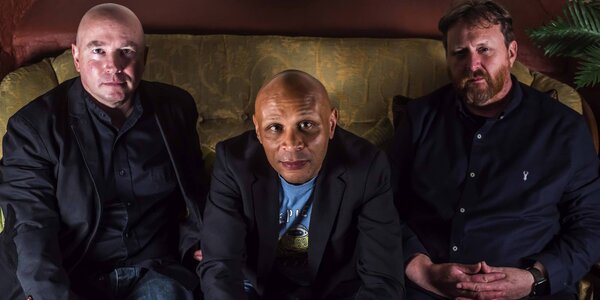 Thirty years after its release on Creation Records, 2023 has seen the reformed
The Boo Radleys
pay tribute to their ambitious, much-loved and kaleidoscopic double-album
Giant Steps
with not one but two tours. After a headline run in the summer, this riotously received gig at the 800-capacity O2 Academy Islington triumphantly wrapped up a mini co-headline tour with their contemporaries, ludicrous-but-entertaining Leeds fun kings
Cud
. The room is full of ex-indie kids of a certain vintage who greet every tune rapturously… it's going right off and no mistake.
Both acts play a very healthy 75 minutes. Cud's Vic Reeves-as-70s-sex-machine frontman Carl Putnam is a maverick one-off, a substantially built man resplendent in sunglasses, largely undone shirt and leather trousers. He capers round the stage dad-dancing, thrusting his hips alarmingly while throwing shapes like a particularly uninhibited wedding reception reveller. Meanwhile his tight-as-hell four-piece band bangs out solidly anthemic indie rock with a very 1990 funk undercarriage.
From the twirly psychedelic backdrop to the mid-set appearance of the band's frequently spotted Bez-esque dancer, this has 'old-school student uni disco' written all over it. The songs are called things like Only a Prawn in Whitby, while Putnam's witty between-song banter makes it clear that he is one sharp cookie. And as all Beastie Boys fans know, there are few better things than clever people being stupid for your entertainment.
The fanbases seem evenly split, despite Cud being seemingly a more culty phenomenon than the Boos, whose Britpop-era follow-up album to
Giant Steps
hit number one and spawned Wake Up! Boo, 1995's most-played radio song. Lively from the get-go, '…Prawn…' inspires the Cud Army to go nuts – jumping, chanting, gesticulating – and it doesn't let up from then on. Putnam has a powerful set of lungs and is clearly in his element up there. After a none-more-Happy Mondays cowbell/wah-wah workout inspires their Bez to join the fun, they classily unveil a Boo Radleys tribute tune and leave to a heroes' farewell.
While Cud have the one-of-a-kind frontman,
The Boo Radleys
have the songs – and how. In lesser hands,
Giant Steps
would be a mess. Meshing moods, tempos and styles, the often-sprawling tunes fuse jazz, dub, experimentalism and post-shoegaze guitar textures with sweet, hooky melodies and a sense of soul and vulnerability that really draws the listener in. On album, miraculously, it all works. Live, it seems a tricky album to replicate – particularly in the absence of the album's songwriter and guitarist Martin Carr, who left the band in 1999, inspiring a 20-year hiatus. But thanks to a nifty replacement lead guitarist, trumpet and no doubt some handy samples, we get a big old sound that keeps most of the album's nuances.
A killer opening sequence replicates the album's opening trio: I Hang Suspended and Wishing I Was Skinny are graceful, perfectly updated 60s pop classicism with massive singalong appeal and killer chord changes, while Upon 9th and Fairchild foregrounds the album's dubbier, more experimental side. Lead singer Sice is beaming ear to ear, clearly chuffed to be back with his mates and radiating bonhomie.
It's not all
Giant Steps
mind, after this opening salvo the band spatter the set with selections from all their albums. From
Wake Up!
, the catchy-as-fuck Find the Answer Within is one of several songs that posit an alternative, better universe where the Boos, not Oasis, were the millions-selling stadium superstars. The likes of
Giant Steps
' If You Want It (particularly ace tonight) combine a surprising degree of swagger with the sensitivity that made peak Stone Roses so appealing.
The setlist's jukebox-style selection shows that while some records have gone somewhat under the radar, every one of them has its gems.
Kingsize
's 'drugs are the answer' anthem High as Monkeys ('
I'm closer to God
') is denial in song form; comeback album's A Full Syringe and Memories of You demonstrates that the band's melodic facility remains intact; and Lazy Day, off
Everything's Alright Forever
, alternately shimmers and rocks out.
The tourmates' mutual lovefest is sealed with a cover of Cud's Victoria – in the Boos' hands, yet another skyscraping anthem. Song after song showcases an ability to turn everything – even the weirdest moments – into perfect singalong fodder. Few bands are better at combining experimentalism with great pop songs. Song for Rodney King ('
Do you know my name before you tear me apart? / Do you care?
') is epic – while the closing killer one-two punch of Lazarus and Wake Up! Boo distils the band's two sides (stargazing ambition and joyous sunshine pop) perfectly.
Some promoters plugged the tour as 'the Boo Radleys vs Cud'. Song for song, the Boos win on points – but not before Cud threw a few tasty punches. Rematch, anyone?