Wednesday @ Band On The Wall, Manchester, 06.11.23
US alt. rock ensemble continue their breakthrough year with a stunning set in rain-lashed Manchester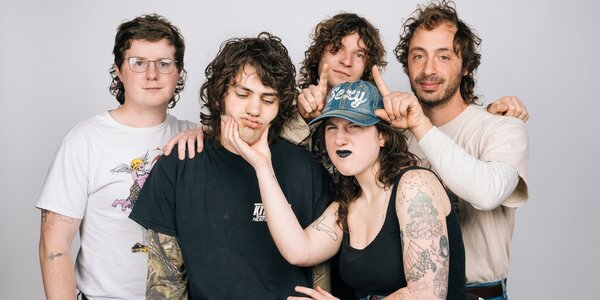 After their most recent gig in Manchester sold out the 60 capacity basement room of Yes in no time at all, four months later US alt rock troupe
Wednesday
return. Despite the vicious rain squalls, the 500 capacity Band On The Wall isn't far from lock out status either, underlining that the outfit's return trip has certainly been worth the effort.
The entirely deserved plaudits flung their way for their redoubtable fifth LP
Rat Saw God
has seen a groundswell of support for the North Carolinians. Arriving on stage for an additional soundcheck, refreshingly the quintet dispense with the pretence of disappearing into the wings only to reappear for the show proper, instead launching into their opening salvo a shade before their 9pm start time.
Lead singer Karly Hartzman is an engaging raconteur, explaining the lyrical themes and genesis of songs. Album highlight Chosen to Deserve, a tale of Benadryl misuse, ill advised nudity and an ensuing visit to the hospital for a stomach pump is given additional heft by the revelation that the track's principal character contacted the singer out of the blue the previous day. "Is she doing OK?" the singer responds to an enquiry from the front row. "Yeah, she's a paralegal" comes the reply, provoking an outburst of audience laughter.
A synthesis of the best bits of the 1980s-90s US alt. rock canon Xandy Chelmis on lap steel on Formula One particularly, highlights the influence of older sources such as CSNY and Neil Young. Hartzman's vocals are absolutely on point throughout, the harmonies between her and lead guitarist MJ Lenderman coming into bloom live in a way they don't quite on record. Pushing the material along with powerful yet subtle beats, drummer Alan Miller keeps the band's deliberate, ever-so-slightly wayward guitar patterns in check.
Almost everything from
Rat Saw God
is essayed, taking in the gorgeous interlocking guitars of Got Shocked and the drug bust account of Quarry, inspired variously by "A British guy" and airings of notorious / cult teen drama
Skins
. Just-your-typical-day-in-suburban-hell missive Bath County, surely one of this year's finest singles is delivered in barnstorming fashion as is the Sonic Youth-esque Hot Rotten Grass Smell. Approaching the close, Hartzman fields song requests from the audience "November? Hmm, maybe". "C'mon it
is
November" Chelmis encourages. The band then turn in a beautifully rendered version of the track, the singer apologising for a few flubbed lyrics.
Preceded with the audience invitation "You can scream along if you want to", a thunderous rendition of their most well known track to date, eight-minute opus Bull Believer provides a cathartic climax. With the new LP proving to be the NC troubadours breakthrough, their next visit to the UK more than deserves to experience the same seven fold increase in crowd numbers as this evening.