Arbouretum @ Corsica Studios, London 21.02.13
It's a bugger to find, but Elephant and Castle's Corsica Studios is one of London's coolest, friendliest venues. It's definitely the only one to feature a huge portrait of moustachioed TV sports legend Dickie Davies behind the bar...
Feb 21st, 2013 at Corsica Studios, London / By
Ben Wood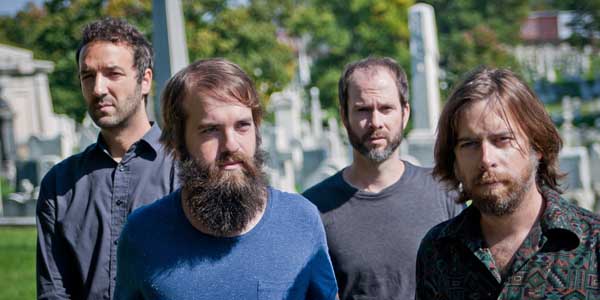 A strange bill sees beardy, rustic rockers Arbouretum supported by the impossible-to-categorise
Teeth Of The Sea
. The TOTS drummer stands up and bashes away a la Bobby Gillespie in the early JAMC; moustachioed hipsters plug away on laptops; while at intervals a blond, freaky 80s industrial alterno type shreds away on his flying V guitar. Throw a (rather pleasing) trumpet into the mix and you have an odd hybrid sound that touches on techno, jazzy atmospherics, anthemic stadium electro-pop and dry-ice bombast. A tad schizophrenic, perhaps, but while their set may be a vocal-free zone there's no shortage of ideas here.
Arbouretum
are a very different proposition. Combining the slow tempos and guitar workouts of mid-70s Richard Thompson and Neil Young with heavier, grungier tendencies, theirs is a doomy, slow-burning take on rootsy rock. The tempo rarely gets above walking pace as singer/guitarist Dave Heumann takes centre-stage with impassioned vocals and fluid, melodic solos.
Funky it is not - this is music for blokes to hold their pints and nod their heads to. It threatens to get a bit one-dimensional at times, with the light and shade of the band's latest album
Coming Out of the Fog
seldom seen. While Heumann is a classy guitarist, his bandmates' no-frills, less-is-more approach prevents the music getting off the ground for much of the time.
A slow-burning, soulful version of 'Coming Out of the Fog', complete with tasteful rhythm guitar, features a welcome injection of melody, while the band closes its set on a more celebratory tip, a groovy Lynyrd Skynyrd-esque hoedown boasting some lovely chord changes. Then it's back to dirge mode for a lengthy encore.
A decent-sized crowd seems happy enough as they file into the night - but
Bearded
was left wishing for a bit more variety and delicacy among the band's denim-and-plaid noodling.