Amber Arcades @ Deaf Institute, Manchester 04.10.18
Dutch dream pop outfit on sparkling form live in Manchester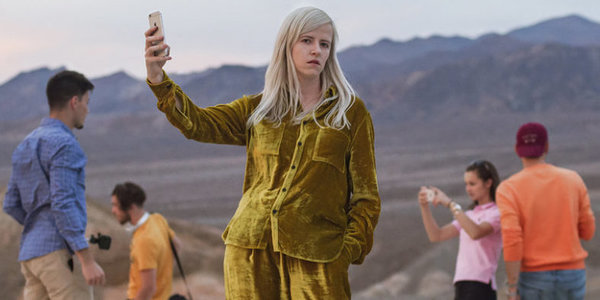 On stage in front of a very decent sized early doors crowd, Canadian alt. pop outfit
Basement Revolver
plug their wares from sterling debut LP
Heavy Eyes
. Opening the set with the sighing melodicism of Baby, the move demonstrates their confidence in kicking off with their best-known track.
With Chrisy Hurn's vocals pleasingly upfront in the mix, the trio trace a line from classic college rock staples Pixies, Juliana Hatfield and R.E.M. through to the modern day. Friends, Wait and Mountain (single word titles are a strong point with this lot) all follow in versions that perfectly nail their studio-bound versions, while Johnny replete with grimly accurate '
It's a really bad time right now
' chorus lyric supplies the standout moment. Wrapping up with their most all-out rock song to date Heavy Eyes, their trio's next move is eagerly awaited.
'We're Amber Arcades from the European Union' Annelotte De Graaf says as Amber Arcades arrive on the stage in the faded baroque surroundings of the Deaf Institute, which draws a a large cheer from the crowd. Wearing the golden velour suit that features on the cover of recent second album of
European Heartbreak
, the setlist understandably leans heavily on the recent LP, with virtually everything from the LP making an appearance. Backed by a white clad four-member band who look like more genial versions of Alex's Droogs from
A Clockwork Orange
, the gorgeous chamber pop of Simple Song gets proceedings underway echoing the album tracklisting.
From the band's 2016 debut
Fading Lines
, liquid guitar arpeggios power the dream pop swoon of Right Now follows along with Oh My Love (What Have We Done) while Something's Gonna Take Your Love Away showcases the strength of De Graff's live vocals, the track an excellent piece of Dusty Springfield-esque 1960s pop.
A well-judged cover of Nick Cave's delicate Which Will is placed before a supercharged version of the band's finest track to date solid gold indie pop banger It Changes. Returning for the encore the title track of Fading Lines is pleasantly spiky, a route that you wish Amber Arcades would pursue more often, given De Graaf's talent at creating alt. rock gems.
The night comes to a close with European Heartbreak's sign off track Baby, Eternity, a slow-paced chanson that grows in strength and volume as it progresses. An excellent showcase of their progress so far, the only downer is the depressing thought that the next time Amber Arcades visit these shores (hopefully soon) the introduction of being from the European Union will be entirely foreign to the audience.