Amber Arcades: European Heartbreak (Heavenly)
Bringing in arrangements for strings and brass, the Dutch indie pop outfit deliver strong second album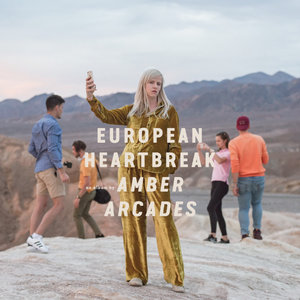 The project of Dutch singer Annelotte De Graaf,
Amber Arcades
won acclaim for their 2016 debut set
Fading Lines
which brought a fresh spin to jangle/indie pop. Providing a stopgap between albums last year's
Cannonball
EP included the brilliant, harmony-laden
It Changes
, and the ear balm pop of Wouldn't Even Know, showcasing their debut was no fluke.
Moving into baroque/chamber pop territory with the evocatively titled
European Heartbreak
(something the UK is currently going through with the never ending fiasco of Brexit), the band's second LP incorporates arrangements for strings and brass.
De Graff's day job assessing the claims of refugees granted asylum seeking to have their families brought over to the Netherlands, plus the parlous state of European politics in general at present are occasionally glimpsed in the lyrics. A firm standout Goodnight Europe, redolent of a mournful Marlene Dietrich track ("
Europe, I'm sorry / You boarded up all your windows and your doors / it smells like death is coming up through the floors
") is a torch song with the unrequited love in this case being the Continent itself. Europe also provides musical inspiration as feel of the opening tracks is of Francophone pop, as Simple Song and Hardly Knew evoke Charlotte Gainsbourg.
Oh My Love What Have We Done and Alpine Town, showcases De Graff's skill at lyrical ennui ("
Everything's been done / But not by you and me
") are beautifully arranged pieces whose arrangements evoke Love's
Forever Changes
and melodically The Velvet Underground at their softest.
The intriguingly monikered Self-Portrait In A Car At Night led by nylon strung guitar and strings dovetails nicely with the spiky Hammond organ-led Where Did You Go, evocative of The Zombies or The Animals. The wonderful Something's Gonna Take Your Love Away title and all is a ringer for 1960s era Dusty Springfield, while the lap steel accompanied Antoine is a languorous sigh of a song. Elsewhere Baby Eternity alternates between De Graff's voice accompanied by nothing more than sparse guitar chords and bolstering piano chords and harmonies.
While something as similarly punchy as the aforementioned It Changes or the title track of Fading Lines would have been welcome amidst the loveliness to provide contrast,
European Heartbreak
is the sound of a songwriter progressing in sterling fashion.
7/10