Label Love: Jezus Factory
Jezus Factory Records have been on our radar for a long time now, so it's time we shared our love for what they do.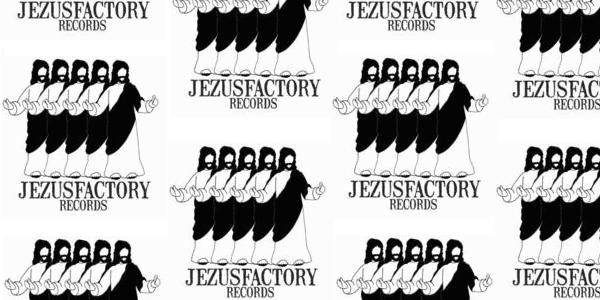 With a lot of focus on Belgian music, many would think it would be difficult for
Jezus Factory Records
to make their way in this world, but after five years, the guys are at the top of their game.
Bearded
caught up with co-owner Andrew Bennett for an in depth look at just what's going on.
Hello. Firstly, who are you and what do you do?
We are Andrew Bennett and Jerry Lee-Lewington and we are
Jezus Factory Records
and we are a UK based independent record label specialising in Belgian alternative music but not exclusively Belgian, we do have a few Dutch artists and even a few UK ones.
Where does the name Jezus Factory come from?
Err, it was Jerry's idea and I think it initially just sounded cool. Subsequently I guess people get a connection with Factory Records and the whole concept of selling Jesus on some mass market. We have a nice logo that people seem to connect with so it's worked out ok, although we do quite often get mistaken for some kind of Christian rock label, we've had to explain ourselves on several occasions; let me clarify, we are neither pro nor particularly anti-religious!
How did the label start out?
For Jerry and I it relates to a mutual teenage obsession with
dEUS
and
Evil Superstars
, the chaos and creativity of those bands and the other Antwerp bands that contained members such as
Kiss My Jazz
,
Gore Slut
and
Zita Swoon
. Jerry and I didn't meet until years later when I helped promote a concert for
The Love Substitutes
(a band which contains the 3 past and present dEUS guitarists, Mauro Pawlowski, Craig Ward and Rudy Trouve). I sent some flyers to the record shop which ex Jezus Factory partner John Douglas works at. He and his friend Jerry got in touch about the gig. A few weeks later an email came through from them wanting to release a
Mauro
single and as I had survived a Craig Ward interview and got on well with him we conceived the
Pawlowski, Trouve & Ward
split album idea at our first meeting. All we really had was blind enthusiasm. We did a couple of compilation albums to test the water and the positive response and enthusiasm was surprising. We had bands as diverse as
Gallows
,
Sukilove
and
Model/Actress
on these compilations. Then we did the split 7" with
Lil' Lost Lou
and
Paul Hawkins
which got some nice airplay and some 31 releases later it's all been a bit of a blur.
A Clean Kitchen Is A Happy Kitchen
How does the average day/week pan out for you?
Well, it's all combined with both of us having day jobs, Jerry is a printer and I work in a record shop, so we do manage some kind of crossover but the label does tend to rule most aspects of your thought processes. I would love to say that we have a set plan but generally it is complete and utter chaos, we are DIY in every aspect, be it hand assembling the covers, thinking of artwork/packaging concepts, writing press releases, hounding magazines, webzines and radio, booking tours, sitting in vans and behind merch desks, dealing with distributors and manufacturers and the whole social networking/website thing is so time consuming but necessary.
How has your job changed since you started?
We started just over 5 years ago, which isn't really that long but in music it could be an eternity; we've seen a lot of distributors come and go, also magazines and webzines start and die. In terms of the physical format, the demand for vinyl has certainly increased and we have responded accordingly by trying to do as much vinyl as we can along with the obvious CD or download code inside so people have the best of both worlds. We try to make every one of our releases in some way unique with the packaging and artwork. Unfortunately the school of people that feel that music should be entirely for free have increased since we have been a label.
When we started people actually took notice of MySpace and we managed to reach a lot of people this way, but now of course we live in an age of Facebook, Twitter and Bandcamp and it's a constant battle to keep trying to represent the label on all of these different social networks.
What do you look for in artists to garner your time and effort?
The funny thing is we never, ever go out looking for anything and as several of our bands have members in other bands, for instance Craig Ward is in
True Bypass
,
A Clean Kitchen Is A Happy Kitchen
and
iH8 Camera
; all of whom we have released records by. So it's really a gift that keeps on giving, Craig will come to us with a project and we have such admiration for him as a musician we know that it will always be high quality and most importantly for the fan it will also sound completely different from what has gone before, even if it has his signature style. The same can be said for Rudy Trouve, Mauro Pawlowski and Pascal and Sjoerd from Sukilove, who also play in
Black Cassette
.
Occasionally someone comes to us that we are blown away by and just can't refuse, such as
Roy Santiago
who is Dutch and we were speaking to for a long time, but even with him, the album was produced by Pascal Deweze of Sukilove and had Dave Schroyen of
Creature With The Atom Brain
and Chantal Acda of True Bypass on it, so it really is like some big dysfunctional family
True Bypass
You also handle the distribution for Rudy Trouve's Heavenhotel Presents, I Blame The Parents, and Audio Antihero records. Is it a case of helping other independent labels out for the sake of the music industry. Do you not see them as competition?
Firstly, we see these other independent labels as kindred spirits and definitely not as competitors, they have the same school of ethics as we do. We only stock things that are either directly relevant to our label in that they have members of our bands in their releases or that the music would appeal to our audience.
Heavenhotel
is in our mind pretty much the best independent label in the world and it's also the blueprint for what we do; it's fair to say a lot of our releases are things that Heavenhotel didn't have the time to release themselves. The way Rudy conducts business, or should we say anti-business is a real inspiration. A lot of people harp on about how punk they are etc. but the way Rudy does things is perfect on every level, from the artwork and packaging to the uncompromising but beautiful music that slips out with such little fanfare, it's just exceptional. May I take the time to mention the Heavenhotel album
On Your House
by the band
Pox who include Rudy and Mark Meyers, who was a member of Kiss My Jazz and a founding member of dEUS and also appears sometimes with iH8 Camera. It's a wonderful exercise in restraint and in our mind as good as the first Velvet Underground album. It's that good. Who knows if they will ever make another one as Mark is a pretty intense guy who no-one seems to have heard from in a couple of years.
With Audio Antihero they are a great young label, whom we were distributing anyway since we liked the records they were doing, they ended up releasing the first EP by Paul Hawkins & Thee Awkward Silences since they left the label, so there is some continuity there. I Blame The Parents are also a great label and we would like to recommend the first Extradition Order (whom we know from gigging with Hawkins) album that we are selling for a ridiculously cheap price…

What drives you to keep going? How do you measure success?
Every time we sell a record, to us that is success. That someone cared enough to spend their hard earned money on it, we truly appreciate that. The records we get to release are always so fantastic that we simply can't refuse to release them, and in some cases without us they would never have been released. This isn't because no one else necessarily would have, it's just the Belgian musicians are so prolific, without our badgering a lot of it wouldn't have been left undiscovered on the cutting room floor!

Can you see a resurgence in independent record stores, or have things changed so much that there's no going back?
Well, I work in one! For this particular store (The Rock Box in Camberley) business is booming, particularly vinyl. Sales tend to be online and mail order to a large extent although I prefer to talk to people who come in off the street. Nothing can recreate the feeling of browsing through the racks and finding the unexpected. The sad thing is the average customer tends to be older and I guess the problem occurs when people start dying off. The internet is a blessing and a curse, from Jezus Factory's perspective we sell a lot through our own webshop in a load of exotic locations and build a kind of cyber pen friend type relationship with our customers, which is really nice; but you cannot shut the door on the fact that a lot of people refuse to part with any money to buy records and also with the internet anyone can make a record and it often feels like a million people fighting over the same grain of sand.

What have been some of the highlights and lowlights of your time at the label?
Highlights:
Still existing after five years and still releasing challenging and important records by people we have been fans of for nearly 20 years…. Seeing Pawlowski, Trouve & Ward; our first major CD release get such positive press and interest. Seeing our releases in a shop and occasionally hearing something you released on the radio (even if it is generally at 1am!) Releasing Creature With The Atom Brain I Am The Golden Gate Bridge in the UK, an album that has none other than Mark Lanegan singing on two tracks and two of Millionaire and one of Evil Superstars in their ranks. They supported Jesus And The Mary Chain at their first UK gig, then to see them land an entire US tour with Alice In Chains has to rank as the most surreal things to happen to a band connected with us.
Paul Hawkins & Thee Awkward Silences achieved some great things whilst with us. They recorded a Maida Vale Radio One session in Studio 4 with the same guy who did Nirvana and The Fall. Huw Stephens to have Hawkins play at Latitude festival, another surreal experience, having dinner with Blondie and Grinderman and trying to act normal, having to fill in on bass for Hawkins and come offstage to a Radio One interview. We have been Radio One's Independent Label of the week a few times.
Being invited over to Belgium as ambassadors of Belgian music in the UK; very strange but very good fun!
Lowlights:
Having an album launch for The Beat Maras with only two band members turn up, both so wasted that we had to beg the venue to let them in to perform an improvised set that bore little to no resemblance to the album being released has to rank up there!
Having Hawkins want to leave the label; it was a very strange time for all of us, luckily we have managed to maintain our friendship. Releasing a Belgian album just as your Belgian distributor gets taken over and seeing a great record get completely lost (Benny Zen). Having a record get a 4K review in Kerrang! and sell about 25 copies. (Ow, Moon Tan). This is a familiar experience; you can get reams of good press and goodwill with extremely mediocre sales. When you release a record that you know is amazing and not many people buy or listen to it is an extremely depressing experience. It makes you question what you are doing as a label and often blame yourself; but for every big low there is something that picks you up and keep going and it's often some random dude from Japan that heard of the label somehow and keeps coming back and buying the label releases, you have to keep going for these people.

Paul Hawkins

Where would you advise someone to begin when wanting to discover the music of Jezus Factory?
We do have a free compilation album on our bandcamp with a track from each of our bands so that should give a good overview. If you want to take the plunge and buy something I would say with Sukilove Static Moves; the most completely realised record we released, it's glacial odd pop genius. For contrasts listen to True Bypass and A Clean Kitchen Is A Happy Kitchen and marvel that the same person can play in the same band. For sheer lyrical prowess Paul Hawkins could go toe to toe against anyone. We are proud of all our records.

Any advice for someone wanting to set up their own label?
Don't, unless you have serious mental health issues haha! You have to be prepared to be ignored. Never ever release a record that you wouldn't go out and buy yourself. Try not to spread yourself too thinly; it's better to do your best for five releases than 50 badly executed ones… and learn by your mistakes, we have made and are still making plenty!

Do you carry an ethos or mantra?
We stand for good quality nicely packaged, reasonably priced releases that are sometimes musically challenging but always fun to listen to.