Introducing… Iron Braydz
Our Introducing... series focuses on artists who we think are worth shouting about. Here we have Iron Braydz, whose razor flow will rekindle memories of the golden days of hip-hop.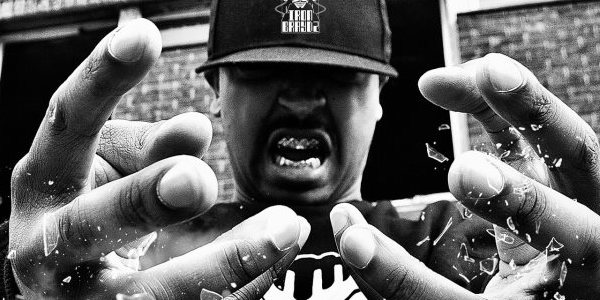 Here at Bearded we aim to shed light on acts who don't necessarily have giant labels or muscley budgets waving banners behind them. This Introducing series will focus on artists who we think are great, regardless of how much hype surrounds them or where their origin story lays.
Bio
Name: Iron Braydz
Location: London, UK
Genre: Hip-hop
Similar Artists: Blue Daisy, Wu-Tang Clan
Contact:
Facebook
,
Twitter
Events: New EP
Verbal sWARdz
released today (April 14th)
The newest member of London's
Triple Darkness
collective, North-West LDNer and virtuoso MC/producer
Iron Braydz
is representing British underground rap like no other. Mingling with major players and striking forth to become one himself, Braydz cites legendary '90s hip-hop outfits like Wu-Tang and Nas as huge influences on both his life and his musical style. It's evident within his sounds that he's indebted to the classic sound of the genre's early years: it's sandpaper-rough, grittier than the M4 in winter and rammed with cutthroat bassline, boom-bap beats and scrunched up samples.
His new ditty, 'Rambo' – featuring
Kyza
and
Skriblah
– is a no-holds-barred assault. His flow is like broken glass – sharp and crystalline. He employs similar effect to Blue Daisy, making his voice sound enormous and guttural; these aren't empty threats, Braydz is pretty intent on proving that he's not to be trifled with. Kyza and Skriblah's guest verses are special too, but the spotlight is steadfastly trained on Braydz' stunning, saliva-speckled spiel. Check out the video, released today (April 14th). Or he might lodge an axe in yer noggin.
True hip-hop in the UK is reserved for underground scenes and hidden-away locales. There's not many who can take the style to the mainstream an retain integrity – Tinie who? – but if Braydz continues the way he does, there's gonna be a helluva lot of people clamouring to get involved. The mainstream may still be a long way off – if that's even his ultimate goal – but his
Verbal sWARdz
EP /mini-album proves that he's definitely got the chops to be riding in the front seat. Probably not just this side of the pond either – his volatile East-Coast vibe is ripe for the pluckin' across the world.