Interview: Weaves
Superlative Canadian alt pop unit discuss their debut LP, plus info on upcoming tour dates.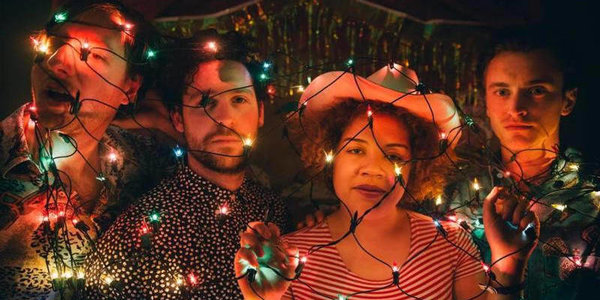 Sat in a Bold St. eatery in Liverpool city centre pre-gig
Weaves
discuss the number of miles logged on the gig circuit this year in support of their fantastic first LP (
review
) one of this year's best debut platters. 'Our first tour was last summer, it was just two weeks' guitarist Morgan Waters states. 'Our second was in March and that was a month in the States and that was our biggest tour ever until now, which is four months-ish'. Dispatched to warm the stage prior to Philly punks Beach Slang, the quartet are still getting to grips with the SatNav and the A-Z for Pan European travel.
Based in Toronto following a three-year trickle of singles and an EP in April 2014, a hook-up with storied UK label Memphis Industries saw things kick up a gear on this side of the Pond. 'We were trying to find a UK label, or someone to handle the rest of the world and they liked the record so it was a pretty natural occurance' singer Jasmyn Burke states. 'Kanine (their US label) is new as well, all these things happened in October/November, so pretty quick. We got the record pressed immediately after we signed the contracts'.
Lead by singer Jasmyn's beguiling, hiccuping vocals, supplemented by Morgan's sidewinding guitar work, Zach Bines' inventive bass playing and Spencer Cole's precision beats, the quartet's eponymous debut LP is stuffed full of tracks that alloy sugar rush pop melodies to backdrops that rock as hard as the Pixies and Hüsker Dü.
'I think that's just how long it took, we weren't in a super rush. It wasn't like we had labels and a full team that was set up' Jasmyn says of the time elapsed between the band's debut 45 Hulahoop in April 2013 and the LP. So we were kinda taking our time recording and figuring out what we wanted to put on the record so it just ended up being three years I guess. Our EP (also titled
Weaves
) came out in 2014, time flies, we were travelling and touring' Jasmyn explains as Morgan leans in towards the Walkman microphone to supply the falsetto for Jacko's Man in the Mirror playing over the café's soundsystem.
Alongside current tourbus staples, (this year's releases of Rhianna, Anohni, Radiohead) and formative influences of Blur ('Graham Coxon is one of my favourite guitar players' Morgan nods) and Flaming Lips cited as inspirations beyond that the quartet's simultaneously abrasive/melodic sound is difficult to pin down. 'It's pop' Zach shrugs. 'But it's a little bit off-kilter and twisted up with herbs and spices'. 'Paprika pop?' Jasmyn ventures. 'I don't think we just want to be one specific type of music, if people can just figure out what we are then that'd be boring, we're trying to push ourselves'.
Zach: 'We come from different musical backgrounds'. 'Jasmyn has got a punk background' Spencer notes. 'Yeah, she studied punk in community college, she majored in it' Morgan deadpans. Jasmyn: 'I think there's a lack of technique that I come from that when I was younger I made it up a little bit that you figure your way and that makes it more abrasive' the singer says of her vocals. This straightforward approach finds an echo in Jasmyn's songwriting. 'I'm not a very good guitarist so when I start songs it will be just a simple chord progression and vocals and sometimes those more simple songs are just better how they started, to the point, simple and fast, kinda how I wrote when I was younger. I like really direct lyrical content, I like being pretty honest and true but also melodies are important to me too, so trying to make things catchy but also in your face'.
One of the album's standout moments Shithole updates Black Francis & Co. with an evocative tale of Jasmyn's time spent in dismal lodgings. 'That song has this weird beginning where I don't remember recording it and I thought I had emailed it to Morgan and then we were trying to figure out the record and I was like 'Are you sure you don't like Shithole?' And then I sent it to him and he said 'I haven't heard this yet!' I don't really remember writing it but I must have been in a crappy apartment and not feeling too great. I had closet moths and our fridge was not working and I was getting sick from the environment. I have allergies and I kept getting a cough, that song just came from being frustrated in my shitty home'. 'All the Pixies stuff, especially (1987 debut LP)
Surfer Rosa
that sound is always something we always try to get the drums to sound like in certain songs' Spencer says of the Boston group's influence. 'Morgan and I are lovers of that (legendary engineer) Steve Albini 'room concept', the basic idea of just mix the room in there, three different elements, different rooms, how big do you wanna make it, or how small'. 'The band are about to order food, Zach always personalisies the menu' Morgan confides to the cassette player as the quartet order dinner and the bassist inquires about side dishes.
An integral part of Weaves' sound is the feeling of the group precariously teetering on the brink of complete collapse, yet holding it together the entire time. Morgan: 'I think the first time we all played together that's when it all started having this crumble effect and then as far as the rehearsing goes you just get better and better at knowing each other as musicians and one person does one thing and that'll have a ripple effect throughout the band and you sort of refine it'. Zach: 'That thing with crumbling and stretching and reaching outside your comfort zone, I think it took a long time for all of us, but I think right away we were able to look at each other and know the intention of what that person is up to and then finding our way back to ground zero of the song'. 'Now it more like a game onstage, its almost fun' Jasmyn adds. 'We will we all find each other? So it's a bit of a cat-and-mouse situation, it keeps it fun for us cos we're kinda laughing onstage, we don't know when we're gonna get back to it!'.
'If we didn't have a vocalist who wasn't comfortable with the band pulling the floor out from under her, it would be the worst. Because Jasmyn is so playful and sings things differently each time that we're forced to be in the moment as much as her. We can really adapt to those changes' Spencer adds. 'It's up to us to be as expressive as her so we don't just sound like muzak in the background' Morgan says. 'I think (album track) Human is testament to the fact that each one of us in the band can go off in our own land for a little while and no-one else in the group really cares 'Oh he's gonna do his thing' and we'll meet up at the end' Zach states. Morgan elaborates further: 'It's fun to do something that's really easy and stupid that in your brain is hard, you have to trick your brain into. Really it's just dumb strumming with a weird rhythm'. 'You see so many bands who play guitar, bass and drums and have a singer and it's good but it's been done so many times, we wanna push things forward. You wanna do something exciting and freak people out and entertain them in a new way and make it personal I think is the most important thing. I everything's pretty, then nothing's pretty. There's no contrast, you have to balance the ugly with the beautiful'.
'It's a big city with a lot of music but it's wrapped up small enough that if you really try you can get to know everyone pretty much' Jasmyn says of the outfit's home base Toronto. 'There's a gospel scene, a punk scene, a DIY indie scene, jazz…' 'And there's Drake, Bieber' Morgan grins. 'In Toronto it isn't expensive yet we all survive, everybody has like five jobs, there's a lot of musicians there, maybe it's more hustle' Jasmyn states.
Weaves' superlative lead single One More (
video
) compresses its verse-chorus-bridge-really-loud-bit structure into two and a half thrilling minutes. Backed with a self-shot video filmed on a day between live dates out in the
Breaking Bad
backdrop of New Mexico with props including poms-poms sourced from Wal-Mart. 'It was actually supposed to be Red Hot Chili Peppers, referencing them Under the Bridge, our sort of version of that, that idea' Jasmyn explains of the song's '
Something tells me under the Boardwalk/They'll be more casualties
' lyric prompting Morgan and Spencer to break into a version of ancient standard Under the Boardwalk. 'Zach played on a cruise ship, did they play that one?' Spencer asks. 'Oh yeah, a lot' the bassist nods. 'I played for old fogies trying to get their ballroom dance moves on, 'We gotta play a rhumba for them' and that's like a perfect rhumba' Alaska, Hawaii, Carribean, Mediterranean, the money was great' the four stringer recalls of the time. 'Zach's rich' Spencer nods. 'I blew it all man, I blew it all!' the bassist laughs.
On the subject of 45s, new single Tick is equally brilliant, backed with a
video
that takes in hallucinatory dreams, sinister clowns and loners investigating the web in the small hours for new bands.
A change of pace on the LP meanwhile is concluding track Stress, a torch song featuring a gorgeous Jasmyn vocal. 'The lyrics for that I wrote in the studio when we were recording it, I only had one verse for that' the signer explains. 'When I was in there the sound was really warm and nice and more lyrics came out. Sometimes in the studio there's a magical little place and you hit an inspirational point'.
Handling their recording seesions, producing themselves, creating their own videos, Weaves are impressively self-sufficient. Morgan: 'We're picky. With ourselves, I'll do something and Jas will pick it apart for a long time and if you're not paying someone a lot you feel bad telling them to keep changing it bit if we're just doing it ourselves and we only have each other to…' ('Get mad at!' Jasymn interjects) 'It's nice to have as much control as possible'. 'You should be the one who controls what you're putting out into the universe' Jasmyn states. 'Especially with your first record, you want that to represent you and the only person who knows who you are and aesthetically what you want if you don't stay true to that, somebody's gonna try and put you in something'.
Weaves next musical tapestry won't be too far off, tour dates permitting. 'I feel like we're ready to write again' Jasmyn says. Morgan: 'It's exciting to think what it'll be, all of us have different ideas, and to talk about it would just result in a fight, we'll just have to make music and start recording with no talking!' Jasmyn: 'Everytime we tour it feels like we fill ourselves up with a bit more information and data and beauty and then that just fills your soul with writing and you become a better writer hopefully you're performing every night. I feel like we all have a new drive after putting out this record, it'll be this time, this place our next one will hopefully bring us to a new level and hope you get more creative'.
With the bill paid the four piece hurry round to the venue. 'This has the feeling of get into the venue and get straight on stage' Morgan remarks dodging around a bunch of England World Cup supporters. Onstage bang on time, the band's live show is pretty much stunning, the quartet easily able to recreate the songs yet bring a new spin to each of them, simultanteously unpicking the threads of their songs and stitching them back together in real time. A vociferously loud mix ensures the rhythm section of Spencer and Zach slam together like a drop forge in a steelworks, with opening track Birds and the Bees emerging from thunderous bass notes into Morgan's skewhiff slide guitar motifs. Spencer's redoubtable skill behind the kit anchors Coo Coo with complex polyrhythmic foundations while Zach's exemplary bass work propels the tracks forwards and Morgan guitar scrawls brilliantly illuminate the songs. The principal focus throughout is Jasmyn's on point vocals, the singer's relaxed stance onstage projecting her voice high above the clamour.
With their support stint concluded the quartet strike out on their own in July (see full dates below), a set of dates imbued with the very strong sense that people at the gigs could be witnessing something very special indeed.
Weaves
is out now through Memphis Industries
Weaves tour UK dates:

Jul 3rd The Prince Albert, Brighton
Jul 4th The Boileroom, Guilford
Jul 9th The Craufurd Arms, Milton Keynes
Jul 12th The Musician, Leicester
Jul 14th Latitude Festival, Southwold
Jul 14th The Shacklewell Arms, London
Jul 17th Nice N Sleazy, Glasgow
Jul 18th Think Tank, Newcastle Upon Tyne
Jul 19th Brudenell Social Club, Leeds
Jul 20th Studio 2, Liverpool
Jul 21st Bodega Social Club, Nottingham
Jul 21st Secret Garden Party, Huntington
Aug 23rd The Sunflower Lounge, Birmingham
Sep 1st End Of The Road Festival, Salisbury

France:

Sep 16th Point Ephémère,
Paris, France

Canada & US

Aug 9th Cafe Berlin, Columbia, MO
Aug 10th Three Links, Dallas, TX
Aug 12th The Rebel Lounge, Phoenix, AZ
Aug 13th The Echo, Los Angeles, CA
Aug 15th Barboza, Seattle, WA
Aug 16th The Cobalt, Vancouver, BC
Aug 21st 7th Street Entry, Minneapolis, MN
Aug 22nd Schubas, Chicago, IL
Aug 24th Mercury Lounge, New York, NY
Aug 25th Baby's All Right, Brooklyn, NY
Aug 26th PhilaMOCA, Philadelphia, PA
Aug 27th Horseshoe Tavern, Toronto, ON