Interview: Twin Peaks
Rising Chicago alt. rock quintet Twin Peaks chat about their current live dates and future plans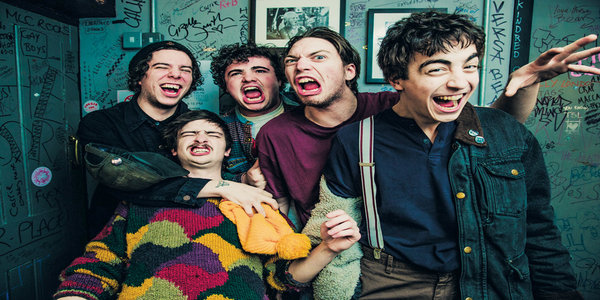 The options for a touring band on a day off can usually be whittled down to three options, go into full-on tourist mode and see the sites, go record shopping, or providing the money lasts long enough hang round all day in a bar.
Estimable Chicagoan guitar slingers
Twin Peaks
decided to take a markedly different route on their visit to Blighty however and turned the jaunt into a busman's holiday, playing house parties on the days between gigs.
Wild Onion
the band's second LP, one of the finest albums to come out of the States in 2014, made its way onto several end of year lists, its profile boosted by the group's near-endless run of live shows.
Issued through cult NYC label Grand Jury and storied UK indie Communion, the album essays frantic rock n' roll rushes, psychedelic pop, swaggering Stones style rockers and influences stretching from new wave to doo-wop with not one duff track in sight.
With a show in Liverpool the next date on the band's house party itinerary, a meeting is called in city centre bar The Shipping Forecast. Straight out of the tour bus and flopping down onto the sofas, the five-piece are admirably alert considering the previous night's/same days revels consisted of a house party gig, a drinking session that stretched into the small hours and a ninety minute drive from Leeds. 'I'll buy all you guys Jägerbombs' guitarist Clay Franken states cheerfully studying the drinks' menu.
Childhood friends with the exception of studio wizard Colin Croom who joined on keyboards and guitar last year after helping produce
Wild Onion
, the close rapport between the members is clear from the off.
Skipping over the usual drudgery of questions relating to a certain cult TV series that aired on US television network ABC in 1990-91, how did Twin Peaks get started? 'We've been lucky finding a deal and dropping out of college, we'd only been there for two months' lead singer Cadien Lake James explains of their acclaimed debut LP
Sunken
(2013). 'It was something we recorded when we were in high school just to sell on tour and a Chicago label called Manic Static put out a cassette of it a couple months later we were going to university and Autumn Tone got in touch with us'.
The album title meanwhile pays homage to the band's beloved home city, derived from the French pronunciation of the Native American word
shikaakwa
, which mutated into Chicago. 'You learn that in history classes' Cadien nods, negotiating his way around a mini-burger from the sharing platter that has just arrived. 'It came from the French colonies'.
Long standing friends of the band, fellow Chicagoans The Orwells sung Twin Peaks' praises far and wide and were vital in helping the group become established. 'We met them in high school before we went on our first tour, they emailed us and did a house show with them, we did shows with them, went on tour with them, they helped us get signed, they told Autumn Tone about us' Cadien explains.
Given the group's already tight schedule traversing the globe, what gave you the idea of playing house parties in addition to gigs? 'We've done a lot of house parties in the States and Chris from Communion asked us as we had some days before the flight and we hadn't booked anything yet' Cadien says. 'Soon as he brought it up I was like, absolutely. London was awesome, last night was great at this suburban house in Leeds, it was packed with seventy or eighty people'.
The previous night's house party was hosted by Eagulls, already known to the 'Peaks through live shows, 'We did our first American tour with them' bassist/vocalist Jack Dolan explains. 'It's cool having played a lot of house shows in the States, to a certain extent I shoulda expected it was gonna be the same kind of shit everywhere, but it was cool to come and do it in another country. More people should do it. In the States, this band from Chicago called White Mystery when they come over here they do venues as well as lot of cool underground events'
Spreading word of the old-fashioned way through near endless touring meanwhile suits the quintet imminently. 'We're on the road a lot, at this point I'm down to be on the road' Cadien says of the group's tour schedule that stretches out into the horizon.
While the garage rock tag has been flung a lot in the band's direction, the group are cautious about some of the inspirations they have been pegged with. 'A lot of these groups are bands we
like
but... it's the furthest thing from being an influence' Clay says supping his pint.
Recent inspirations include Fat White Family, Angel Olson ('she made one of my favourite albums last year' Clay nods)' along with a slew of UK shoegaze acts, Spiritualized, Spacemen 3 and Galaxie 500 along with evergreen indie rock totems Teenage Fanclub.
'In the past two years I've got more into straight up sixties and seventies stuff' Cadien explains as the group start nodding in unison to Steely Dan track 'Dirty Work' on the sound system citing the hook up between two 1970s singer-songwriter titans
Nilsson Sings Newman
as an example.
The laid back psych pop drift of 'Ordinary People' along with the experimental edge of companion pieces 'Strange World' and 'Stranger World' showcase the band's mastery of more reflective cuts on Wild Onion while excellent closing track 'Mind Frame' boasts a doo-wop influence. 'I catch myself sometimes writing all these chilled songs and then I'll be like I need to work on some rock n' roll, our live shows are very energetic, so that's something to recognise' Cadien notes.
Elsewhere a clear glam element seeps through on the LP, especially on the storming high stacked boot stomp of 'Flavor' 'I really love T-Rex,
Electric Warrior
was partly how I learned to play guitar' Cadien nods.
'Making Breakfast' meanwhile is less about basking in the post-coital glow of the morning after the night before and instead concerns shaking hands with someone you love, subject matter tackled in The Who's subversive classic 'Pictures of Lily'.
Meaty, Beaty, Big & Bouncy
that's so fucking cool' Clay enthuses of the Mod band's landmark singles compilation that showcases their spiky mid sixties brilliance. 'I get all the epic, crazy shit, but I prefer the early stuff'.
A fellow British Invasion band are also an treasured inspiration for the group. 'I've been a fan of
Let It Bleed
for a long time and I got
Sticky Fingers
,
Exile On Main St
and
Some Girls
the stuff this guy writes is very Stones-y' Cadien states nodding at Clay. 'We've never been a band who really talks about what we're going for or 'we want to sound like these bands' one thing that comes up the most often is The Beatles' the singer adds.
The most off-kilter album ever issued by the quartet along with the summit of the Beach Boys' studio bound brilliance release provide the touchstone LPs in Twin Peaks' individual collections. 'Those two albums, the White Album and
Smile
are so weird' Cadien grins. Given those sets are the most varied each group released, do you think the eclecticism on those LPs influences Twin Peaks' magpie approach? 'Absolutely' Cadien nods. 'Albums that are absolutely all over the place are my favourites. Before the Beach Boys released
Smile
properly I was downloading torrents of it, all the bootlegs there was when was I getting super into the Beach Boys a couple of years ago'.
The band's fondness for not wanting to pinned down in different genres is expertly showcased on
Wild Onion
which compacts sixteen tracks into forty breathless minutes, with ample switches in mood and genre throughout. With no filler in sight, the LP is clearly the sound of a band who weren't struggling for songs. 'With the first album we didn't have that much material so we recorded the live set' Clay explains of the songwriting process. 'With Wild Onion we compiled all these demos that we all made, so me, Jack and Cadien we were probably working with 23 – 24 tracks. There were some random old ones too that we'll sometimes talk about. Pretty much everything we recorded we used'.
'It was kinda weird making it, for this one in particular thinking about the length, whether people would wanna listen to that many songs' Cadien says of the rapid-fire, genre strafing album. 'When we went into the studio and none of us really knew how to work a studio then we met Colin, he's got a degree in recording' Cadien explains. 'Me and him bounce around a lot of ideas about production'.
Despite the non-stop gig itinerary, the follow up to
Wild Onion
will not be too far into the future, the demands of the recording industry slowing Twin Peaks' release schedule. 'It'd be great if we could do an album every year, this touring schedule is intense but hopefully we can' Cadien states. 'It seems like nowadays your record can get put off 'cos there's so many other releases, you get pushed back so you have the best kind of impact, I wish it come out quicker. Once you finish a record you're like 'let's drive to the pressing plant and do it'. 'Politics' Clay interjects.
'This next one whatever it will be, we're planning on recording everything instead of picking and choosing first, we'll have a whole bunch then try and choose the best' Cadien says. 'Sometimes there's a magic to demos that can get lost, then again there's demos that don't get where they need to be and are so much better when you record with the band. In order to avoid either end of that just try and record everything and say at the end which ones turns out the best'.
Despite the rise in their profile, the quintet are determined not to bring in 'name' producers to buff up the sound, and hope to remain behind the recording console themselves for future albums. 'A lot of bands the more they do big productions on their albums the less charm it has and accessibility' Clay states. 'If you fall in love with a band's first album there's a reason for it. If the next album comes across in a totally different way, the songs can still be similar but production is important and if its changed drastically that's gonna take at least something away from why you liked them in the first place'.
Another possible route meanwhile is to cook up a collaborative project. 'We know a lot of other bands, we've been joking around with The Orwells that we're gonna make an album with them. Just go into a house with all the gear for two weeks and make a song a day' Cadien says. 'There's a crib in Gary, Indiana we've been practising at' Clay explains. 'It's about an hour away from Chicago, we've been practicing out there in a beach house. We can crash out there and get away from the city'.
With breakfast/lunch concluded, drummer Connor Brodner and Clay spotting the tattoo parlour over the road from the Shipping Forecast plan to purchase some body art. Connor's inking is of a Hammerhead Shark in honour of his Grandfather who served on board the USS Hammerhead, Clay's is of a Warhol/Velvet Underground banana. This along with a trip to investigate the venue (a student house on a neighbouring street) is called for before taking the rest of the afternoon off.
Emerging from the club onto the street they saunter off into the afternoon, with several thousand miles, scores more countries and countless new converts awaiting them.
A free download of Mind Frames, the demos for Wild Onion is available from here
Photo Credit: Pooneh Ghana