Trudy – All My Love (self-release)
Yorkshire singer-songwriter shows real promise with debut EP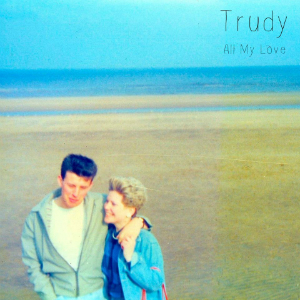 Trudy
is a new Leeds-based artist, who takes clear influence from the ever-popular garage rock scene - artists such as
King Krule
and
Mac Demarco
- and shows more than a hint of individuality. This debut EP, entitled
All My Love
, features four vocal/guitar tracks that serve as a breath of fresh air in the current market of over-produced, glossy music.
The tracks on All My Love focus on topics close to the heart of your average teenager; drunken adventures at parties and tales of youthful romantics ring true to us all. 'Good Time Guy (With The Blues)' is a sweet and touching love song, the stripped back instrumentation and overall sound of the EP allowing you to take in the fantastic lyric writing.
There are four videos to accompany this EP, all available on YouTube, and the tongue-in-cheek visuals are a great watch that enhance the songs, taking them to another level. It is great to hear such a young artist covering
The Beach Boys
' classic 'Help Me Rhonda', and this new interpretation shows how far Trudy could really go.
Trudy is currently gearing up for another project, this time featuring a full band behind him, and it will certainly be interesting to hear how different that sounds. For now though, All My Love is a fantastic taster of what Trudy is about, and capable of.
Head over to http://www.trudy.bandcamp.com now to download the All My Love EP for free.