The Cosmics: Track By Track
The rising Birmingham garage rock outfit chat about the inspirations behind their self-titled debut EP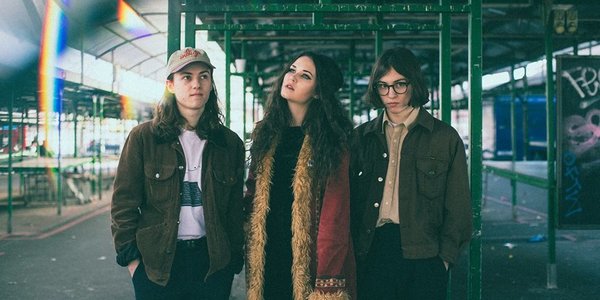 Building on a steadily increasing buzz, up and coming garage rock trio
The Cosmics
have more than validated the praise thrown their way so far with their eponymous debut EP issued last month. Comprising Erin Curran (vocals/bass) Conor Boyle (guitar) and Danny Boyle (drums) the band reupholster vintage garage and power pop for the present decade.
Combining razor sharp guitar lines with garage rock scuzz and strong songwriting, the vinyl release showcases the outfit's plaiting of punk energy with melody in in sterling form. With a clutch of exclusive 7" singles released through cult indie label Flying Nun, the new set is being self-released by the Birmingham-based outfit. The presence of former Test Icicles' member Rory Attwell in the producer's chair for the disc speaks volumes, with his production fingerprints on early releases by Palma Violets, The Vaccines, Yuck, Mazes and Male Bonding.
With Erin's stentorian Janis Joplin meets The Shangri-Las' Mary Weiss vocals cutting through the guitar clamour with vigour, the set reaches its peak on rip-roaring lead single Eyes, a 1960s teen beat stomper. Drained moves from a garage rock dust-up into a glittering instrumental section redolent of
Daydream Nation
era Sonic Youth while the 75 second rampage of Brainfuzz sung by axeman Conor tips its hat to DC hardcore.
Ahead of The Cosmics' slot at Siren Calling Festival in a few weeks, Erin gave us an insight into the tracks on the EP.
Trust is Blind: "This is a break up song with themes of betrayal and dishonesty. I bought the song to Conor and Danny and it was quiet and delicate the whole way through, so they wanted to fuck it up and that's why we have the long brain numbing section at the end. But that's our favourite part".
Eyes: "This was written in retaliation to the eye problems we face as a band. We wanted a classic garage rock song heavily inspired by the surf music of the 60s".
Cundy Get Down: "The lyrics for this track was written about half an hour before we recorded it in the studio, we enjoy writing lyrics relating to surrealism. The whole song was born from a jam, dynamics change throughout the instrumental".
Brainfuzz: "Conor was listening to a lot of Minor Threat just started recording a super-fast chord progression then got the drums and bass down and then the vocals straight after. He wrote the song within half an hour, you can tell ha ha, it's a short one!"
No Descent: "This is a song which goes back and forth between clunky cold guitar chords stomping about like a giant and burst of punk energy. Lyrics surround a feeling of frustration developing into a sense of freedom and chaos as the beat speeds up. The song takes a turn as the instrumental in this delves into a more indie rock jam".
Drained: "We had the idea for a catchy, fast, loud punk song to then seamlessly flow into a whole different ambient entity that was equally as long and have it flow like one song but really be two. I noticed bands like The Clean (New Zealand indie outfit signed to Flying Nun) and Big Country always had these insanely emotive instrumental moments in songs and they were a bit angular compared to the poppy hooks. I always think of The Clean song
She Goes She Goes
, it's a three chord pop song but then finishes abruptly with a darker instrumental".
The Cosmics play:

Siren Calling Festival 2019 w/ Tess Parks, She Makes War and more, Studio 9294, Hackney, London, Sat 17th Aug Tickets

Photo Credit: Jessica H Ingram