RIP Five Years Today: Basil Kirchin. A brief memoir by Jonny Trunk
On 18 June 2005, one of Britain's most visionary and influential avant-garde musicians left us. Jonny Trunk, the man who brought him to a whole new audience, writes about his relationship with a man crippled by illness, and given a new lease of life 30 years after the public had forgotten him.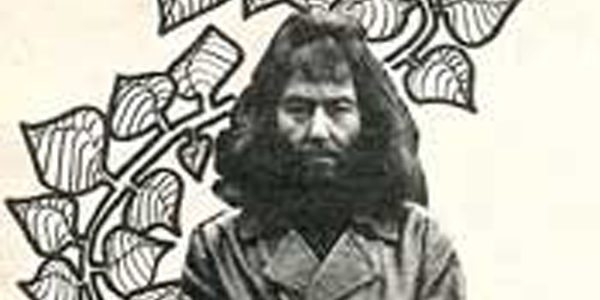 It's five years since Basil Kirchin died. He should have died much earlier, but he defiantly held on, and even at death's door and riddled with Cancer still managed to make an album. I was lucky enough to get to know Basil over the last few years of his life. I'd heard some of his unusual library music in the late 90s and had wanted to speak to him about his life and work. But finding him even in a connected world was near on impossible. He was reclusive, disabled and quite pissed off with the world.
But one morning in 2002 the postman dropped off a large parcel at my front door. Inside was a whole pile of CDs and a letter from the great man. He was replying to letter I'd posted to him via the Musicians Union a few weeks before. Basil's letter stated how thrilled he was to have someone who wanted to listen to his work. He'd been waiting for anyone to pay attention all his life.
We met a few months later with his great friend Clive looking after him. Basil had lost an eye to Cancer and was quite nervous to be out and about in London. The trip was an extreme contrast to his normal, hermitic days spent at home in Hull. We talked about his life and work, which went something like this:
Basil was born in 1927. At the age of 14 Basil was drumming in his father's big band. This continued throughout the second world war. Basil went on to drum for other bands, but teamed up again with his father in the mid 50s. They were leaders in their field, were recorded by a young George Martin and toured extensively with guest vocalists to regular big crowds. His father, Ivor Kirchin, was injured in car crash, and so Basil took charge of the band. By the late 50s interest in big band jazz was dwindling so Basil took to the road, and travelled to India to follow his fascination in mysticism (pre-dating the Beatles trip by nearly a decade). He moved on to Australia, where a quayside accident resulted in the loss of his entire recorded music archive.
Basil suffered a near fatal blow to the head whilst abroad, and on his return to the UK started making what he called imaginary music for film. Working with such musical masters as Jimmy Page and Tubby Hayes, he produced a small raft of inspired library music and a short series of scores for small British films including Dr Phibes, I Start Counting and The Shuttered Room.
Ever keen to explore the development of his own musical development, Basil began to record wildlife sounds, organic noise and environmental dins. He then spend years stretching and manipulating the recordings into new noise, "the worlds within worlds" as he called it. His theory was simple, if you stretch a noise far enough it reveals further boulders of music - the sound within the sound if you like. These finished recordings were then improvised over and the subsequent release on Columbia records sewed the seeds of ambient music. The follow up recording in 1973 included sleeve noted by Brian Eno, paying homage to Basil as the man who has discovered a whole new area of sound.
Basil then slipped into obscurity, with only a mentioned on the infamous Nurse With Wound List as a reference to his life and work. If you were to Google him in 2001, you'd find an entry on a Big band forum and reference to his industrial importance. Google him today and thousands of entries appear. This new interest in him first started appearing when I issued
Quantum
, an unreleased recording from about 1970 that was turned down by Columbia records to being "too weird for anyone". Full of manipulated natural sound and cries from autistic children, Quantum came out in 2003 and struck a cord with daring modern listeners. The release on its own thrilled Basil, the interest and subsequent press and attention thrilled him even more. He was photographed for broadsheets, interviewed by the American avant-garde and had features appearing all over the place. He started to realise that what he has done all those years ago was good, was right, and people wanted to hear it.
Quantum
was followed by work he'd done for a 60s film about mental illness, followed a year later with his work from the de Wolfe music library called
Abstractions Of The Industrial North
. Already a recording flagged as an influence by retro futurists Broadcast, the album garnered further fans for Basil, people had rarely heard anything quite so blissful or as musically moving.
All this new interest in Basil inspired him to work more, he was back in the studio coming up with new ideas, new sounds and in his own words "raging".
He asked me to come and see him, to spend the day taping his thoughts, recollections and opinions. I recorded him for three hours and we ate fondue prepared by his wife, Esther. I recall his thoughts being lucid, a touch bitter and incredibly enthusiastic for a man so ill. His theories about sound had always remained the same. His thoughts about the 60s music business all a little sour. And his love for his new found fans was boundless.
Within the year he'd finished his new album,
Particles
, but died shortly afterwards. Esther called me one evening in tears, desperate that I should fulfil a dead man's last wish, to issue the album. I said I would and within a week she too had passed away. It was if she could no longer live without Basil by her side.
I pressed the album in 2006, and for a work put together by a man of 77 years old it was more than impressive. It was classic Kirchin, with manipulated instruments, conversations between invented voices and his trademark rhythms driving the whole thing ever forward. And it ends with 'E+Me', a magical 10 minute elegy to his life with Esther, a recording that always makes me cry.
Basil said "I wanted to try and leave something for young people who are starting in music and looking for something as I've been looking all my life.". Well the good thing is he left much, much more.
Basil Kirchin - E+Me