Profile: WRONG Festival
WRONG Festival founder and Elevant mainman Michael Edwards chats about the inaugural edition of the independent Liverpool event, due to be held on April 22nd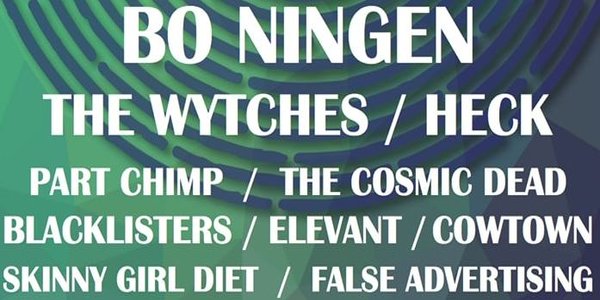 'A festival for the freakscene'. As far as taglines go, that's an especially good one. Evoking a genuinely underground collective of bands (and the Dinosaur Jr. track by extension) it also suggests a very welcome alternative to the proliferation of overpriced corporate sponsored shindigs over recent years. The event in question, the inaugural
WRONG Festival
is set to be held in a troika of venues in the burgeoning North Liverpool Docklands on 22nd April. Live spaces The Invisible Wind Factory, The North Shore Troubadour and Drop the Dumbulls bring together a plethora of bands trading in heavy psych, noise rock, prog infused punk, avant metal and all manner of gnarly delights in between.
Topped by revered Japanese noise rock merchants
Bo Ningen
and boasting an impressive undercard, WRONG pulls together no fewer than 34 acts in one marathon seventeen-hour session beginning on a Saturday afternoon in late April. Brightonian surf-garage quartet
The Wytches
feature alongside reformed cult noise rockers
Part Chimp
and pummelling ultravolume Notts crew
HECK
. The mutant sound of PiL and Hawkwind meets characters straight outta Royston Vasey,
Evil Blizzard
appear as do grunge power pop trio
False Advertising
, off-beam Leeds alt. pop group
COWTOWN
and latter day Riot Grrrl outfit
Skinny Girl Diet
.
Also appearing understandably are the band who founded the entire affair, Liverpool psych/grunge notables
Elevant
. Presented by Loner Noise, the label established by group mainman Michael Edwards, the bill of like-minded souls is effectively a fantasy version of a festival Elevant would to attend and/or play as fans. 'It was kind of an accident' Mike explains, sat in Liverpool City Centre watering hole the Leaf Café of the inspiration behind WRONG. 'We went for a marketing meeting on behalf of the band with AIM (Association of Independent Music), which is the indie labels' lobbying group, so they can fight back if the government tries to shaft indie labels. They have a thing were you go down to a meeting and they look over your marketing plan and the guy there basically gave the band therapy. He said 'where do you wanna be in a year?' And I said there's this underground rock scene that's really good but no-one really cares about that much at the moment'.
'Everything that gets attention has to fit in with radio playlists, which is really boring cos no-one really bothers with what they actually like anymore, which should be the only measure. He said 'How you get there is you could put a festival on'. He meant putting an all-dayer on or something and getting a couple of bigger bands to play above us and it would draw some attention to the label and we'd be on a bill with these bands'.
Taking the kernel of the idea and developing it into something far bigger, Elevant drew up in Mike's words 'a wishlist' of groups they would like to feature. Then, in a scene like something from the US independent scene of the 1980s, the trio took the most straightforwardly Do-It-Yourself approach imaginable to pulling the bill together, one which paid off handsomely. 'We started phoning booking agents after some extensive Googling and they all start saying 'Yeah'' Mike recalls. 'So we said let's get a bigger venue and make it a really big deal, I guess'.
While putting the festival on has been a huge learning experience for the group in general, dealing with booking agents was the largest part of it. A band who always book their own gigs, the process was completely new for the group. 'I wish we didn't!' Mike laughs of arranging Elevant shows. 'It's a
lot
of work and it's not that easy to do the job that a booking agent with years and years of contacts does. I've taken to doing the Fugazi thing of we hire the venue wherever we go and we put the bill on. I know bands everywhere and it'll be good, but we're not gonna get a support slot with Queens of the Stone Age or something!' he laughs. 'A major booking agency could get you that. So if any booking agencies read this interview' Mike says, glancing at the microphone, 'Hit us up!' he urges.
One of the big hitters on the bill for WRONG, fortuitously The Wytches were sourced through the same event that sparked off the festival's initial inspiration. 'I met their booking agent at an AIM event networking' Mike recalls. 'Young bands, do some bloody networking it's important' the singer stresses.
With WRONG being a steep learning curve at times, the experience is fitting as it continues what Mike has encountered from the get-go. 'Everything I've done musically is a long lesson learned' he says. 'When I was a teenager, I always thought, 'We'll be good! And then… someone will notice!' It was like 'How naïve can you
be
?' (laughs). Do it yourself. Just do it yourself. No-one else cares at least as much as you do, so do it yourself'.
While the wishlist drawn up by Elevant was remarkably successful, securing the entire bill effectively, there were some who were unsure whether they should be involved with something that wasn't already established. 'There were a couple, I won't name names' Mike cautions 'Who said 'Ah no, we'll get back to you next year', which is code for 'This is a first year festival and we think it's bullshit'. Then, after the first announcement and I got a few phone calls and emails like (hopefully) 'Er, do you still want so-and-so?' 'Filled the line-up, you should have said yes at the time' Mike shrugs. 'Maybe next year'. 'I get kind of amused at how different bands and different agents deal with stuff. Some go, 'Yeah! This is amazing, let's go for it!' and others are like 'Well…
maybe
…' and they just try and give you the runaround. A lot of the time it's very arbitrary, you kinda think it's hard to get these bands and it's not'.
In addition to presenting WRONG Loner Noise are a sizeable part of the festival, with acts on the label's roster set to showcase their wares. Alongside Elevant, art rock crew
SPQR
, noise pop duo
Duke Mercury
, alt. rock group
Gravves
post-rock outfit
Pocket Apocalypse
and Liverpool post-punks
RongoRongo
all set to appear. Effectively a taster of the line-up set to play meanwhile, Liverpool festival stalwart
Threshold
which runs from 31st March to 2nd April at the opposite end of the city centre features the Elevant curated Loner Noise Presents WRONG Festival stage and includes a score of the acts appearing at WRONG.
Given the grassroots nature of the enterprise then, how did you go about funding the festival, especially seeing as there doesn't appear to be any sponsorship? 'No, there isn't any corporate sponsorship' Mike confirms. 'I've just finished my application for the Arts Council, fingers crossed. At the moment it's all out of my own pocket. Tickets have started selling pretty good, it's probably gonna cost just under half of the potential money it will take'. Where Mike was unsure of financial matters meanwhile, friends were called upon for advice. 'I had no idea what anything cost' the singer recalls. 'I kept asking Christian from (fellow Liverpool promoters)
Yeah, Buddy!
'Is this how much a band cost?' Held indoors, a relief given Spring's somewhat changeable climate, what drove the decision to stage the festival on the penultimate Saturday in April? 'That's the weekend all the students come back from Easter' Mike explains. 'It's right before they do their exams and they have their last weekend to get really shitfaced before they have to be serious. I'm very acutely aware of gigs and students now'.
Given the impressively XL proportioned bill, especially for an opening salvo, was it always the intention to put over two dozen acts on? 'It wasn't that at the start, when we thought it would be a little thing, like one venue, we thought we'd put ten bands on' Mike recalls. 'We just worked out the timings and thought, 'Well, that's how many bands we need'. As soon as we knew which venues we'd be having we knew it would be that many bands. I know I wanted to do something that would go late. The two smaller venues are open for people who wanna keep going, they'll have the noisiest, nastiest bands on' he grins.
The two venues in question, art gallery/live space Drop the Dumbulls and recently opened venue/rehearsal rooms The North Shore Troubadour will be catering for revellers in the small hours. The main stage for the event meanwhile, The Invisible Wind Factory, the venue established by the founders of Liverpool's legendary now sadly departed Kazimier, will host band merch stalls and include installations by festival poster designer Callum Stewart.
'
Cosmic Dead
are gonna be closing it out' Mike states, the Glaswegian psychonauts set to play as the credits roll on the first year's event. 'I asked some guys who know them, 'Are they gonna be fine at going on at 2 in the morning?' And they said, 'Oh, that's their regular slot, that's fine! They operate the other way round in terms of day and night!'
And on the subject of time, with the far from enticing but extremely necessary task of the Loner Noise's accounts to tackle before the afternoon is out, Mike has to depart. With WRONG all set to be an audacious, highly welcome new addition to the festival season, the new International Pop Underground Convention starts here it seems.
WRONG Festival is held Saturday April 22nd in North Liverpool's Docklands
For further information visit here
Tickets - £10/£15/£20 available here:
See Tickets
Skiddle
DICE FM