On The Road With…. The Twilight Sad
Alex Yau chats to The Twilight Sad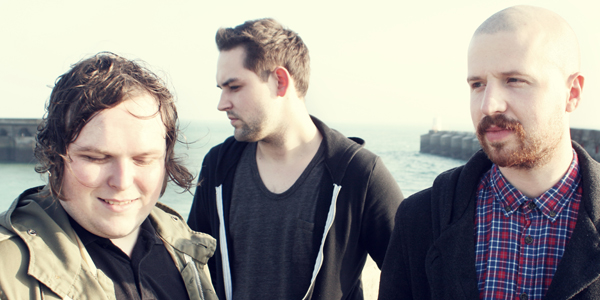 "Beady Eye are a funny band. There are no redeeming features about them and I hope Liam Gallagher doesn't beat the shit out of me if he reads this,"
The Twilight Sad's
James Graham chuckles breaking the drab cold air pervading through their changing room. Just earlier they tweeted a picture of themselves stood smiling next to a service station van with "Liam & Noel" plastered on its side. Andy's stab at Liam isn't the only moment involving a Manchester legend today though. Just after that hilarious service station moment, they recorded a session with ex-Smiths' drummer Mike Joyce who's a massive fan of the band. It's day two of their latest tour, playing Manchester's Ruby Lounge after a hometown show in Glasgow last night, their spirits high from the reaction.
"The crowds weren't going mental but they were all showing their appreciation and the reaction was amazing,"
explains Andy.
You join the band as they showcase songs from their third album
No One Can Ever Know
and it's provided a comfortably different transition for the band that still
"sounds very much like the Twilight Sad,"
as James explains.
How similar? James adds:
"The first album was more observational but with a personal touch. The second one was about me being a dickhead and the two months of personal mistakes I needed to get off my chest. The third one goes back to the observational and the themes are in the title. I like the fact that people think 'What the fuck just happened?' It sounds quite brutal. I've not killed anyone though. It's all metaphors and I'm not that fucked up."
The added electronic elements and stripped back sound which had to be done, they explain, has created an album with
"more room to breathe,"
and it's the record where they discovered less need for the wall of sound and
"lots of instrumentation"
as guitarist Andy MacFarlane puts it. Part of this has been down to enrolling producer Andrew Weatherhall on the record. The band did a lot of pre-production before Andy came on board, and whilst they did a lot of what he would have done, he still wanted to be involved and gave the band the confidence they're thankful for. James says:
"We really admire him for not taking all the credit or all the money, not that we've made a lot from this record anyway."
With critics and fans alike raving about the album,
The Twilight Sad
have done extremely well in a climate where guitar music is supposedly dying.
"There are a lot of people talking about it but you've got the Black Keys who are doing really well because they've sold two nights in Madison Square Gardens and then you've got the Maccabees who have been charting. People should just shut up and listen,"
argues James. Andy adds:
"I think it's more to do with electronic music actually going somewhere. Music's changing all the time and maybe because it's become a lot more adventurous. There's not much that's really pushing boundaries."
Live, the album has transitioned surprisingly well. Initially, 'No One Can Ever Know' was written with the live aspect held at the back of their minds, only asking
"How the fuck are we going to do this live,"
afterwards explains James.
"I'm surprised how easy we took it. For our drummer Mark it's a whole different story because he only had to worry about his drum kit before. Now he's got samples to balance,"
he adds.
All this has culminated in a packed out Ruby Lounge and in one hilarious moment during 'Cold Days from the Birdhouse,' a select group of ladies in the crowd scream: "WE'LL FOLLOW YOU, JAMES!" causing the man himself to stop in laughter. The next day in Sheffield, as we're sat in the large hall of the Queen's Social Club, Andy says:
"That's a new thing. Girls have only just come to our gigs, which is funny, because it's normally just angry guys."
In trademark rock'n'roll style, instead of having a quiet night after their gig, the band partied in style.
"We partied with Errors last night and went to this club that was open till six in the morning. We're all a bit knackered,"
says Andy. Not that you'd notice though as they soon hit the stage. 'Kill it in the Morning's siren stirs the blood of everyone in the room and the likes of 'I Was a Prostitute' and 'Alphabet' only further this frenzy. As the band are revelling in 'Nil,' they're the perfect portrait of a band at their triumphant best.