NWfA Festival: Interview with You Slut!
Another must-see band at this weekend's Nice Weather for Airstrikes Festivals are You Slut! Jack Richardson has a chat.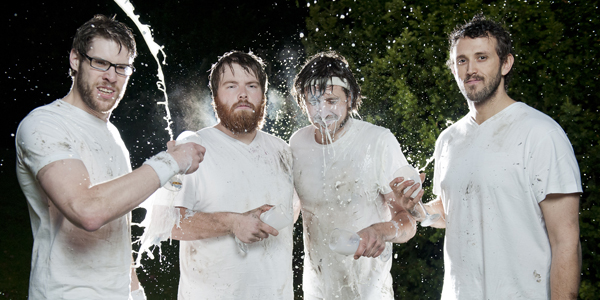 If ridiculously paced, intensely difficult 'instru-emmental' is the sort of thing you have littered throughout your 10,000+ song iTunes library,
You Slut!
deserve a clearly labelled playlist at the side at the very minimum, if only so your friends can wonder why you're harbouring a playlist directed to some specific but unnamed slut. With rhythmic hooks that will test the memory of even the biggest Meet Me In St.Louis fan, and an intensity rivalling Adebisi Shank, You Slut!'s run at near-machine gun pace constantly.
Ahead of their Nice Weather For Airstrikes festival appearance,
Bearded
tracked down guitarist Gav Poole somewhere between Derby and Nottingham to chat about festivals, song titles, and touching Prince's purple piano...
Bearded: With such a complex style you guys are difficult to place, what has been your favourite description of the band's sound?
We're often tarred with the Post-Rock/Math-Rock brush which is fine, but it's not very descriptive. We've had some great puns such as 'instru-emmental' (cheesy math rock), but the one still in active service came from a review many moons ago and seems to be constantly evolving to better represent us: it currently reads as "instrumental, rifftastic, power-prog-math-pop warfare", which I reckon is also an accurate way to describe the way we approach the music. As long as we can play it on two guitars, bass, and drums, anything goes really. Actually, we cheated a bit on the new album, there's a theramin on 'Mangifiererer'. While we're on the subject, Foals are math rock? Fuck off.
B: The four years between Critical Meat and Medium Bastard has seemed like a life-time! Why the wait?
Each album we release is themed around the Olympic Games, unfortunately the Chinese rejected our visa applications on account of me being arrested for possession while holding it for someone else in Germany in 2006. We had a word with Lord Coe but no dice for 2012 either, c'mon, rhythmic and artistic gymnastics are events.
Seriously, we've been so busy with other projects and work over the past few years: Amusement Parks On Fire, Pilgrim Fathers, Mascot Fight, The M1, Mallard The Wonderdog, Angular Lansbury, Mutton Moon, Deckhand & The Munchies, Happy Holocaust, Tranquillizer Minnelli, Hand Cancer, Contemporary Fax Wizard, The Distance Between Us, Studio Availability, Personal Tragedies and A Desire To Make The Most Pedantic Music Ever (Conceived). The rate at which we turn music in to ones and zeros is painfully slow.
B: Who comes up with the song titles?
(In goth mode) Song titles ooze out of the monotony of existence and a desire to make finding the song you're trying to listen to as difficult as possible to spell correctly, and therefore ensuring each track has multiple entries on Last.fm. It's an outlet for all those lyrics we don't write and those haircuts we can't afford.
B: The intricacy of your music is immense, how difficult was it developing the skills to play in time with one another so well?
75% of us met at college on a popular music course in 1999, we've been learning ever since. It's difficult enough to play the parts on your own, put that to the power of four! We treat the whole band as an instrument: everything is there for a reason, the whole compliment or contrast philosophy. The writing process happens very much in parallel with the learning of the songs. We contribute endless hours of bump and grind to churn out each Crack Baby. Maybe IVF would be more productive?
B: Which do you prefer, festivals or gigs?
Trick question? Festivals are gigs. Don't mean to be a dick but yeah, I am. I'll choose playing a gig over not playing a gig.
B: Alongside Nice Weather For Airstrikes, you're also playing at several other festivals around the country, including Fell Foot Sound, Deafbox, and White Noise, what has been your favourite festival experience?
I'm going personal on this: when I was working at Way Out West festival in Sweden as monitor engineer for Edward Sharp & The Magnetic Zeros last year I managed to accidentally convince a security guard that me and my 'entourage' were Prince's band and watched the show from the side of the stage. I touched his purple piano.
B: What was the worst?
In Youlgreave, Derbyshire on the wettest day of 2008. Lots of drunken chav kids shouting abuse at us. I dunno, it was something about 'freeing birds'. The stage was sinking in to the mud, plus the drummer from the band before would let us use his kit as long as we didn't touch it!?
It was a long way from the car to the stage in the pissing rain, we just got everything set up and when we went into the first heavy bit of the first song the amps drew too much power and the generator couldn't cope with it, killing all the power to the tent. We attempted turning amps down, turning the lights off, turning the PA off, nothing worked. After the fifth attempt we gave up and ate some barbecued burgers and got pissed in a muddy field. Oddly, we did quite well on merch that evening.
B: If your next album were to take another four years, what could we expect from it?
Now That's What I Call The Greatest Hits of Minimalist-Post-Acid-Christian-Fidget-Jungle-Core Volume II, CD2.