NWfA Festival: Interview with &U&I
In anticipation of the Nice Weather for Airstrikes Festival held in Brighton from the 25th-27th of May, Bearded caught up with Thom from &U&I to talk about the festival, gigs in Brighton and who he'll be checking at when NWFA rolls into town.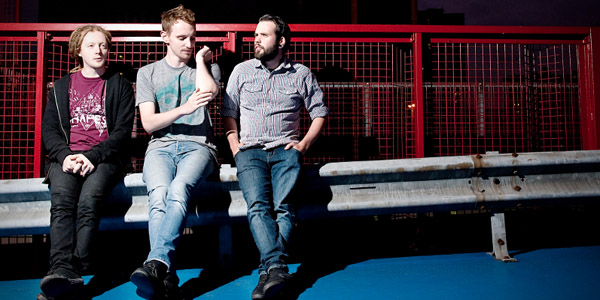 Bearded: How do festivals like NWfA help "alternative" genres?
&U&I: Festivals like NWfA are so beneficial in our "scene". It's a great platform for bands like us with it being affordable and in such a good spot. Brighton is one of our favourite cities play as we have so many friends down there, it's really nice to be asked. There are a lot of festivals now, where the price just keeps on rising, and it's great that festivals like this still exist to promote bands at this level. For us, it's a great way to play to fans who know the songs and people who might not have even heard of us.
B: Obviously the bill is pretty stacked, who are you looking forward to seeing?
I think Three Trapped Tigers is everyone's obvious choice. They were awesome at 2000 trees last year. Me personally, I'm looking forward to Her Name is Calla who we played with at the maybeshewill and friends show in Leicester in 2010. Love Among the Mannequins are a great bunch of guys, as are Alright the Captain so it's going to be good to catch up with them too.
B: What do you like about festivals this size as opposed to beasts such as Download?
The price is always going to be a factor, but the fact that you get to see bands of such a high quality in such a great setting is probably what swings it for me. Most people who would go to Download will pay any amount and go knowing exactly who they want to watch. However with this kind of thing, people will pay the ticket price just to see their favourite band, and will stick around and watch some new music as well.
B: How do the crowds in Brighton respond to your noises?
We've always had a blast when we've been down in Brighton, be it in Blakfish or &U&I. It's got such a good buzz about it when you're there. Plus being from the midlands, we just get very excited about seeing the sea, like three labradors. We played with maybeshewill at the Prince Albert a few years back and it was awesome. The crowd were incredible and it still sticks out in my mind as one of our best
shows.
B: Have your influences changed a lot since the days of Blakfish?
They have a bit, yes. With &U&I, it's a completely different system of working. We arrive at our lock up with no ideas and then just set to work. I mean, we still have some of the same influences as before (Deftones, Glassjaw, Poison the Well, On the Might of Princes to name but a few) but we try and steer away from writing a riff in the style of other bands and write ones that are more like a tribute to them... if that makes sense.
B: Your style and sound is really distinctive, is it easy to keep new ideas coming?
It has been quite easy. We've recently been demoing some new tunes that we've written. We wrote them around the start of the year after we'd finished touring 'Light Bearer'. We got back and had a sort of 'What next?' moment and we all figured we should just get back on to writing record number 3. We do get the occasional practice when we've all been at work for 8 hours, get to our lock up, and no one is in the right kind of mind set to be creative, but we can usually spot when that's going to happen and chalk it up as a 'not happening tonight' and then come back a few days later and try again.
B: Best way to deal with writers block?
I feel I'm the worst for this. When it comes to writing the music, Wiz and Richard can do it instinctively. We'll jam over ideas, work out little intricate bits, iron out creases in sections that aren't working, and then all of a sudden we've got this awesome song and I've gotta write some lyrics to it and that's when I get writers block. It's just a case of removing any mental reservations you have about things. A lot of times, I'll come with some ideas, write them in my phone, look back at them an hour later and decide that I hate them and just like that they're deleted, when really they weren't that bad an idea but something in my head just said 'Nope! Don't like it.' I usually deal with it by talking it out with the guys saying 'Here's what I've got so far. Any ideas?' and then we rip it apart and start
again.
B: What's next?
We've got a lot of festivals in this year. We're playing the Whynot Festival in the Peak District and HevyFest in Kent in August which are both going to be awesome. We're also in the White Noise Festival in Leicester on 2nd June as well with maybeshewill and These Furrows. With the rest of the year full up of one offs all around the country from Newcastle to Leeds to London so keep them peeled. We're also toying with the idea of doing an EP later in the year. We've written 2 songs so far which, depending on our schedule, will go on it.