Introducing…The Shalfonts
Our Introducing... series focuses on artists who we think are worth shouting about. Here we have The Shalfonts, a band that started by sending recordings across the North Sea, and is now settling on a closer, warmer indie weirdness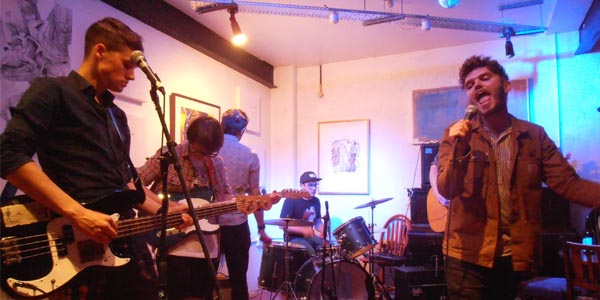 Here at Bearded we aim to shed light on acts who don't necessarily have giant labels or muscley budgets waving banners behind them. This Introducing series will focus on artists who we think are great, regardless of how much hype surrounds them or where their origin story lays.
Bio
Name: The Shalfonts
Location: Birmingham
Genre: DIY and indie
Similar Artists: Modest Mouse, Nick Cave, TV On The Radio, Mum, Tunng
Contact:
Website
Soundcloud
Bandcamp
Facebook
Events: The release of Power Totems 1.
On the face of it The Shalfonts have been around for a few years now. Formed in 2008 they have pushed out six Eps and three albums on their own record label, Giant Manilow. These haven't garnered nearly as much following from the cult crowd as they deserve. And much of this time has been spent switching sound and settling on a singular space.
Pursuing genres as vast and diverse as the barks and yelps of Modest Mouse to the bleeps of Mum (Raising Girl) then off to the warm acoustics of Tunng (Boy Musk), this is a band constantly fidgeting. However, reassuringly there is now consistency in the weirdness and quality with which they carry out the task.
Lead singer Bryn Bowen's instantly recognisable burred strained vocal is one of the main contributors to the consistency within this lush sea of oddness. And the shimmering treble of guitar from Ralph Morton helps wrap it tightly together – 'When Blue Gets Back' is a fine example of this.
The band is frequently split between Birmingham and Bergen, so early recordings were pieced together from parts made and sent together through email from all over the shop. Bowen has spent a number of years in Bergen, Norway, and this shows in the direction of sound and even pronunciation of vocals. But now that they are all together, the band appears to be pulling tighter in and smoothing up.
The Nordic influence shunts into the live performance too. It's a thing that's well worth going to see. In this format the band comes off as strictly indie with Modest Mouse style enthusiasm and barks to the songs. Bowen loafs around stage commenting on the performance of the songs with a parodied (or real, I'm not entirely sure) accent which he jokes upon "I saw the accent, I thought it was cool, so here we are." Cue parody-foreign-style shrug. Then a call to arms, "Shalfonts!"
With their latest release, Power Totems 1 on 25 January, The Shalfonts are continuing the off-kilter style with lyrics like, "I'd always have to fight past the jizz" in 'Armour.' The latest material is drifting towards a settled warm, calm acoustic fuzz. The Shalfonts are eclectic in their delivery as in their taste, this will be reaching the ears of fans of cult listening soon.