Introducing… James Brough
Our Introducing...series focuses on artists who we think are worth shouting about. Here we have James Brough some kind of enigmatic sloth siren who has decided to shun all the usual methods of putting out music in favour of making one discombobulated, yet sonically captivating website.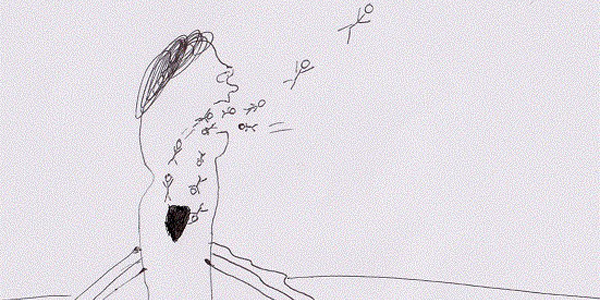 Here at Bearded we aim to shed light on acts who don't necessarily have giant labels or muscley budgets waving banners behind them. This Introducing series will focus on artists who we think are great, regardless of how much hype surrounds them or where their origin story lays.
Bio
Name: James Brough
Location: Birmingham, UK
Genre: Electro folk, post-dub
Similar Artists:
Alexi Murdoch, Bjork, Chad VanGaalen, M. Ward, James Blake, Mum
Contact:
Website
Facebook
Events: Gigging around the pubs and bars of Birmingham supporting many local bands, updating his website.
With a website that has a user experience which can only be attributed to a discombobulated web designer, James Brough cuts something of an enigmatic figure for himself. Nothing as yet down on record, no soundcloud, no bandcamp just one or two songs as well as a few ripped up bits of sounds glued to song sheets hidden around his website.
At first it's hard to decide whether this is pretentious, or brilliant. But once the first bit of music is found, its quality and unusual turn begins a desire to find more amongst the littered images of paper.
Taking time to chase down bits of these sonic sound structures is worth it though. In fact, the way the website is put together, there will be no embedding of song on Bearded this time. Instead, here's a few directions for his
website
that are going to be a lot like following directions for a secret bar in an unfamiliar city. Then, and only then, will you get to hear James Brough's off-key trips and skips on the piano, with smoothly laced in motoring electronic beats. His voice is high, and not too dominant, it's instrumental, and a bit Icelandic.
"I Had A Name' (try clicking on the sheet of writing directly above the sign 'Endorphins matter, you don't') is led with the high pitched refrain of "do you want a little piece of your heart, oh no" and beats into the track softly with a rolling drumbeat and staccato piano. 'Our song' (click on the lyrics one in from the top right) is a chugging and beating piano and guitar clip.
However, the stand out, and most unusual, song is 'Two Dice'. Found under the stick man vomiting smaller stick men, it's a lofty electric sound, a lot like
Mum
, or other Icelandic music makers in its soundscape. There's a clever, yet incredibly simple formula that drives the piece; the piano notes are constantly pulling slightly away from the vocal, resulting in a very satisfying contrast for your ears. Ghoulish, almost Martin Grech-like in the tone of voice with enhancements through synths and scattered ringing bells.
The lyrics themselves, which are plastered in typewriter font across the website, are quite introspective with surreal phrases dropped in. At times they seem like doodled stories direct from dreams such as interviews next to bullets and lions posing as women for an improved hunting technique. This brings about similarities to
Chad VanGaalen
's take on music. Add to that a level of sweet intimacy which Brough shares with VanGaalen on some of his sounds.
Even with just these scraps to go on, it's a very promising and bold way to start for James Brough. If he gets to the stage of releasing a collection of songs it will be interesting to see which of the lyrics hammered out in typewriter font appear on which track. Until then, it's worth having a stumble around his website and Facebook page to keep up-to-date with his work and the dates he is currently doing around the Midlands.