Introducing… Fleabite
Our Introducing...series focuses on artists who we think are worth shouting about. Here we have Fleabite a ripping fuzzbox punk thing from Boston gaining support as they release their second EP.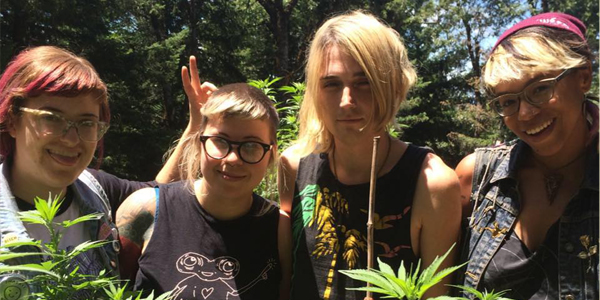 Here at Bearded we aim to shed light on acts who don't necessarily have giant labels or muscley budgets waving banners behind them. This Introducing series will focus on artists who we think are great, regardless of how much hype surrounds them or where their origin story lays.
Bio
Name: Fleabite
Location: Boston, MA
Genre: DIY Grunge, punk
Similar Artists: Sonic Youth, The Breeders
Contact:
Soundcloud
Facebook
Bandcamp
Events: Recent release of EP TTYL touring around the south of the US
On 23 June Boston-based Fleabite released their second EP TTYL. A four track ripping fuzzbox of a grunge punk thing, this is their offering to the sweaty halls of bars that some of us love so much.
There is, of course, the obligatory underground grimy punk cover of a cheesy pop song from their youth. In this instance The Vengaboys' 'Boom Boom Boom.' Like when Biffy Clyro covered Rhianna's Umbrella or Radiohead covered Carly Simon's Nobody Does It Better. Soft start followed by loud chorus.
After the cover of that particularly memorable dutch teen-party band, Fleabite set to releasing their own EP. Over It was released in April 2014. Described by the band as "six songs of fuzzy pop about drinking & exes & cats" this is a short EP that doesn't necessarily need to have songs distinguished from one another. It's the sort of DIY rock approach that with lots of energy slamming songs into each other there becomes an ocean of punk thrashing around with energy and vibrancy. It meshes together and provides the chaotic fun that comes with punk.
Latest EP TTYL is not an entirely different sea of noise, but it does have a slightly catchier element to it. Driving power chord riffs and vocals fed through distorted make it sound like just the kind of raw energy to be discovered in a darkened club. EP kickstarter 'What's Up' is definitely worth getting excited about and jumping like a lunatic to. It's the same vibe that you would get from
Wolf Alice
,
Sonic Youth
or
The Breeders
but with leaning towards the dead-pan, understated, relaxed vocals of
Big Deal
. This is where Fleabite are headed. The band is grabbing the attention of a fair few people around the Boston area and is set to continue touring the area as it has done in recent months supporting their fellow punks. Await the full album of punk energy and chunky power chords soon.