Introducing… Fat Goth
Our Introducing... series focuses on artists who we think are worth shouting about. Here we have Fat Goth, and their slightly weird, loud, riff-heavy music with a punk/metal flare.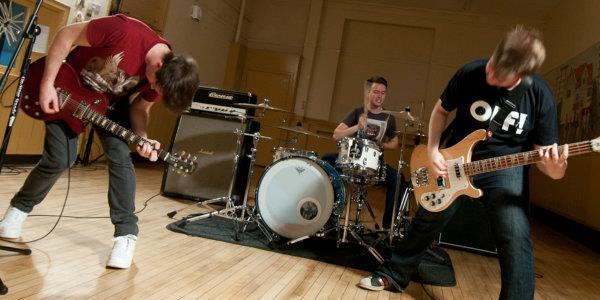 Here at Bearded we aim to shed light on acts who don't necessarily have giant labels or muscley budgets waving banners behind them. This Introducing series will focus on artists who we think are great, regardless of how much hype surrounds them or where their origin story lays.
Bio
Name: Fat Goth
Location: Dundee, Scotland
Genre: Visceral Rock
Similar Artists: Black Flag, Melvins
Contact:
Facebook
,
Twitter
Events: Playing Wickerman Festival this July, about to embark upon their first tour in England.
What with the recent introduction of the Introducing... section here on Bearded Magazine, it seems only right that the first band who popped into my head came from the City of Discovery, Dundee.
Fat Goth
have been together for almost six years now, and grabbed the attention that they most definitely deserve with the release of
Stud
at the turn of the year. Rather than me wax lyrical about how good
Fat Goth
are though, I thought I'd ask them to do it for me...
Fraser Stewart:
Hi Bearded Magazine. My name is Fraser Stewart and play guitar and provide vocal nonsense for
Fat Goth
. I am a 30 year old Caucasian male with dark hair, green eyes and a permanent chip on my shoulder.
Mikey Reynolds: Stud has gone down really well - was it the sort of reaction you expected?
F:
In a word, no. I'm somewhat astounded by just how well it's been received and how far it's managed to reach in terms of media exposure. That's undoubtedly all down to the efforts of A Badge of Friendship, who we will forever recommend to anyone looking to give their own music a considered and effective press campaign.
Our drummer, Mark, who also acts as our general manager/whip-cracker, insisted on giving
Stud
a proper release rather than simply punting it up on our bandcamp page for free as soon as the recording sessions were complete. This was the case for all our previous efforts. While the prospect of reaching more ears is always appealing to the aspiring musician, I was certainly dubious as to how well our material would perform in such a context. I just thought it would be funny to put it out there and subsequently receive an absolute vigorous beasting from the music press. Years from now I would look my grandchildren in the eye and tell them, "You see, I tried to better myself once and look what happened. Total waste of time! Your dreams, hopes and aspirations mean nothing and the sooner you kids understand that, the better!" My prediction was incorrect and while I'm now left searching for some other pearls of wisdom to pass onto the younger generation, I would like to state that Mark, Kevin and myself are genuinely chuffed with all the nice things folk have said with regards to
Fat Goth
's recent noise.
M: It seems like it's set you up well for 2013, releasing it in January. Do you have big plans for the rest of the year?
F:
Indeed we do. We're embarking upon our first week-long crusade below the border at the end of April/start of May. I believe we're still in the process of finalising one more date but the rest of the tour dates are confirmed and will be getting announced via our Facebook and Twitter accounts in due course. Mark deals with all that stuff, I just make sure I show up whenever and wherever I'm needed! Regardless, we're certainly looking forward to visiting new places and playing to new audiences. I'm sure the facial expressions of bewilderment, confusion and disgust will be as consistent in England as they are in our native Scotland. Following that,
Fat Goth
will be supporting the one and only,
NoMeansNo
in Edinburgh on 28th May at The Electric Circus. We're all chomping at the bit for that one! During the summer we'll be returning to The Wickerman Festival and performing on The Solus stage on 27th July. We played there last year and had ourselves a time. Hopefully we'll get invited to do some of the other festivals this year but The Wickerman is currently the only one greasing up and granting us entry. Finally, the overall plan is to head back into a studio and record another album before the year is out and play shows whenever we have the time and energy.
M: For those who aren't familiar with the band, how would you describe your sound?
F:
For the most part it's loud, guitar riff-heavy, slightly weird, visceral rock music with a punk/metal flare. Anyone who enjoys that kind of stuff could easily identify our main influences while hopefully appreciating our efforts in attempting to blend those different genres together. Personally, I hope folk regard our music as unpredictable and difficult to pigeonhole. I'm a big
Melvins
fan and I really liked this quote from Buzz - "I believe I have good taste. Therefore, the music I make will be good." Amen.
M: You've spoken before about making a living off the band being up to others - do you see Fat Goth ever becoming a bloated, stadium rock monster?
F:
In order to reach such epic proportions, the mental stability of the general population would have to be brought into question given the overall nature of
Fat Goth
's music. It's unlikely. That said, I would have no problem playing my own part in that particular scenario. I imagine greedily snorting line upon line of Columbia's finest from the generous cleavage belonging to a simply outstanding 'fancy piece' while my bank account strains from the sheer volume of iTunes and Spotify royalties. Sounds ideal and something I undoubtedly deserve.
M: Most Scottish music seems heavily concentrated around Glasgow, whereas you came from Dundee. Do you feel that made it harder to get noticed?
F:
I think all we've ever tried to do is simply focus on writing the best music we possibly can. If it's good enough, people will eventually hear it and enjoy it regardless of where it's from. I've lived in Dundee my whole life and have been making music for over 10 years so I'm used to the cons of being based in a small place that often gets overlooked. It doesn't really concern me nowadays, although it's obviously encouraging and highly satisfying to see the level of interest and praise we've been fortunate enough to receive in the last year or so from folk outside of our hometown. Again, this is ultimately down to A Badge of Friendship, without whom I seriously doubt I would be sitting here doing an interview for Bearded Magazine.
M: We could talk for hours about the myriad of influences that you pick up listening to FG - if you had to pick 2/3 main ones, who would you go for?
F:
Rather than listing the usual, I'll be democratic here and list 3 bands
Fat Goth
is currently enjoying collectively. Both Mark and Kevin are fans of
Kverlertak
and have been spinning their debut a fair bit. We went to see them in Glasgow last time we were through and I thought the show was ace! Kevin has been singing the praises of
Dutch Uncles
, who I have yet to hear but I'm sure it's good, while I've been indulging in
Harvey Milk
's back catalogue.
Purchase the new Fat Goth album Stud here, and keep an eye out for announcements of their forthcoming English tour soon.