Introducing… Empress
Our Introducing... series focuses on artists who we think are worth shouting about. Here we have Empress, a technical/math/progressive metal foursome from LDN.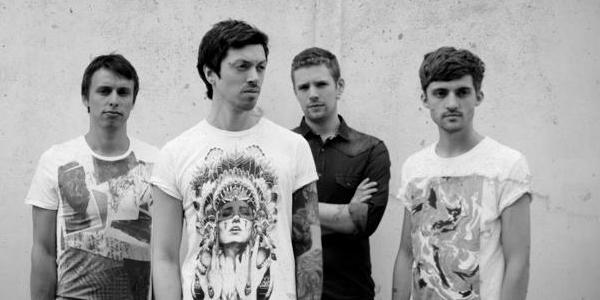 Bio
Name: Empress
Location: Reading, UK
Genre: Technical Metal/Prog. Rock
Similar Artists: Tool, Feed The Rhino, Slipknot, System Of A Down
Contact:
Facebook
,
Twitter
An irrevocably rising behemoth of metal, yet still fresh enough to just be cutting their teeth,
Empress
are a fusion of mathy/technical metal and soft-around-the-edges progressive rock.
"We always take on influences from new stuff we check out, so our sound will always grow and develop because of that." They aren't wrong; the music goes from bitingly hard, and suitably epic metal which is as raw as it is defined, straight into soft and calming acoustic interludes in the flick of an eyelid, many times over.
Having just capped off an incredible tour with
Cancer Bats
earlier this month,
Empress
show no signs of calming down: "Every show went really well and we got to hang out with awesome bands every night. Finishing the album was pretty monumental, too; we can't wait for people to hear it."
Empress
have already had quite a year – as well as the tour with
Cancer Bats
, the guys have just embarked on an epic tour with the mighty
Bring Me The Horizon
and
Crossfaith
, and as if that wasn't enough, the boys are bringing their frenetic, spasmodic cocktail of math and metal to this year's Download Festival, which they feel will be for "anyone looking for the perfect warm-up to Mastodon and
QOTSA
". All this, and the release of a new single, 'Deeper in Disguise'.
The band issued a cover of
Pink Floyd
's 'Breathe' on 2012's EP,
Perplexed Again
; an unusual choice for a band with more energy than
Slipknot
on speed – the song is famously airy, light and euphoric: "We absolutely love
Pink Floyd
, and
Dark Side
is one of the most influential albums on our own sound as well so many other people's. We were aiming for a more 'stoner' sound. We tuned the guitars down and made them really fuzzy –
and
used an octaver for the heavy parts. It came out great! The song is so powerful that even after changing the vibe it resonates through. Just unfortunate we can't take credit for it!"
Empress are on tour right now with
Bring Me The Horizon
and
Crossfaith
, and the video for their new single, 'Deeper in Disguise', has just been released. You can catch it below.