Introducing… Broken Men
Our Introducing... series focuses on artists who we think are worth shouting about. Here, Liverpudlian purveyors of bludgeoning riffs par excellence Broken Men are profiled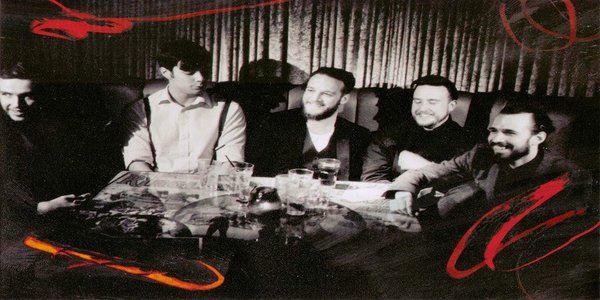 A booking held at that famous venue/tourist attraction on Mathew St, a dual purpose gig and live session for BBC Radio Merseyside sees
Broken Men
take to the stage. Launching headlong into their set, the band's sound, neatly summarised on their Soundcloud page as 'SweatMuzik', tumbles from the venue PA with unstoppable momentum.
A ferocious amalgam of colossal guitar riffs alloyed to crunching John Bonham style beats and lead singer Rob's impassioned, bellowing vocals, the band's tracks lose none of their power transferred to the stage. Drawn from last December's impressive debut release,
PHASE001
along with several new cuts, the tracks bulldoze their way into the listener's conscious in some style.
The battering-ram approach, aside from winning the audience over within the opening minute still affords plenty of room for melody and dynamism, 'Oversold' a brilliant exercise in hold-and-release volume control oozes tension while 'Warning Sign' thuds persuasively along on a NYC derived punk-funk riff. Barely stopping between tracks, the band's uniformed shirt-sleeves-and-bovver booted look exhibits a slightly a malevolent air, lead singer Rob exuding a firm 'Don't fuck with me' attitude that would make even the most gung-ho stage invader think twice about encroaching on his turf.
Led by guitarist Tom's XL-proportioned riffs and drummer Mike's pummelling beats, bassist Fash, throwing shapes throughout the set, underpins proceedings, keyboardist Ben adding ballast to the sound. 'It's about 35 minutes now Mike explains of the band's concise live sets in a pub, pre-gig. 'I think if we were headlining Wembley we'd still only play for 35 minutes'. 'David Byrne only plays for an hour' Ben adds.
Formed following years spent working with each other in various combinations of groups, Broken Men's pile-driving sound largely derives from the musicians' rapport with one another. 'We've all worked with each other in a lot of different groups, so we know how to play together' Ben says. (The group features alumni from
Pop Levi
and
Lucky Beaches
' backing bands)
Possessed with a distinct sound, the band's influences are impressively difficult to pin down, a facet possibly stemming from the band's ability to switch instruments easily, meaning any one player can be the catalyst for songwriting. 'It's an open forum' Ben nods. 'We never ever talk about influences, we never send each other home to listen to records' Mike adds. 'We can play anything and if Rob sings over it it's gonna have a Broken Men vibe. The guitar sound and the vocal sound are real stand alone elements.'
Indeed, along with Rob's strident vocals, one of the band's signature components, the bludgeoning guitar sound created in the studio and successfully transferred to the stage was discovered through a mixture of accident and design. 'We had two guitarists at one point and we were playing the same songs but there left a lot of space' axeman Tom explains. 'We needed something that was gonna make it sound meaty so I got a synth pedal. That's got a low octave and a high octave setting on it that fills it out, you throw some fuzz on it as well and it sounds huge.'
Rob's lung-busting vocals, reminiscent of Soundgarden frontman Chris Cornell at points was seemingly arrived at by a similar process. An avowed fan of The Doors, the sheer conviction displayed by the frontman reroutes the vocals to somewhere else entirely. 'When you hear it, it sounds like a big rock vocal but he's not into that at all' guitarist Tom notes. 'He gets himself amped up before gigs, when he goes onstage he's quite intense, like he's going out for a fight.' 'He always looks like he's gonna beat one of us up' Fash laughs.
Eschewing the well-trodden path of putting out an EP or single twice over then an LP, the band opted for an alternative approach to releasing tracks. PHASE001 was consciously designed as a first of a series of instalments, with following releases continuing the elastic concept of not having a set number of songs on each. 'It could be anything, it's whatever we feel like recording, even one track' Mike explains. 'It'll be an ongoing thing, when there's enough songs to put the next record out we will, no pressure. The next one's gonna be an hour, nine tracks or something'.
With Liverpool Sound City on the horizon in May, the quintet have 2013 mapped out for live work further afield. After a raucously successful support stint around Italy with Echo & the Bunnymen, the band are aiming for a return visit to the Apennine Peninsula possibly in August. 'Wouldn't you rather go on holiday?' Mike asks rhetorically of the preference for playing abroad. 'We're old school, in a van stinking it up, hating each other after 20 days!' he laughs. 'A case of no breaks, eighteen, twenty-one days of gigs. You may as well be fucked at the end of it. They're shithouses new bands. It costs loads of money to have three days off in the middle of a tour.'
While the first Phase was helmed in the band's studio at the former headquarters of
Milk:Presents
in Liverpool city centre, the new material saw a relocation a few miles away to the hallowed surroundings of the Motor Museum, the studio that begot
Definitely Maybe
and
Whatever People Say I Am
.
Closely linked to label/events/recording/design company
Milk:Presents
based in the city's Baltic Triangle, Broken Men's second phase will be the first physical release on the record label arm of the multi-faceted organisation. Returning to gigs, the band's preference for taking to the music to the people via traditional means, largely avoiding cyberspace is echoed in the quintet's cryptic publicity/cover shots. Taking the form of distorted monochrome photos or a brilliantly cryptic set that features a baroque-looking desk, a Bakelite telephone and various antique artefacts overlaid with Braille type, the band's wilfully low-key approach to promotion lends them a fair amount of mystique.
'The same kind of Milk ethos goes into Broken Men' Mike explains. 'We're not gonna be on Facebook all the time. It sorts the wheat from the chaff, you find your fans properly that way I think. It's not giving too much away, it's more like 'come and get it.''
Broken Men play Liverpool Sound City on Thursday 2nd May