Introducing… ABORT ABORT
Our Introducing... series focuses on artists who we think are worth shouting about. Here we have ABORT ABORT, a savage, riff-crunching rock duo from Bristol.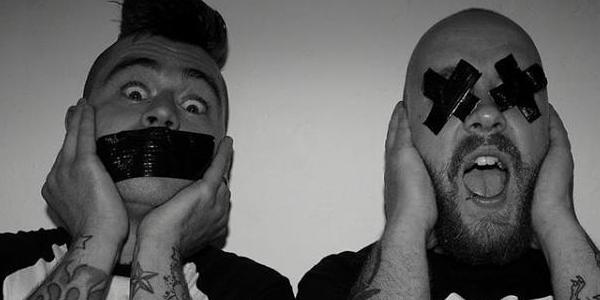 Here at Bearded we aim to shed light on acts who don't necessarily have giant labels or muscley budgets waving banners behind them. This Introducing series will focus on artists who we think are great, regardless of how much hype surrounds them or where their origin story lays.
Bio
Name: ABORT ABORT
Location: Bristol
Genre: Punk-Rock
Similar Artists: Cave In (
Antenna
era), Kyuss, Audioslave
Contact:
Facebook
,
Soundcloud
Events: Currently releasing their 5 track self-titled EP,
ABORT ABORT
ABORT ABORT
are a duo from Bristol with the names Flip and Sam. It is a pairing which could easily have been the name of an '80s cartoon detective partnership. Fortunately, they formed a riff driven rock band called ABORT ABORT and ended up pumping out a raw noise that grinds like Nick Oliveri's voice through a steel pipe.
In fact, the name ABORT ABORT gives a great clue to the urgency and energy that this band pumps out over their five track self-titled EP. Using just a synth, a drumset and a guitar with a couple of pedals they produce deep crunching riffs, and have been enjoying plays and gaining followers from rock radio stations and gigs.
Very much like the heavy crunching rock that hit the music scene from America at the turn of the millennium, there's nothing overly complicated about ABORT ABORT's sound, and there's no time wasted on any nonsense. For rock fans that enjoyed the fast paced drums of
Cave In
on their
Antenna
album,
Kyuss
' riffery, the screaming of
Queens Of The Stone Age
's Nick Oliveri, or crowing of
Chris Cornell
, this'll do nicely.
On ABORT ABORT's EP opener, 'Duplicate,' there's a little extra pungent rock-riffery in there to form a strong spine, and then smash some speakers. Other songs such as 'Fractured' continue the aggressively jagged riffery and vocals that ABORT ABORT consistently aim for. Big, fat, grisly guitar is intersected by tense or strained vocals. Then a hammering drumset pounds back in to join the guitar.
So far ABORT ABORT are giving as much urgency to their recordings as their name would suggest, and in doing so are bagging themselves plays on radio like Firebrand Rock Radio. Their EP is promising, and live shows are undoubtedly a smash and thunder job of energy. ABORT ABORT may well stay as a tasty underground act for some time, but this band and these songs are made to give joy to lovers of tight, energetic rock with a touch of the lower, industrial reverberating guitar riffs to strongarm you into their urgency.