Interview: Younghusband
Psych rock quartet Younghusband chat to Richard Lewis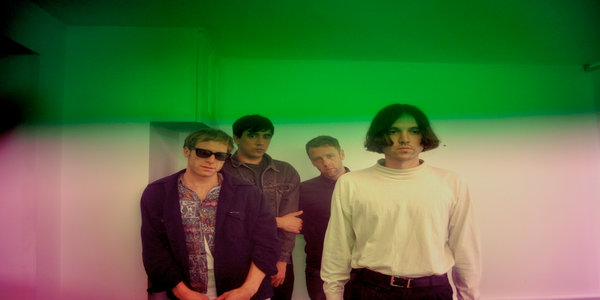 With their superlative debut album
Dromes
hitting the shelves on Monday, (check out the review
here
) psych rock/dream pop quartet
Younghusband
head out on their debut UK tour next week. Bearded caught up with lead singer, guitarist and band founder member Euan Hinshelwood to quiz him on Younghusband's origins, oil screen artwork and documentary film makers.
First things first then, where did the band name come from? 'It was a surname from a character in (Heinrich Harrer autobiography)
Seven Years In Tibet
Euan explains from his base in East London. 'I just really liked the aesthetic of it, the way it appeared as 1 word. Like nineties bands would stick two words together as one.'
Younghusband's first fully fledged recordings as a unit resulted in superb double A-side 'Carousel' / 'Nothing Nothing', released on TooPure June 2011, piquing the interest of radio. While the quartet had yet to play live, the attention the release garnered took a while to sink in. 'I was surprised that 'Nothing Nothing' received so much attention' Euan states. 'I knew it was a great track but the recorded version was different to how I heard it. I kind of dismissed it, then realised later on it was a much better recording than I first thought.'
Originally an outlet for Euan's lo-fi recordings, pieced together on a bedroom 8 track, the arrival of bassist Joe Chilton, drummer Pete Baker and guitar/keys player Adam Beach saw the 'Husband definitively become a group. How has the band's material changed since the arrival of Adam, Joe and Pete? 'Things instantly became more interesting' Euan states. 'Things were questioned more and the sonic palette opened up so much. They're really great, creative musicians.'
With a score of singles already logged and excellent notices for the LP flowing in the band head out on their maiden tour across Blighty next week. How has your sound changed since you began gigging regularly? 'Playing live allows us to hear our songs with fresh ears and in turn gives us more confidence in the parts of our music that have come to define our sound' Euan states.
'It's important to remember that each gig is a unique experience. We like to play around with structures of the songs which keeps it exciting for us and for the audience too. Hopefully!' he laughs.
Cited as a band influence alongside indie figureheads Broadcast, Stereolab and electronic pioneer Delia Derbyshire are Otis Redding and the Stax label. What elements of their music inspire you? 'We noticed a thread running through a lot of the Stax releases, whereby a sweet pop song will be propelled along by a staunch, often unchanging and seemingly simple rhythm section, totally unafraid of repetition' Euan explains.
'The footage we've seen of the Stax Volt tour (legendary 1967 revue that toured England and France) is particularly brilliant. You realise the level of musicianship is incredibly high and how complex their parts actually are. Complex but never complicated.'
While Younghusband's early recordings were self-produced, for the debut LP the talents of acclaimed American producer Nicholas Vernhes (Deerhunter/Wild Nothing) were called upon. How was it working with him, what did he bring to the recording process? 'It was a lot of fun!' Euan says. 'Fortunately we all have a similar sense of humour, so it never really felt like hard work.'
'His approach was all about moving quickly and trusting the gut. No over-analysing! He inspired a kind of bloody-minded approach' the singer recalls. 'He never said no to an idea, no matter how ridiculous it seemed. He never adjusted to our time zone and would not appear until about midday. He also has a great falsetto!'
Citing ultra-prolific US indie stalwarts Yo La Tengo as an inspiration, do Younghusband hope to emulate their lengthy back catalogue? 'David Bowie famously said you should record more than you release' Euan reasons. 'David Bowie also said he's reinvented his image so many times that he's in denial about originally being an over-weight Korean woman. David Bowie has some great quotes...'.
A stylistic element running through the band's releases is their outstanding cover art, created by Luke Frost at Heretic. Reminiscent of the vintage oil screens seen hanging from the walls at the hippest London psych clubs like UFO and Alexandra Palace's 14 Hour Technicolor Dream in 1967, aside from the initial visual impact, the images create an idea of what Younghusband are aiming for before the record is even played. Is the artwork for your releases especially
Dromes
an important aspect of the band? 'Yes. Really happy with how it's turned out!' Euan enthuses.
'I remember when I first held the vinyl in my hands. It was the moment when it dawned on me that we had made an album. He likes to use those sort of processes to make his work. He's captured a sense of the music that we can all relate to. It's always so rewarding to work with visual artists. We try and just let them get on with it. Sometimes it doesn't work out, but Luke got it spot on.'
In addition to repeated viewings of Wim Wenders' classic
Paris Texas
and filmography of 'the arch priest of trash' John Waters, Euan selects the work of photographer William Eggleston as a recent inspiration.
Best known to music fans for his cover photographs for Big Star's Radio City and Primal Scream's Give Out But Don't Give Up, the photographer also created documentaries. 'There's an amazing documentary by him called 'Stranded In Canton'' Euan enthuses. 'He filmed his friends being weird with a Sony PortaPak in New Orleans and Memphis in 1973. It gave me nightmares' he says.
Younghusband's debut LP Dromes is released through Sonic Cathedral on September 16th
The band tour the UK in September, dates as follows:
17th – Manchester – The Castle
18th – Hull – Adelphi
19th – Glasgow- Nice N' Sleazy
20th – Leeds – Cockpit
21st – Leicester – Cookie Jar
23rd – Southampton – Joiners
24th London – The Lexington
26th – Bristol – Louisiana