Interview: Wildbirds and Peacedrums
Ian Stanley chats to Swedish renegades Wildbirds and Peacedrums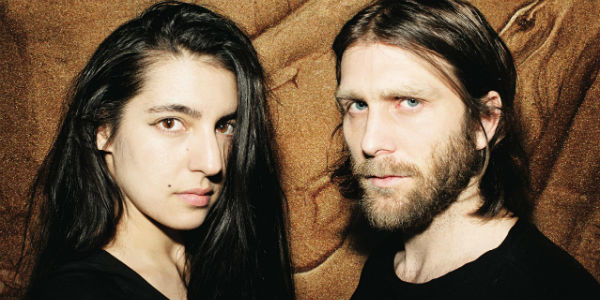 Recording new album
Rhythm
with "just me and Andreas in a room with no windows but with a lot of drums", Björk being "completely against the rules" with the Swedish royal family, and a solo album for Mariam.
Wildbirds and Peacedrums
talk to
Bearded
about making their fourth album and what the past couple of years have held…
When
Wildbirds and Peacedrums
announced themselves on the music scene in 2007, they did so with the thunderous drumming and wild vocals of 'Doubt/Hope'. It was just the two of them making their ratio of volume and intensity to head count marvellously disproportionate. Three albums and one solo album later they've added to their intense drumming with throbbing bass, bells and more electronic drums on album number four,
Rhythm
.
Soon after winning the Swedish Jazz album for their first album,
Heartcore
, admirers flew in including Neneh Cherry, Lykki Li and Björk. Mariam soon provided vocals on Lykki Li's second album and Andreas played drums for Neneh Cherry. Then, when Björk was given the Polar Music Prize Wildbirds and Peacedrums performed their own version of 'Human Behaviour,' with full orchestra, at the ceremony – which was somewhat different for the usual mainstream evening.
As Andreas Werliin, one half of the duo, explains: "Björk was absolutely stunning that evening. Trying Mariam's steel-pan out and completely doing her own thing. Even though she had the King as cavalier, later at the dinner she sat down before him every time. Completely against the rules. Perfect."
Wildbirds and Peacedrums have spread their wings far and wide since the wild drumkit and the vocal duo which caught eyes and ears on
Heartcore
. Album number two,
The Snake
, swayed with vibrant energy towards the climax of 'My Heart' which was eventually performed to brilliant effect with the backing of a full orchestra. Then their last album,
Rivers
, included a full gospel choir to create a haunting album which hummed through ten tracks.
Mariam Wallentin, delivering vocals for the band, says "I hope we will always explore and try out different things. Sometimes it will hold and sometimes it will fall. This time we knew more what we wanted from the start." And that settled feeling comes from both members of the band; "this album feels very special to us. And it's easily the best one we've done so far" says Andreas.
For this latest album,
Rhythm
, there is change again pushing in electronic blips and pongs. The drums are more tribal and there are more layers. Everything is bigger and done with greater intensity. There are even appearances from deep, electronic bass similar to that on PJ Harvey's 'My Beautiful Leah.' "We have always wanted to sound big," says Andreas. "The "problem" is that we are only two and really don't know how to play any other instruments really well other than drums and vocal"
Regardless of their shortage of numbers, Wildbirds and Peacedrums still kick out an impressive sound. And there are no plans to expand the band's number, "we actually started as a trio with a bass player, having fun, writing songs. But we figured out that it got more exciting when only the two of us were playing" continues Andreas. To which Mariam agrees, saying that when they first changed to a duo "The feeling of freedom just playing the two of us was tremendous and overwhelming. We found a way to do what we both were interested in, breaking boundaries inside of ourselves, trying to find new ways to do it and new places to be." And that energy and chemistry could have had something to do with their resulting marriage not too long after meeting.
Rhythm
is a coming together of all previous albums, including Mariam's critically acclaimed solo effort as Mariam the Believer,
Blood Donation
. That album was altogether much more electronic, complex and introduced a white guitar to the line-up for the first time. As Mariam learned to play the instrument it became a focal point for the album. So when Mariam confesses, "I have a new love, a half acoustic dark-brown Gibson that I'm getting to know right now" there's a good chance we'll be seeing a lot more of that particular Gibson in the future. And as for future solo album plans: "Absolutely. I have a Remix EP out on Moshi Moshi, I'm working on my EP series (where the organ -based
The Wind EP
is the first one released) and planning the next full album. Bursting with ideas."
From the moment of their first meeting while studying music at Gothenburg university, continually trying to avoid being stamped as any one genre – "My body starts to itch if the music I'm playing is too close to something already existing" (Andreas) – and then recording the latest album as "just me (Mariam) and Andreas in a room with no windows but with a lot of drums." It has been a constant creative process for Wildbirds and Peacedrums. "We can be jazz, we can be punk, we can be pop, it's all about the listened references and mind," says Mariam. "And the listener needs to get involved. Some people have told us that they add stuff in their own head when listening to us, sometimes strings, sometimes guitars, and that's great… personally, I have never cared about genres and styles. Freedom is the future."
Whatever the band turn their hands to after this,
Rhythm
is definitely the next step in the continual expansion of the Wildbirds and Peacedrums sound. And they are so determined not to get pegged back by larger record labels or managers they have started doing it all themselves: "We would never put ourselves in a position where someone else would control our creative process" says Andreas. "We have tried to work with a manager, didn't work. We have worked with a handful of different labels around the world, and have learned a lot of how the big machine works. That helped us decide to start out own label
Repeat Until Death
, that will be our base in the future. I guess the only way were we can feel completely safe and free is to take full responsibility of the whole process."
And although they have just played two dates in London for the UK leg of their tour, "We are touring in late spring again and hope to see some of the real UK then!" says Andreas, with Mariam adding cheerfully "We're coming after you."
Rhythm out now on Bandcamp, Spotify or available to buy.

Mariam the Believer, Remix EP coming out end of October on Moshi Moshi