Interview: Vee VV
1980s Blackpool post-punk outfit Vee VV chat about their recent reformation, being part of the UK indie scene and future plans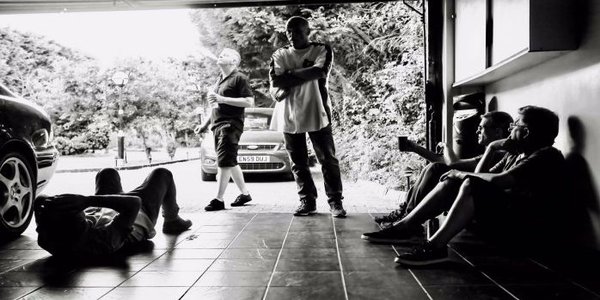 A firm fixture of the UK's underground music scene for a number of years in the 1980s, post-punk outfit
Vee VV
carved out a niche as purveyors of taut, melodic art rock that sits comfortably alongside The Pop Group and Gang of Four. Emerging from the ashes of Blackpool band Tunnelvision who released a single on the iconic Factory Records label Watching the Hydroplanes (Fac 39 for the anoraks) produced by Martin Hannett, Vee VV came into being in late 1981. Winning the praise of key taste makers BBC Radio One DJ John Peel and the then hugely influential NME, the group chalked up an impressive run of singles and live shows before finally dissolving in 1990. Included in
Death to Trad Rock: The Post-Punk Scene 1982-87
by fellow Blackpool musician, future music scribe John Robb, the group rubbed shoulders with the indie cognoscenti of the era.
Returning to the stage on the thirtieth anniversary of their last gig, the band headlined Blackpool Music Festival late last month. Following this with a support slot to Inspiral Carpets alumnus Tom Hingely (whose group Too Much Texas Vee VV had supported in the late 1980s), the outfit are a fully fledged live concern again. Possibly Vee VV's best known track, 1982's brilliant, prescient Love Canal has recently been reissued by cult Liverpool indie label Edils Records, which prepares the ground for a full retrospective on the band's career,
Payola
due for release via Edils early next year.
An obvious journalistic lead off question to start with then, why have you decided to reform now? 'Straight off I'll refer this back, as it was kinda 'a done deal' by the time I got wind of it, no hesitation on my part. I've always felt there was a lot of 'unfinished business' vocalist Mark Omerod explains. 'In 2016 Edils Records contacted Pete our drummer about releasing a retrospective release' bassist Martin Reynolds states, 'over the past eighteen months we worked at Temple of Din studios to digitise the tracks. idea of playing live again wasn't on the agenda until about six months ago. Within a month of everyone being contacted we began rehearsing'. Heading into rehearsals, how did it feel playing the material again after all this time, did the pieces fall into place easily? 'In one way it was like getting back in the saddle, but we've all experienced different events and circumstances over the 29 years and now we bring those to the table along with the shared experience' Mark replies.
Heading back to the early 1980s, what music were you listening to around the time of Vee VV's formation? 'At the time it was the post-punk art-house fallout, a collective whose bible was the NME and the cathedral of hymns was the John Peel Show' Mark says. 'There was a patchwork of youth sub-cults which were mixing up what had previously been seen as black or ethnic sounds, and giving them a twist. So, the original idea was to try and create something that was James Brown at the bottom end, with a slice of (NYC No Wave saxophonist) James Chance style with Pop Group lyrical intensity with guitars. Looking back it was a tall order!'
Founded in Blackpool, Vee VV's contemporaries included The Membranes headed up by aforementioned music scribe John Robb and early days Factory Records signings Section 25 (who Vee VV guitarist Ian Butterworth later joined). With all three of the acts currently operational, what are your memories of Blackpool when you started out? 'Memories too many to mention' Mark states. 'It was a period where two weeks was a lifetime, bands split, reformed, split again. Rehearsal rooms, dragging kit around and still going to see two bands a week. Do kids still have this level of non-chemically induced intensity?'
With the notable exception of Joni Mitchell classic Big Yellow Taxi, songs about the environment were a largely unexplored subject in the early 1980s. A timely re-release given the current environmental situation with the war on plastics and increasingly dire warnings about the health of the planet, the angular melodicism of Love Canal comes with a fascinating backstory. Championed by John Peel on his BBC Radio One show, the track details a suburb of Niagara Falls, New York State which became severely polluted after being used for decades as a chemicals dump. Declared a state emergency in 1978, after hundreds of local residents had fallen ill, the area was subject of an environmental clean up that lasted from 1983 to 2004.
A landmark case in US legal history and a game-changer for environmental protection, despite all this Love Canal wasn't a notable story on this side of the Atlantic. 'I don't think it was' Mark replies. 'I came across it all in a book I'd got from the local Library. Remember them? And they had books available that you wanted to read. I wish I'd remembered the title of the book now, it was just one of those where it just flew out. The first line goes down, you come up for air and it's there. Read it, put it in a drawer for a few days. Take it out. Read it again, if you're happy… Game on!' Formed around the height of the Cold War, world events understandably informed Mark's lyrics. 'We probably were concentrating on either the Falklands 'conflict' as it was then, it only became a fully-fledged 'war' later, or another Royal Wedding' the vocalist says of events in 1981-3 that inspired them.
With Vee VV decamping to London in early 1984, the entire gig listings for the year are almost all based in The Smoke. Established by Creation Records MD Alan McGee, which became one of the biggest players in UK independent music by end of the decade, Vee VV played four gigs at The Living Room series of gigs. Founded with the dual aim of promoting McGee's fledgling label and to give underground acts a leg up, the gigs were held at The Roebuck Arms pub on Tottenham Court Road. Site of The Jesus and Mary Chain's notorious London debut gig in June 1984, Vee VV were pitched in amongst the indie notables of the period. What do you remember of the clutch of shows there? 'Alcoholic oblivion for most, with the feeling that some there were in it 'to win it' rather than join in and participate' Mark recalls. My memories of playing the Living Room are that, the band having only recently moved to London, it felt like home' Martin responds, 'like JRs in Blackpool, bags of atmosphere and a really responsive crowd'. The then highly influential NME were greatly impressed by the dates, stating 'As the rhythm section stirred up murky memories of the Pop Group, the guitarist cut swathes of Leviathan jagged guitar out of thin air and a Woolies amp. But the indisputable star of the show was Mark ...there was a charisma incarnate in this rockin' ranter with a big gob'.
Standout fixtures amongst the band's live shows were support slots with My Bloody Valentine and New Order at The Boardwalk and the legendary Hacienda respectively in 1987. The
former was captured for posterity
, highly impressive given that video cameras weighed something close to half a ton in that era. What are your memories of playing those shows? 'My Bloody Valentine pass, New Order like your elder brother's mates' Mark responds. 'The MBV gig was one of a number we played at the Boardwalk, the sound was dreadful and tempers frayed' Martin recalls. 'The Hacienda gig was obviously well attended but surprisingly unremarkable'. Another gig in the North West meanwhile maintains that Vee VV inadvertently played as headliners to future notables. At a show in St. Helens following soundcheck Vee VV went to the pub while another band used their gear to run through material for some upcoming dates, the myth being that the group making a low-key appearance as 'The Lightbulbs' were in fact The Stone Roses.
In 1986, Mancunian fanzine Debris, ran by local writer and future Hacienda DJ Dave Haslam released The Romance Is Over as a flexi disc, leading to its inclusion on Cherry Red compilation
A Different Kind of Tension
. A busy year for the band, four track 12" vinyl EP
Boom Slump
also appeared issued by Blackpool label Vinyl Drip. Maintaining a busy live schedule, logging over
thirty gigs across the UK in 1986
, the following year saw a re-issue of Love Canal on 7" yellow vinyl with mini album
Life, Liberty And the Pursuit of Happiness
which featured the track arriving through their own Payola imprint in 1988.
A propulsive slice of agit-rock which took its title from John Lahr's biography of groundbreaking 1960s playwrite Joe Orton, cassette single Prick Up Your Ears b/w Flame On was released in 1989. the A-side was recorded for a
promo clip
at Leeds Polytechnic in March of that year. The tracks saw the band working with Nick Garside soon to become a stalwart studio presence for Manchester bands including James and Inspiral Carpets. Producing the session was future BBC Radio 6 Music DJ Mark Radcliffe, who initially began working for BBC Radio One as John Peel's producer. 'We had already recorded four songs at Out of the Blue studios for a Piccadilly Radio session' Martin remembers, 'So we were well aware of Nick's work ethic. When it came to following that release up with Prick up Your Ears and Flame On, it was only ever going to be there, especially with the added bonus of Mark Radcliffe at the helm'.
Contemporaries with the embryonic Madchester scene which began to coalesce in 1986-88, Vee VV played a brace of gigs at The International (ran by notorious Stone Roses manager Gareth Evans) which was situated across the road from The Hacienda . What do you remember about the period, was Madchester a genuine movement or was it more of a media invention? 'Initially it was reminiscent of the old Northern Soul Scene, underground and sassy' Mark states. 'Then, those entrepreneur types moved in which was positively sanctioned by the scene itself, at that time. Then with that came the marketing of ever decreasing sub-genes Trip hop, 'UK' Garage and the all too obvious split along racial and class stereotypes, and it's more polarised than ever with 'grime' and 'mumble' rap' Mark ruminates. 'As a force for societal change I'd argue that Rave or whatever tapped into a 'Shamanic' vibe that maybe we all share. Capitalism is ruthless, it ran with it, and repackaged it back with Lucozade and Purdeys.
With the present band recently reactivated, many of Vee VV's contemporaries are still around, with MBV and James alongside Creation Records alumni BMX Bandits, indie pop outfit The Chesterfields and Luke Haines formerly of The Servants still active. 'It doesn't surprise me that our peers are still going, why wouldn't they be?' Martin says of bands from that era. 'With so much mediocrity and celebrity nonsense being championed by the usual culprits, it's crying out for music that is energetic, passionate, opinionated and authentic'.
Love Canal is available now through Edils Records
Vee VV (w/ Vonhorn) play The Ferret Preston on Saturday 23rd February 2019