Interview: The Vacant Lots
US psych/garage duo The Vacant Lots chat about their outstanding debut LP Departure to Richard Lewis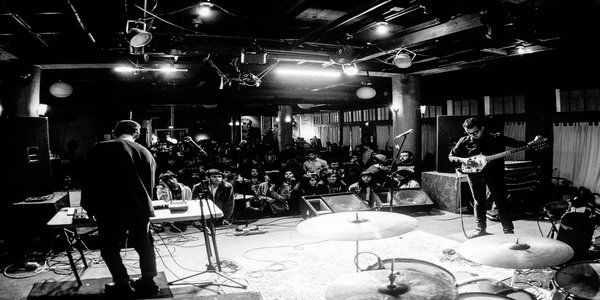 With the release of their outstanding debut LP
Departure
imminent (
review
) US psych/garage duo
The Vacant Lots
are set to support shoegaze/psych legends The Brian Jonestown Massacre on their UK tour from this week onwards. Introducing itself via the storming garage rock assault of lead single 'Mad Mary Jones' in April,
Departure
's eight tracks expands The Vacant Lots sonic palate to take in minimalist electronica, drone rock and beat poetry.
Comprising of Jared Artaud, vocals, guitars, bass and Brian MacFadyen, electronics, vocals, synths, drums, the TVL story begins in 2009 in Burlington, the largest city in 'The Green Mountain State' of Vermont. Going right back to the band's early days then, how did you come to meet each other initially? 'I had put posters up around town looking for musicians to form a band' Jared explains. 'Brian wasn't the first person who responded but the only person I connected with. We immediately hit it off. I knew right away that I found what I was looking for.'
The connection forged between the two has proved to be an enduring facet of the group, as despite auditioning other musicians, the duo could never find other players on the same wavelength. What might have been a setback for other groups was turned into a positive, as it forged a new direction for the pair, exploring what they could create as a duo.
Summoning up a colossal live sound between them, Jared's exquisite Vox Phantom 12 string features alongside Brian's racks of synths, effects and drumkit, many of the effects units built or customised by Brian, the band's resident electronics guru. 'I have everything set up in a way that allows me to control elements such as bass, drums, synths, and vocals simultaneously, with the ability to manipulate any one element on the fly' he says of playing live. 'It's proven extremely valuable and enabled us to work out tunes very quickly and efficiently, as we don't need additional session players to fill in the gaps. It's allowed us as just a two-piece to move in directions sonically that would have been impossible without electronics'.
On the subject of live work
YouTube footage
of the band shows the duo bathed under a mesmeric projections in keeping with the group's psychedelic mindset. Beyond being just a light show, the images are painstakingly assembled by the duo. 'The visuals are meaningful to us, we spend hours putting the montages together and choosing the right images' Jared says. 'In some kind of strange symbolic way it's like the visuals in the background become the subconscious of the live music performance. We're looking for a contemporary visual artist to collaborate on a new presentation of them right now'.
Citing NYC psych rock duo Psychic Ills, the icy synthscapes of Cold Cave and Cheval Sombre as recent inspirations, Jared and Brian recently collaborated with one of their musical heroes, Alan Vega, vocalist of groundbreaking electronic act Suicide. The meeting of minds produced 'Nike Soldier', released as a 10" single through Fuzz Club Records, with Alan's remix of Departure track '6AM' due for release later this year. The admiration between both parties clearly seems to flow both ways, with the Vega praising the duo 'I'm ending, and you're beginning... It's about time Suicide finally caught on'.
How did it feel being told by Alan he felt as though he was 'passing down the torch' to you guys, and how was it working with him? 'That was otherworldly. I mean, as you can imagine, we were completely honoured and stunned' Jared says of the experience. 'We hold Alan in the highest regards and have a maximum level of respect for him and his work, working with him is absolutely inspiring. When we met him in New York City at his home and studio it was really powerful, we walked out of his apartment building completely silent. We drove to Philadelphia for our next show on tour and didn't say a word to each other for like an hour. It was really something else' the singer recalls.
Venturing into inspirations drawn from art and literature, the present band wear their influences proudly. Jared's adopted surname Artaud alludes to avant garde French dramatist and essayist Antonin Artaud, creator of the Theatre of Cruelty, a visceral challenging approach to the medium that inspires theatre directors to this day.
'A lot of our earlier sets were very destructive and violent. I still think there is a lot of violence in what we are doing' Jared explains of the Artaud reference. 'I also liked the name, how it sounded, how it looked, how it connected. It's true that I also went to the French poets for a name steal but it was more in line with the lineage of rock n' roll artists who also spliced their name up such as Bob Dylan, David Bowie, Marc Bolan, Bo Diddley, Richard Hell and Alan Vega did. It's nothing new but I looked around and didn't see Artaud used and it seemed like a good fit' the singer states. 'I wanted to recreate my identity as an artist and allow for a perpetual mode of expression that didn't come attached with anything else. I needed a new start and it's what I chose.'
One of the band's recent cover designs was created by revered LA based artist Anthony Ausgang, best known to music fans for his eye-popping cover to MGMTs
Congratulations
album. This connection coupled with Brian's skill at creating effects units leading to an idiosyncratic addition to the band's merch stand in the shape of their own guitar fuzz pedal. 'It was an idea that just kind of clicked one day, to bring them on the road for merch that is' Brian explains. 'Sonically, it's something that of course works well for us, but the visual aspect on top of that is what really inspired us to go ahead with making a small run of them. The aluminium enclosures are a great canvas, with a huge variety of techniques available to alter and modify'.
'When I experimented with the brilliant artwork Ausgang prepared for our recent cassette release, it worked out well. I also think it's important especially for those with some interest in electronics to see equipment that is hand wired like this pedal. I remember when first getting into pedal building being put off by the ultra compact setup of commercial pedals, and think the longevity, customization, and repair of hand wired stuff is a huge incentive.'
An integral element of The Vacant Lots' mesmeric sound, their use of drones to create a musical foundation has been an intrinsic part of psychedelia since its birth. Listed on the LPs liner notes a curiously titled piece of kit 'drone box' is included. 'It's a tone generator from India that imitates a traditional tanpura, repeating endlessly' Brian explains of the device. 'It's a system or unit of sound that combines the digital electronic tanpura with external speakers and other forms of manipulation' Jared says. 'At the time I thought we were the only band using it, but that certainly wasn't the case, and now we realized there are other effects we can use that transcend what we were trying to achieve'
'However, my main influences when we started the band and now have always been rooted in early rock n' roll, Native American music and Indian tanpura. The drone instrument in Indian music really speaks to me' the singer explains. 'I'm not crazy about a lot of sitar stuff, but the simplicity and monotony of that drone instrument is where it's at for me. Take that and combine it with some Native American drumming and Link Wray meets Bo Diddley guitars and that is kinda my holy trinity of sound' he enthuses.
A huge part of TVLs sonic make up is their lyrics, many derived from Jared's work as a poet which runs concurrently with the group. 'Empty Space', Jared's debut collection of poetry was published to coincide with the release of
Departure
. Regarding song lyrics, do the poems and the tracks exist independently of each other? 'I think there is some overlapping verses or lines' Jared states. 'I'm sure a few things will get nicked for our second album too. It's hard to separate the poetry from the music as they go hand in hand, a lot of the songs emerge subsequently from when words are written down' the singer explains'.
'The lyrics are central. I figured that if you are going to write lyrics and sing them, they should be about ideas and concepts that matter most. The subject matter that we sing about tends to deal with themes that are also inside 'Empty Space'. I think the poetry I write is kind of fragmented and idea-grounded. I guess you can call them thought-poems. It is a way to combine the abstract with the very direct.' A second volume along with a new LP is already in the works. 'I'm working on a new book of poetry right now as well as some more paintings and designs' the vocalist says. 'We're working on our second album too.'
In keeping with Jared's fondness for juxtaposing the opaque and the immediate, the closing stretch of
Departure
sees expansive ten minute opus 'Make The Connection' succeeded by the concise melodicism of garage rock cut 'Do Not Leave Me Now'. Placed back to back the two tracks seem to represent both sides of the band, were both of these themes always present in the group, or was one dominant over the other? 'Early on, the sound favoured a more garage-y aesthetic' Brian says. 'It's been the addition of elements past just guitar and drums that has allowed these longer evolving experimental tracks to pack a punch and keep people entranced'.
'I don't know, we don't set out to write a psych or garage song we just write what we like' Jared adds. 'I guess the songs are representations of the music we would like to hear or play. I suppose that once you start breaking it down or deconstructing it, you will notice some recurring themes in the music. There are no long-winded guitar solos or jams and the only solo on
Departure
is by Dean Wareham (Galaxie 500 alumnus, now solo) on 'Tomorrow', even that is experimental and succinct. There is definitely an inherent drive to be concise and efficient with what we are doing and with the elements we have to work with' Jared summarises. 'It's a balancing act between madness and order'.
Departure is released through Sonic Cathedral on 30th June

The band tour with The Brian Jonestown Massacre from Saturday:

Jun 28 Concorde 2, Brighton
Jun 30 The Social, London, (Album Launch)
Jul 01 Roundhouse, London
Jul 02 Waterfront, Norwich
Jul 03 Anson Rooms, Bristol
Jul 04 Rescue Rooms, Nottingham
Jul 05 ABC, Glasgow