Interview: The Thespians
Rising Merseyside based indie rock quartet The Thespians chat to Richard Lewis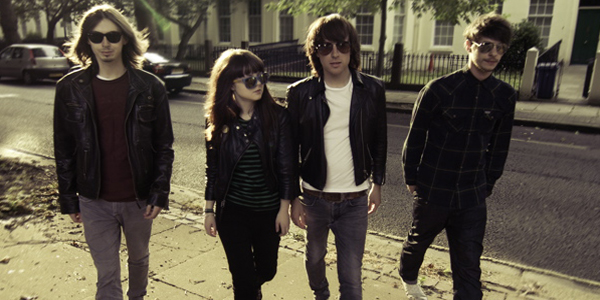 "Musicians wanted ads? I can't think of anything worse"
lead singer Paul grimaces when asked how
The Thespians
originally met.
"We all lived on the same street
" he clarifies.
Slumped across the supernaturally comfortable sofas in The Shipping Forecast bar, The Thespians have been making serious waves with their The Clash take up residency at CBGBs aesthetic in their adopted base of Liverpool and beyond.
With Paul (vox/guitar) Phill (bass) and Danny (drums) all drawn from various corners of North West England with Jess (guitar/vox) originally from Oxford, the four all met in Chester.
Due to the sleepy town's lack of musical amenities however, the four-piece moved their base of operations to Liverpool.
"We tried for ages to find rehearsal spaces in Chester"
Jess explains,
"Chester's lovely, but there's not really a lot going on."
Fate intervened in the band not securing a rehearsal space in the town however.
"We came really close to getting a space in a warehouse alongside Chester train station"
Paul remembers.
"We had the room booked, but the guy said 'Sorry, they're all gone, we'll keep you in mind if anymore units become available'. A few months after we moved to Liverpool the entire place burnt down."
Hitting the ground running pretty much instantly from their first show in August 2010, last year's self-produced debut EP
TwentyThree/Four/Eleven
, saw the quartet easily reproduce in the studio the sound of their bracing live shows which manage to somehow be both simultaneously ramshackle and well drilled.
Citing a treasured influence in The Ramones in all taking the same surname the idea was inspired by an encounter in the band's history.
"Early on somebody went up to a mate's girlfriend and said do you know Paul Thespian? They thought it was my real surname
" the singer explains.
The practice did lead to some confusion however.
"Some people have actually thought we were brothers and sisters!"
Jess says, slightly bewildered.
"We do tend to live in each other's pockets though, cos it's got to be like that on stage"
the guitarist adds.
"That's an interesting statement"
Paul ponders when asked if the band are more inspired by US bands than UK ones.
"No, I don't think so, we wanna make sure we sound English"
he states.
"Anything that's scratchy and raw and stripped down is what we're aiming for, we don't want it to sound too polished"
bassist Phill adds.
The propulsive rhythm section of Phill and Danny allows the dual axe attack of Paul and Jess ample room to maneuver while ensuring things stay on course no matter how ragged things get.
The mixture of rawness and precision is well represented in 'The Crash' which features a wonderfully tinny guitar solo mid way through against the backdrop of scratchy rhythm guitar and harmonized vocals.
The 'Reason to Reason' video, a simple but brilliantly effective B&W clip heightened the group's profile at a crucial early stage, building up impressive numbers on YouTube, justification for the conditions the video was shot in.
"It must have been –5C in there"
Jess remembers, shaking her head.
"It was colder inside than it was outside"
drummer Danny laughs.
"It was filmed in a hall right in the heart of Toxteth"
Paul explains.
"We had Danny playing drums, the PA blasting out, with people banging on the shutters shouting 'What's going on in there lad?"
A packed to the rafters gig late last year saw the quartet play to a host of industry types, yet despite being pursued by several indie labels, the group aren't in any particular hurry to sign with anyone at the present time.
"It's still early days with labels"
Paul says.
"We made a decision not to go and chase anyone at all, that's always been the ethic from day one. We just focus on ourselves and getting our songs the best we can be, recording them and sticking them online."
"It almost sounds arrogant, but it's a confidence thing. I think when we get it nailed, we'll sit back and say 'That's the best we can get it' then people will be interested. If not, then you've done your best haven't you?"
he states.
With nine songs already up on Soundcloud, the group are keen to have the world hear as much of their output as possible.
"You want people learning your songs, don't you? I just want people to hear our stuff"
drummer Danny shrugs.
The quartet have also piqued the attention of MTV New York who swiftly sought permission to use two of their tracks.
"They took 'The Crash' and 'First Impressions"
Paul nods.
"We've got some things in the pipeline with them which should be quite cool."
Having recently headlined the Resurrection Festival at The Kazimier and Eric's in Liverpool, the band's next engagement in the city is their Sound City slot in May, with album recording sessions soon after.
A final question, just to clarify something, does the name come from Thespis the first ever actor?
"There's the actor one which everyone relates to"
Paul explains,
"The other version is it was an ancient civilisation that worshipped Eros, which is the God of Chaos. That fitted perfectly."