The Boo Radleys: Giant Steps (Two-Piers) (Reissue)
Indie rock melodicists update psychedelia for the 90s in their ambitious, genre-defying masterpiece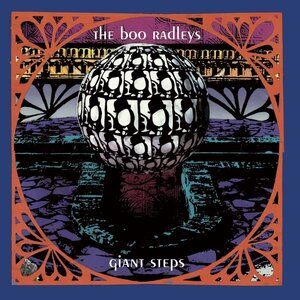 For a few glorious years, in the wake of acid house, the best British independent guitar bands opened their minds and raised their game. Primal Scream's brain-blasted 1991 epic
Screamadelica
is widely seen as Creation Records (RIP)'s finest moment. But
Giant Steps
,
The Boo Radleys
' staggeringly ambitious third album, their undoubted masterpiece, deserves the same level of praise. Hopefully the release of this 30-year anniversary edition will win more converts for the band, who have now reformed minus songwriter/guitarist Martin Carr.
From its title (paying homage to John Coltrane) to its contents,
Giant Steps
was thinking big. Its ambitious production and arrangements chuck the entire kitchen sink in: 60s guitar melodicism, dub, avant-garde touches, jazz, heavier rock moments, heartbreaking balladry... the result could have been an unholy mess. But the elements balance perfectly, light and shade layered throughout, and every tune is so strong it can take any amount of buggering around with. The band's earlier shoegaze sound was very much of its time.
Giant Steps
is art, and hasn't dated a jot.
Anthemic and lovely opener I Hang Suspended is an unusually straightforward love song, with powerhouse drumming and crunchy guitar. Dub-infused epic Upon 9th and Fairchild is like the album in miniature, both lyrically and musically. Lyrical darkness ('I
t's been three weeks and three days since I last stepped put the door
'), time changes, great riffs, melancholy, and, somehow, a feeling of triumph snatched from the lips of disaster.
Wishing I Was Skinny
is the kind of summery, wistful, soaringly melodic tune that the Boos could write in their sleep - perfect pop for indie kids and a Number One in a just universe. Butterfly McQueen features ace vocal harmonies and once more makes musical complexity accessible.
Thinking of Ways is a melancholic baroque beauty, Sice's tender vocals demonstrating why he is one of the country's most underrated singers. Like Best Lose the Fear, and the gorgeous I've Lost the Reason, it tackles depression and loss of nerve with empathy and soul, the tune fracturing like the narrator's psyche.
The album also has its anthemic moments, the glorious rush of
Barney (...and Me)
all the more affecting for its lyrical ambivalence ('
I can't escape now / It has been too long
'). The more straightforwardly rocking If You Want It Take It prefigures Britpop in its unashamed ambition ('
If you want it, take it all / There's nothing cool about having to go without
').
Several tunes here take the blissed-out noisepop of the band's earlier albums and spin it off into intriguing new directions. Spun Around demonstrates their ability to make even a messy dirge sound coherent. Meanwhile, Best Lose the Fear sums up the album's lyrical preoccupations, a tug of war between fear and hope, negativity and optimism. Take the Time Around showcases the album's ability to cram umpteen melodic ideas and tempo changes into one song without it disintegrating while its killer twin-axe break is air-guitar heaven.
Lazarus
may well be the highlight of a record packed with them. Dub was everywhere in 93, and, interspersed with that rubbery mega-bassline, that bit when the horns come in makes the listener want to punch the air. Acoustically underpinned and boasting backing vocals to die for, it's one of Sice's finest performances. Even the lesser moments, like the almost-too-messy Run My Way the Runway, have an ambition few other records get near.
Closer The White Noise Revisited meshes disintegration and optimism, dissonance and beauty for one final time... and we're done. Well not quite, actually. A bonus 12-inch features two Lazarus remixes (including Saint Etienne's iconic ambient dub take), plus Bob Stanley and co's equally ace Rodney King remix and Peachy Keen from the
Giant Steps
sessions (more evidence that they could do effortlessly catchy jangle-pop, complete with -yes! - handclaps).
Vulnerable, sensitive and endlessly imaginative, Giant Steps is a glorious triumph - a soulful, very human record that achieves the perfect balance of melody and experimentation.
5/5