Interview: The Black Tambourines
The garage rock quartet chat about their recent LP Freedom and upcoming UK tour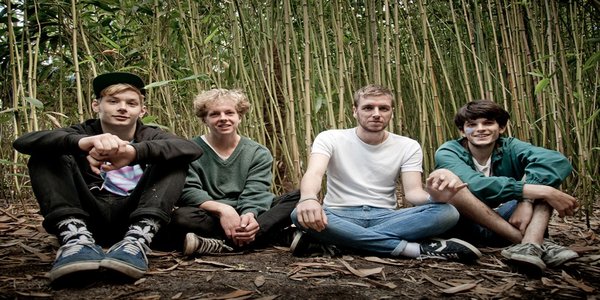 With excellent second album
Freedom
a new arrival in the record racks and a live show honed through thousands of miles logged on the gig circuit,
The Black Tambourines
followed up their 2013 eponymous debut LP with no small amount of style. While some garage rock bands' material can tumble into being micro-variations on a theme, the 'Tambourines successfully bridge the gap between indie pop, hardcore thrash-outs and classic Ramones-style melodicism.
Whipping past in just over half an hour, almost the entire set was recorded live, the quartet's on-point performances the result of a near-constant stream of gigs. Alongside a pan European trek, a well received slot at Manchester Psych Fest and a celebrated guerrilla gig at Brighton's The Great Escape Festival has spread word of the band's live firepower this year.
About to clamber aboard the van again later this week, the second half of the month is near non-stop run of shows (see dates below), culminating with a slot at the Mirrors Festival in the capital on All Hallow's Eve.
'Before the album came out is probably the least we've played for a long time but in the last three years we've been going away pretty much every weekend on tour' lead vocalist/guitarist singer Sam Stacpoole explains over the phone from his base in the band's hometown of Falmouth, Cornwall. 'We've never done huge tours, it's always been six to seven dates max in a row, we do it a lot. Most of the time we try to be doing shows'.
Formed 'in Sixth Form college', while the group's vocals undoubtedly point to their UK origin, the lion's share of the band's influences hail from across the Atlantic. 'Yeah that's fair to say' Sam replies, 'all the stuff that informs our music is mostly from the US. When we started off we listened to The Jesus and Mary Chain quite a lot, them and Sonic Youth really influenced our noisier side, The Velvet Underground were a huge influence on me and Jake (Willbourne: vocals/bass). 'We were really into Wavves when we started, when they were doing their second album (
Wavvves
2009) that was really inspirational for us. Now it's a real mix, we all listen to really different stuff, I think Josh (Spencer: guitar/vocals) pretty much exclusively listens to hip-hop'.
With Sam's recent turntable choices including DRINKS, the new project of Cate Le Bon and Tim Presley from White Fence and an exploration of the Blue Note Jazz label, his tastes have taken him further back to the groundbreaking US singer/guitarist The Originator. 'Bo Diddley, I hadn't realised that all of my favourite Kinks and Stones songs are Bo Diddley covers'. NYC jazz-pop sophisticates Steely Dan are cited as a curveball influence, a facet the current band share with superlative US alt. rockers Twin Peaks (do garage bands have a fondness for the 'Dan that writers haven't picked up on?)
'I don't go online to find music, I don't have a system to rig up a computer to speakers' Sam says of finding new bands. 'I don't know what it is but I'm more interested in listening to old stuff. I feel like if you're influenced by something that's really new you might be less likely to make something fresh. All the stuff I've been into is through friends played it to me, or there's a record shop in town, Sounds OK. We just sort of play each other's stuff and I think it kind of stems from The Velvet Underground and The Stooges and then finding out other things. We got really fascinated with American punk, there's so much of it. I think one of the biggest influences we have are The Black Lips, all of their groups and the surrounding scene, like (late US punk figurehead) Jay Reatard'.
Situated almost at the far end of the Cornish peninsula (hence the band's Facebook description as 'ocean rock') while the band's hometown Falmouth is compact (pop. 26,767) the town's music scene seems to be in rude health. A regional compilation (a clear signal that something is afoot, ie: Sub Pop's late 80s collections) that the 'Tambourines feature on has been released by their record label Easy Action under the prosaic title
Falmouth Sound Volume One
.
'There's loads and loads of bands' Sam says of the town. 'We're part of three or four bands who rent a space in a studio in Falmouth and those are the bands that are on that compilation. There's gonna be a Volume 2, 3 and 4 hopefully. There's plenty more bands, I counted the other day, there's fifteen or sixteen. Something's starting to happen, there's a new venue now and there's never really been a small purpose built venue in town. There's the Princess Pavillion which we're doing a headline show at in October with the Red Cords and Lost Dawn who are on the compilation'.
Cornwall is also home to the band's current label, the T-Rex referencing Easy Action. 'The reason
Freedom
took so long to come out we were trying to find a label, then they picked us up. I think putting out new stuff is a relatively recent thing for them they're mostly like an old rock n' roll label' Sam states. 'They're mostly a catalogue label that put out rarities and bootlegs'.
Heralded by lead single 'I Wanna Stay Away' issued last year, backed by a rehersal room filmed
video
,
Freedom
incorporates a gamut of styles into the band's garage rock template
A possible reason for the band's eclecticism is due to the presence of three songwriters. With several writers in the band, do you stick to the time-honoured tradition of 'if you wrote it, you sing it'? 'Yeah, pretty much' Sam states. 'Most of the arrangement comes together with everyone, it's not like I'll record a demo and write all the parts and say 'this is what you're doing'. It's better if it's a very basic idea of a track and then just see where it goes, cos it always ends up completely different, which is way more interesting I think. It's really important to have everyone's personalities involved in a track'.
The frantic rumble of 'Lost (John Locke)' with its '
On an island of friends
' chorus owes its inspiration to the cult US TV series. 'Josh (guitar/vocals) who wrote the song came to practice and said I've written this song and subliminally inspired by how much
Lost
I've been watching' Sam explains. That the island's resident tough guy became the title was by accident however. 'For a while when we were playing that song live in the setlist we'd just pick a different character. John Locke's just the coolest one isn't he?'
'Punk Simon', earned its moniker through 'sounding like a Paul Simon song, but a punk one', revs up the NYC icon's songwriting to Lemonheads'-pace, while 'Namaste', powered by a cylical riff derives its title from the song's refrain, of sorts. 'The chorus of the song is '
We're not the same
'' Sam explains 'but sometimes when you hear that it sounds like (Hindu greeting) Namaste, it's just stupid. Most of the names of our songs are stupid!' he laughs. 'We called one of our songs 'White Album' cos we just thought it would piss off our friends who are really into The Beatles. It doesn't sound anything like the 'White Album'. I find it really hard to name songs. I feel like it's a cop out to name it after the chorus but then I cop out by naming it after some stupid in-joke that no-one else understands!' the singer laughs.
As 'No Action' which crashes past like a caffeinated Husker Du and the classic Ramones-like sprint of 'Sister' proves, the band's tracks, courtesy of sticksman Jim Sibley hang together beautifully even at high velocity . Amazingly, as previously mentioned the entire LP bar one track was put to tape live with no overdubs. 'We a good ten days to do a bunch of takes' Sam recalls. 'All the tracks were done live except for (recent single) 'She Don't Mind' which we re-recorded.
Opting the warmth of analogue tape recording over the precision of digital, the band effectively created their own recording studio along the way, with much of the equipment sourced from eBay. 'We rented out the studio we now have and a couple of mates, one of which is in Lost Dawn, Ben Woods, him and Max Jacomb engineered the record and helped us mix it' Sam explains.
Assisted by the band ('we were always over their shoulders') the LP was the first time the band hadn't produced a record in-house. 'Everything we'd done before was on GarageBand and we self-produced everything on there with a few mics in our room or in our studio' Sam explains. 'There's no pre-production or anything that went into it, we got a bunch of new analogue stuff, we've never worked with that before. It was all Max's one of the engineers' stuff, he bought it all for the record and I subsequently bought quite a lot of it off him'.
'We got a bunch of stuff together, the studio that we rent has quite a lot of gear we were fortunate to have some really vintage good stuff. We've been adding to it, we want to get a better tape machine so the fidelity is a bit better. With an analogue mix everything goes down into a stereo file so you have to start again if you want to change something each time you mix it. I think it's my favourite way of working, even if it isn't the most convenient way'.
An example of the once-and-it's-done ethos of analogue recording was captured on the album's final track, chaotic punk rock dust up 'Ride Hard, Crash Hard'. 'For the last song on the record we did one version of it everyday that we tracked. We jam and don't really have a structure for it, so we picked at the end of it which one was the best' the singer explains. 'That's probably the most lo-fi one on the record. It's quite funny, when we mixed that track originally we went for a fade out in the jam, but when we were listening into it we were like 'That's the best one!', cos that was the best mix but we didn't like the fadeout, so we tried to sort of un-fade out the fade out! In doing that that it gets progressively more and more distorted cos you're amplifying a weaker and weaker signal, so the end of the song gets really overdriven, it's kinda cool, it fits the song'.
Away from the 'Tambourines meanwhile, the storied gear is being pressed into service to record other bands. 'Me and Ben have been working with some bands from Manchester' Sam notes. 'One called The Hipshakes and one called Proto Idiot'.
Issued immediately prior to the album meanwhile was 'Domino', an EP on the (now rare) format of 12" single and the band's biggest departure to date. Backed by a cover of ultra spooky post punk/goth classic 'A Forest' by The Cure, Second B side 'Friendship 7' is described by Sam as 'an eleven minute long improvisation, which I think is my favourite thing we've ever done. It's an instrumental wig out'.
With the final tranche of UK dates to back the LP imminent, a restlessness to begin work on the next album which hopefully lands next year is palpable. '
Freedom
's actually two years old now' Sam concludes. 'We've written a lot of songs and toured the crap out of 'em. So we wanna do a new LP and try a new way of working'.
Freedom is out now through Easy Action
The Black Tambourines tour in October:

8th – London, New Cross Inn
15th – London, The Victoria, Dalston*
16th – Brighton, Sticky Mike's Frog Bar*
21st – Exeter, The Cavern**
22nd – Bristol, The Fleece**
23rd – London, TBA
24th – Manchester, Fallow Café***
25th – Birmingham, Sunflower Lounge
30th – Falmouth, Princess Pavillion
31st – London, Hackney Round Chapel, Mirrors Festival

* supporting Peach Kelli Pop
** supporting The Ordinary Boys
*** with The Red Cords
The Black Tambourines Links