Interview: Tear Talk
Josh Miller, lead singer of Tear Talk chats about the band's new EP Ruins to Richard Lewis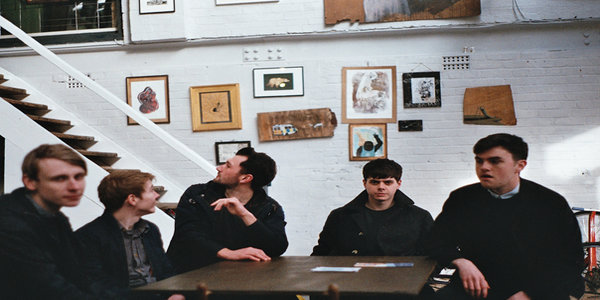 Following hot on the heels of the estimable gloom-pop of '
Realise
' Liverpool based synth powered shoegaze quintet
Tear Talk
are set to release their third EP
Ruins
next week. Showcasing a group who have created their own take in minor-key introspection, the upbeat New Order pulse of 'Decades', the elegiac title cut and the desolate closing track 'Ariel' more than back up the promise exuded by 'Realise' and 2013s acclaimed
B R E A T H E
45.
With the EP issued this coming Monday and a launch gig on the 31st at Liverpool's storied Scandinavian Church, Bearded chatted to lead singer/guitarist Josh Miller about the new collection.
Set to be released on record, the EP comes in a rare (and highly collectable) 10" vinyl format, first question then did you hope to issue the new songs like this from the outset? 'The format of the release was really important to us' Josh states. 'We wanted a physical release for the tracks, as personally I don't find digital releases particularly satisfying. I think music should be tangible, rather than just data. We also wanted the four tracks to be released together as a cohesive piece of work, in such a way that the sound quality wasn't compromised. We needed a physical format which granted us enough playing time on each side, and 10" allowed us to do all that. There was some suggestion of separating the four tracks into two 7" singles which definitely would have had its benefits, but I think it's a much more accomplished piece of work as a four track release. All that said, it's the least cost effective format to release on and I'm incredibly grateful to (record label) War Room for allowing us to do it'.
Moving away from the more indie-pop oriented sound of the band's 2012 debut EP
Port Sunlight
to a darker, more understated approach on debut single
B R E A T H E
12 months later, the band's sound seem to take a marked change in direction. As Josh explains however, the move into different pastures was a more instinctive process. 'The shift in sound was far more gradual than it seemed between the two releases' the singer says. 'We write pretty much constantly, so there are a lot of songs that were stepping stones between those sounds that have never, and probably will never see the light of day. By stripping back the sound, we wanted to create something intimate and earnest, but also something that was also more reflective of our listening habits at that time, which was primarily dark wave stuff like HTRK and Tropic of Cancer. What prompted this decision was nothing more than seeing how far we could push the sound with relatively limited resources'.
With synth textures providing the spine of the songs and the guitar work pared back, a newfound emphasis on Josh's voice throws the lyrics into clearer focus than before. How personal are the songs and are they all sung from a first person perspective, or do you ever assume a different identity for them? 'They're all very personal and song lyrics are something I've avoided talking about for that reason' Josh states. It's difficult to talk about song lyrics when you're in a band at our level without cringing. I spent a bit longer on the lyrics this time round, knowing that (producers) Joe and Danny wanted to push the vocal a bit higher in the mix. Something that's consistent between the three releases is a universal anxiety about entering adulthood' the singer notes. '
Ruins
isn't any different, in that it's about having to come to terms with the pending death of a parent far earlier than I anticipated having to, and all the guilt that comes with that'.
While Josh is the principal lyricist, songwriting duties in the band are divided up evenly between the members. 'I tend to bring an idea to Tom (drums) and Liam (guitar) and then the three of us work it into a structure and then we add the keyboards, second guitars and finally the vocal' the singer explains. 'There tends to be a few drafts before we get something that we're close to being happy with and it's at that point that we try and play it as a five piece, and that's when Luis (keyboards) and Iain (bass) make their contribution.
Although the band boast two guitarists in their ranks, blazing axe work is far from likely to appear in the group's arrangements, do you deliberately aim for a fragmentary sound with the guitars? 'Yeah it is something that we've been playing with for a while' Josh states. 'I'm a big fan of guitarists like (Birthday Party axeman) Rowland S. Howard and (Durutti Column leader) Vini Reilly whose playing styles are geared more towards contributing to the atmosphere of a song rather than showcasing their ability'.
On the subject of influences, Codeine and Red House Painters, leading lights of the 1990s US slowcore movement alongside emo band American Football have been receiving heavy rotation on the practice room stereo of late alongside 'constants like Suicide and Echo & the Bunnymen'. 'There's a lot of bands locally and nationally who I think share a similar aesthetic to us and place a similar emphasis on atmosphere' Josh says of current listening material. 'Locally MiNNETONKA and
SeaWitches
are two new bands that we really like. From elsewhere Kult Country and Blessa are two groups who are well worth anyone's time'.
A band who fired Tear Talk's imagination when the group was in its embryonic stages meanwhile were early Nineties US lo-fi trailblazers Beat Happening, whose DIY ethos inspired legions of bands in their immediate Washington State circle and continues to ripple outwards. 'I think the attitude of bands like Beat Happening will always be an influence on us' Josh says. 'It's easy to forget that when we started nobody could play a note, oddly enough this is the first release where we've used a cymbal. Which pretty much makes us sell-outs!'
The aforementioned
War Room Records
, the label established by fellow Merseysiders
By the Sea
to issue their own releases and those by like minded acts, led to two band members, keyboardist Joe Edwards and bassist Danny O' Connell handling production duties on
Ruins
. Recorded in Liverpool's legendary Parr St. Studios, the EP marked the first time the Tear Talk hadn't produced themselves. What new ideas/approaches did Joe and Danny bring to the process? 'As anyone who's listened to By the Sea already knows, their sound is much denser than ours' Josh says of the dream-pop act. 'They took our tracks and basically made them sound like theirs, and then we stripped them back. The initial demos of the four tracks that make up
Ruins
were still quite sparse but we were working towards a more textured sound. Joe and Danny caught onto this quite quickly and ran with it. They had that bit of technical know-how which we were lacking to help us create a more textured sound that still retained some of the sparseness of
B R E A T H E
'.
The band's first release through War Room, was the label's independent set-up a factor in working with them? 'It was more important to us that Joe and Danny got something in return for the work that they had done on the record, and when the opportunity to start War Room presented itself, we thought it would be ideal' Josh says. 'We were really happy to be on the same label as two bands that shared a similar aesthetic to ourselves in By the Sea and MiNNETONKA. I think a label like War Room has been lacking in Liverpool for some time and it has the potential to make a big impression both locally and nationally, so we're obviously very excited to be a part of it'.
A final question then, intriguingly you mentioned in an interview last year that the band is still using the same cheap instruments that you bought when the group started over three years ago, is this still the case? 'We've picked up a new keyboard or two along the way, and Tom broke the bank with his three cymbals but otherwise it's still the same bits of tat' Josh states self-deprecatingly. 'I still haven't bought a tuning pedal, so tuning live has taken a back seat these last few years. If the mood takes me, I may get hold of one for the launch show. I wouldn't count on it though'.
Ruins is issued by War Room Records on 19th January
EP launch gig (w/Death at Sea and Kingsley Chapman) takes place at the Scandinavian Church, Liverpool on Sat 31st January