Interview: Sleep Party People
Sleep Party People A.K.A Brian Batz prepares for his September UK tour with new album, Floating, and chats to Ian Stanley about rabbit masks, synthesized voices and getting inspired through boredom on a remote Swedish island.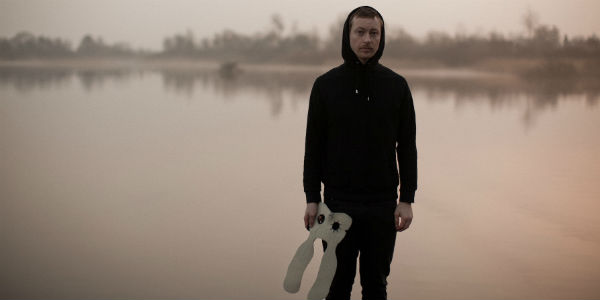 Brian Batz finds it difficult to describe his own music, but settles on "a dreamy and noisy touch, but it's still really heart-felt and warm and kind." It's a fair assessment of the music he has delivered on his latest album,
Floating
(streamed
here
), and much of the sounds that came before it. With a UK tour in September, it's the vibe that people will be hoping for.
It's been an excellent couple of years for
Sleep Party People
. Batz's project has risen from the obscurity of a quiet island off the coast of Sweden called Bornholm, which Batz refers to as "a pretty boring place to live (don't get me wrong... this island is REALLY beautiful)" to travelling the world hidden behind rabbit masks and creating a distinctive siren-like sound. Possibly the best-known of SPP's tracks is 'I'm not Human at all' and it's that sound which sums up the band for many.
This next album is a progression for Batz, but not just one of music. It's one of confidence. As
Bearded
asked him about his sound, his instruments, his dedication and those rabbit masks, it became apparent that this tour will be just as much of a death dance as before, but with the confidence to take off the mask and take Sleep Party People to a new level.
Bearded: Is it true that you wore the rabbit mask due to shyness, or did it just start out as that and now it's something different?
SPP: Yeah that's true, but I also did it because I wanted the visual outcome to be different from any other project I've been involved in.
How would you describe your music?
It's a dreamy and noisy touch, but it's still really heart-felt and warm and kind. So difficult to describe my own music – but this is a shot though
Do you feel it helps to be playing with an ever changing arrangement of people?
I don't know if you refer to the change of people in my band, but yeah it can be helping and inspiring, but I totally prefer to have the same members in the live setup. Make things easier and the setup I prefer also include my very best friends, which is a win/win.
Do you feel it's an important part of making an SPP record to synthesize your voice, or the voices that you use?
I thought it was important on the first album and then I turned the fx vocal a bit down on the second album and on this new album it's not present - or almost not. But yeah, in the beginning it meant a lot to me and I needed the vocal to sound different and weird. You could say that I needed this, because I wasn't comfortable using my clean vocal. But it felt natural for me to use it and to manipulate with the sounds on the album.
When starting making a record do you have a place or a situation in mind you are creating the music for?
I don't need it but I prefer being in inspiring surroundings, but most of the time I write stuff in my apartment or in the studio in Copenhagen, which are places I feel comfortable working in. But when that's said I think certain environments can give you a certain way of writing songs and especially working on lyrics. But the most important thing is to be safe, calm and comfortable.
Do you feel the surroundings you grew up in (Bornholm) influenced the music you listened to and then made?
Yeah I think so. I think being from Bornholm, which a small and cosy island south of Sweden made me think differently on creating music. You have all the time in the world here, because it's actually a pretty boring place to live (don't get me wrong... this island is REALLY beautiful), so if you're a creative person like me, you'll find these surroundings inspiring and calm. While I was a teenager a lot of my friends met and got drunk. I preferred to make and work on music with my friends who were musically talented.
Do you feel that electronic sounds are taking a bigger, more important role in today's music?
Yes. A lot of music is created on a computer using midi-interface and plug-ins, which is actually fine by me. People are allowed to use whatever makes them creative, but I prefer to blend the organic and electronic world. I often use midi-instruments as well, such Arturia. When I've recorded the part and I'm satisfied with the sound I often re-amp the part by running it through my guitar amp. That gives it an even more unique sound. I love that and I could not imagine only using cold midi-plug-ins. I love the warmth in a sound. I need that. But I'm not the one who writes music for the radio or tv-shows, my thing is to explore soundscapes and that's the thing I absolutely love. I'm not a pop producer. But I see good things in everything, even if it's midi, analog or naturalistic sounds from the nature. It's all good!
How long have you been making music for?
Since I was 13. Had my first band from the age of 14. it was called Elysium and it sounded like shit
What was the first electronic instrument you had, and which one is your favourite/most used now?
I think it was some sort of Casiotone keyboard. I used it by running it through my guitar pedals. Loved it! I also used the Yamaha DX7 a lot. Great keyboard, which is still one of my favourites. But my personally all-time favourite is the Crumar Multiman Stringer. It sounds enormous and gigantic. From something out of
Low
by David Bowie and Brian Eno. Yummy.
Where next for SPP after the release of Floating, touring and new albums?
I'll tour Europe this September, October and November and hopefully Asia next year. I'm currently working on new material at my parents' house on Bornholm. Really nice to be writing new songs here. First time in twelve years. Hopefully I'll be recorded the new material in San Francisco again. Loved working together with Mikael Johnston and Jeff Saltzman on the latest album. A collaboration I highly appreciate. These guys are GREAT!
..........
Tour Dates
24th Sep - Hoxton Square Bar & Kitchen, London UK
26th Sep - The Exchange, Bristol UK
25th Sep - Gullivers, Manchester UK
27th Sep - The Haunt, Brighton UK