Interview: Saint Agnes
London rock n' roll crew chat about their influences, drawing from the blues, Motown and Spaghetti Westerns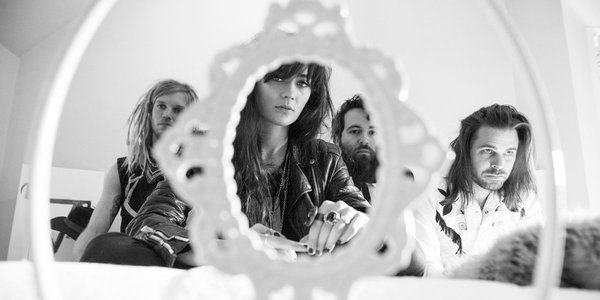 Taking their name from Agnes of Rome, the Patron Saint of Chastity, usually depicted in Renaissance Art with a lamb (the band claim to derived the name via a 'Ouija board', mind) London-based quartet
Saint Agnes
create commanding gothic-tinged, blues powered rock n' roll.
Currently engaged on an impressively wide-ranging UK wide trek (see dates below), The Witching Hour Tour showcases a band who aren't satisfied with just playing the obvious towns and cities, cramming almost two dozen gigs into the itinerary, including ten consecutive dates and a show aptly enough in St. Agnes, Cornwall. Given the impressive distance covered has getting out on the road always been important to you? 'We fucking love playing gigs. It says something about the state of the music industry if you have to ask why a band want to play lots of shows' singer/guitarist/keys player Kitty Arabella Austen says. In addition to which there might be a further, more prosaic reason for the extended road haul. 'And we fucked up a T shirt order so now got loads of merch to shift!'
Tapping into a vein of rock n' roll that draws strongly from its blues antecedents (Stones, Doors, Stooges, Gun Club, Jack White in the present day), Saint Agnes walk on track is a blues standard John the Revelator, recorded by innumerable artists including treasured influence Son House. Citing Sister Rosetta Tharpe and Jimi Hendrix as further blues influences, the genre's sound and approach is integral to the group. 'Blues music is right at the heart of what we do as it's a form of music that is as much about the feeling you put into the music as the notes you choose to play' singer/guitarist Jon Tufnell explains. 'We're not the kind of musicians who get much from overly complex arrangements, what excites us is the vibe, atmosphere and attitude you feel from the musician playing the music. That's the spirit of blues and it runs through all we do'.
Possessing a wardrobe that outdoes the stock of most vintage shops, 'We share a lot of our clothes so it's hard to remember who picked up what from where, but London is generally pretty good for finding groovy garments', identity is paramount to them. Sonically and visually the quartet take inspiration from celluloid. 'Sound-wise we take a lot from Western films, particularly anything soundtracked by Ennio Morricone. In terms of look,
The Love Witch
(
trailer
) an indie film written and directed by Anna Biller. It has a strong 1960s B-movie, horror aesthetic with the most incredible clothes and make up. Biller's dedication to ensuring the tiniest detail of the film fit with her created world, by doing pretty much everything herself, costume and sets etc, is a real inspiration for control freaks like us'.
Bringing a new perspective to a classic track, Kitty's world-weary vocals on the band's excellent cover of Roadhouse Blues (
video
) are reminiscent of Mazzy Star chanteuese Hope Sandoval. What singers do you regard as influences? 'Mazzy Star are wonderful' Kitty replies. 'My dad used to play me old Billie Holiday recordings and a lot of sixties Motown music. Ronnie Spector has an incredible shout to her voice. In the last few years I've just been trying to be Iggy Pop which I hope comes across in our new music.
A big part of the band's swaggering sound, the harmonica, an instrument fundamental to blues including band influence Sonny Boy Williamson. An instrument sadly overlooked by many groups in the current age, the blues harp is played with demonic ferocity by Jon on the lion's share of the quartet's tracks, including storming 45 Merry Mother of God Go Round (
video
). What prompted you to incorporate it into your sound? 'I always loved the sound of harmonica, but usually when you see someone playing it live it's pretty safe' the singer/guitarist explains. 'I wanted to hear someone play it the way someone like (Nick Cave sideman) Warren Ellis might, with more of a chaotic approach to it'.
To conclude then, once the tour has concluded do you have any plans to release an EP or LP later this year? 'If you want to hear new songs, come and see us live' is the cryptic reply. 'That's all we can divulge right now...'
Saint Agnes The Witching Hour Tour dates:

5th - The Cellar - Oxford
6th - Purple Turtle - Reading
7th - The Moon Club - Cardiff
8th - The Underground - Plymouth
9th - Driftwood Spars - St. Agnes
10th March - The Forum Basement @ The Sussex Arms - Tunbridge Wells

April:
5th - Heartbreakers - Southampton
6th - Hope & Ruin - Brighton
8th - The Lexington – London
Tickets are available here