Interview: Other Lives
Other Lives have recently toured the US with Bon Iver. Shortly before playing London's Shepherd's Bush Empire, the band's multi-instrumentalist and engineer Jonathon Mooney told Bearded about the making of the band's new album Tamer Animals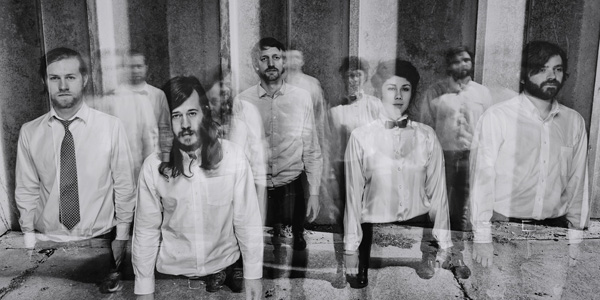 Like their fellow Oklahomans the Flaming Lips,
Other Lives
think big. When frontman and songwriter Jesse Tabish began planning the band's second album (they also had an earlier incarnation as Kunek), he was determined to get it exactly how he wanted it.
The remoteness of Jesse's home town of Stillwater meant there were few distractions, and the cost of living is cheap enough for Jesse to spend a couple of hours a day teaching guitar, and the rest writing, arranging and recording at the band's downtown studio with bandmate and engineer Jonathon Mooney.
After a year of intensive work, the two felt ready to present their work to the rest of the band as a whole. When
Tamer Animals
was finally released on Play It Again Sam, it was a cohesive whole featuring subtle yet expansive orchestration, and a range of non-rock'n'roll influences from spaghetti westerns to Philip Glass and Steve Reich. Now they had to find a way of playing it live...
Bearded spoke about the record with band member and engineer Jonathon Mooney – who helped shape its sound, and contributes guitar, violin, French horn, trumpet, keys and percussion to
Tamer Animals
.
Bearded: Congratulations on creating such a lush, timeless record. It feels very cinematic: these songs could soundtrack a Western. Is that the influence of your local environment coming out - living in big sky country, among the wide open spaces?
Jonathon: The landscape we grew up in has definitely had an impact on our music. It's easy to get away from distractions and get work done.
B: What were your aims when you started making the record – sonically and lyrically - and what, if any, were your reference points?
J: The record was really a recording project. We knew that the sound we wanted on the record wasn't going to be attained by a band playing in a room together so we recorded one instrument at a time, layer by layer. We pretty much knew what instruments we wanted to be in it, and just as important, what instruments we didn't want to be in it. To us the music comes first but lyrics are important too. On this record we wanted the lyrics to be observational: observations of landscapes, historical events, nature, among other things.
B: How would you say the new album differs from the band's debut?
J: This record is a big departure from our debut. I think because of the way it was made, it ended up much larger in scale. We're proud of our debut record, but we never want to repeat ourselves and we wanted the choice of instrumentation to be based on what we felt belonged in the track, and not based on what instruments we actually play.
B: Sonically, Tamer Animals seems like a pretty ambitious album. What are your hopes for it? Did you consciously think: 'this could be our breakthrough record'?
J: That thought didn't really come to mind. It was a selfish record more than anything - one we've been wanting to make for a while now. Several years ago Jesse and I would talk about a record without any limitations instrumentally, one where we didn't have to think in terms of the instruments we played.
B: We live in an age where some people have been talking of the 'death of the album' – shuffle culture, illegal downloads, album sales down etc. But this feels very much like a coherent body of work that deserves to be heard as a whole. Any thoughts?
J: First of all, that's one of the best compliments anyone could give us. Yes it's true, making a good record is less profitable these days because of technology, but for us it has made it equally more enjoyable to make. We loved going to our own studio everyday for over a year and making this record, and it's because of technology we were able to do that. Not too long ago you had to pay an exorbitant amount of money to go to a studio and record a record in a matter of days or weeks. There's no way we could have made this record in a few weeks in someone else's studio.
B: There seems a wistful, romantic, melancholy feel to the album. It feels pre-rock'n'roll, in terms of attitude. Do you feel a kinship with the likes of Fleet Foxes and Midlake? It seems like all three of you are tapping into some older, pre-industrialisation, memory of pioneer America. Its folk memory…
Jonathon: In some ways, yes, I agree. Some of the record has historical themes but there are some modern ones as well.
B: You've been quoted praising the minimalism of [post-war American composers] Philip Glass and Steve Reich… what appeals to you about their music? And how does their influence come though in your arrangements?
J: We've always loved classical music and in the last few years we've been listening to a lot more modern composers. We really admire the instrumental techniques composers like Glass and Reich use. Before we would think of arrangements in terms of good melody and harmony, on several songs on this record we tried to think of arrangements in terms of larger sound comprised of several layered instruments playing simpler, sometimes faster melodies.
B: Having recorded this album in such a focused, time-intensive way, would you like to produce the next one in the same manner – or are you tempted to go the other way, and do a really off-the-cuff, spontaneous record?
Jonathon: It's hard to say for certain but we definitely like having the freedom of doing it on our own. We like having control over every aspect from the writing to the recording. Both are a big part of the creative process for us.
B: Tamer Animals is an ambitious, sweeping, expansive album. When playing live, how do you manage to replicate its rich, layered sound?
J: Well we stay very busy on stage for starters. It was hard at first to think about how we were going to play the record live - we hadn't played any of the songs in the room by the time the record was finished! In order to pull it off we had to pick up a few more instruments.
B: Us Londoners seem to have a soft spot for American bands, and I hear your recent gigs at London's Lexington and the Hoxton Bar & Kitchen, and the Green Man and End of the Road festivals, went down well. How did you find British audiences?
J: We loved playing in the UK. We didn't know what to expect at first but the audiences have been very receptive, it makes us want to keep coming back. We can't wait to play the UK again.