Interview: Nick Power & Andrew Taylor
Nick Power of The Coral and poet / lecturer Andrew Taylor chat about their new poetry collection Lowdeine Chronicles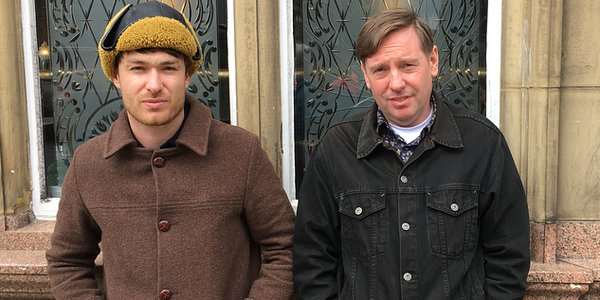 'I just assume everyone gets my references, but I'm not sure they do' Nick Power ruminates sipping tea in the basement of The Casa Pub, Liverpool. 'I had my wisdom teeth out and I'd broken one of my ribs so they gave me Tramadol and I discovered
Low
by David Bowie. I got obsessed with this thing of when you're convalescing, I have this weird in-between space, like a furlough. I've never had such clarity in my life when I'm ill and everything stops, concrete things in your life pop up again. The feeling of your body righting itself is quite a strong thing'.
Lowdeine Chronicles
, the new poetry collection by Wirral born writers, The Coral keyboardist
Nick Power
and poet, critic and lecturer
Andrew Taylor
surely ranks as one of the most intriguing projects to come out of a convalescence period. The pair, leaning heavily on codeine-based painkillers following operations for dentistry and appendicitis respectively, wrote a series of pieces influenced by the half-sleeping, half-waking state they found themselves in, soundtracked by the 1977 Bowie LP.
Wrapped in a orange cover redolent of the LP's colour palette replete with a diagram of codeine's chemical compound,
Lowdeine
's seventy pieces are a dream-like evocation of European Travel, recovery, half-remembered television programmes, people-watching, the Wirral Penninsula and a rich selection of writers and musicians. The world seen through a soft gauzy filter, the collection lives up to the musician's description as 'a dream tapestry'. A potted history if one is necessary for one of the most influential albums ever released,
Low
was spawned from the rejected soundtrack to the Bowie-starring
The Man Who Fell to Earth
(1976). The most experimental work in a convention-defying career, particularly its entirely instrumental second side, it the marked the beginning of A New Career In A New Town for the singer and the first chapter of the groundbreaking 'Berlin Trilogy'.
Andrew, lecturer at Nottingham Trent University and former Poet Laureate for the Liverpool Anglican Cathedral, takes up the story. 'Nick said 'Get
Low
, especially Side 2'. It was an album I knew the standout tracks from. So in between watching football and my mates coming round, I put Side 2 of
Low
on and pressed repeat, repeat, repeat. I'd text him and say this is fucking unbelievable, it's like it was written for this state, this event! Martin Stannard, who's an imminent poet who also lives in Nottingham came round after I got better said 'It's strange not to see you in your dressing gown shuffling around!''
Given that the pieces were written separately, how did you first come into contact with each other? 'It's cos I published him' Andrew explains. 'Nick sent us some poems, we both liked them, me and the co-editor Alan Corkish (of Erbacce Press). We approached him to say we really like these can we do a pamphlet? Then he sent more and we said, 'Fuck this, let's do a book'". I was still living on the Wirral then in West Kirkby, round the corner really and we started meeting. Talking about the book and the ideas with a publisher's hat on, and that's how it started then,
Small Town Chase
was such a success, I said have you got anything else and he said 'Yeah', He had all this writing, stowed away and we said 'Let's work on it together', that was it really".
Something that becomes immediately apparent is the rapport that exists between the pair, which goes a long way to explaining why their poems are so in simpatico. When did you realise you had such a good writing partnership? 'It was when we first met up really' Nick says. 'When we physically met' Andrew nods. 'Everybody knows each other online, they don't face to face. He came round to ours when we were shutting the house down before we were moving. I was getting rid of some books and gave them to him. These distant relationships between writers, publishers and editors, you don't know what people are like face to face' 'It makes a huge difference' Nick agrees. 'Especially when you like the same things artistically as well.' 'Yeah, that's key' Andrew adds. 'We needed up chatting about music as much as did about poetry'. 'It's not just the poetry and the writing that made us gel as people. It's being from the same place and music as well. Culture of the area. Throw all that into the mix and it was quite easy to become 'real life' friends'.
While The Coral man's ailment was excruciatingly painful, the lecturer's bordered on near fatal. 'It was appendicitis, they took it out, it was about to burst and kill me' the poet says with disarming cheerfulness. 'I was basically recuperating and texting Nick about the recovery since I'd been in hospital and was on these massive doses of codeine and he was saying 'Oh that's great, you get to chill out!' and then the World Cup (he estimates he watched '58 out of 63 games') was on so it was my whole life from last June through to September when we stopped it'.
'It's a closed-off day, it's got nothing to do with the world outside or reality' Nick says. Some of the pieces are about getting better, some of it is the good side, same the bad and about convalescing, getting better, your state of mind, the NHS, it's all in there. It's pros, cons, observations, thoughts about it, dreams. I was on the maximum amount of it, every time I shut my eyes I had a weird hallucination, it was kind of comforting, it was all benign".
Following on from his previous work,
Into the Void
, a tour diary of The Coral, several pieces in the present volume are inspired by touring with the group. Alongside 'One Day Stopover / Berlin', 'Bad Art' which stems from 'doing some press in Kreuzberg, that's word for word what happened that day', includes a bizarre story about Elvis Presley going looking for a fight after a show in Vegas with Alice Cooper in tow.
Notable among several of Nick's poems, '
Sister Morphine
', 'Jackie Corkhill Immaculate', 'Mass #XXIV', 'The Halo Kid', 'The Healing', is a religious thread, particularly Catholicism. 'I wasn't raised Catholic, but a lot of people around me were, I do like the sort of references, especially boxing clubs and correction schools, that sort of thing. I like all the boxing writers, for some reason that really ties in with Catholicism for me, I don't know why. Boxing is still massive in Liverpool and Birkenhead. Paying homage to Welsh pugilist Joe Calzaghe in 'The Halo Kid', 'Game Plan' quotes legendary boxing trainer Cus D'Amato 'Motion is the enemy of anxiety' 'I heard Mike Tyson say that, Tyson was his last project before he died. He trained three heavyweight champions. I thought I really need to get that quote in'.
'Jackie Corkhill was such a massive part of my youth' Nick explains of the character from the long defunct Liverpool-set soap
Brookside
. 'When you're in those kind of fever states, that's the kind of shit I'd hallucinate, Jackie Corkhill as a nun!' I still see Jimmy Corkhill (
Brookie
's longest serving character played by Dean Sullivan). 'I always see him in Waterstones. He's got quite good taste in books I think' he notes approvingly.
Places recognisable to Wirral residents, Gorsey Lane, Bidston Moss, the M53, Morton Spur, the site of Champion Spark Plugs UK base are imbued with a sense of otherworldliness. Places where factories and major retail outlets, abandoned works and docks collide with fields and streams, the pieces share kinship with
Edgelands
, the seminal work by Paul Farley and Michael Symmons Roberts. Bidston Moss, a near impassable place in the 19th century which was the site of a huge tip up until the 1990s now houses a wildlife refuge.
'I always like the thing of being high up and looking over the docks and the gasworks in Wirral. I always go round there. The disused Mersey Tunnel Entrance, there's Vyner Croft (manor house), Bidston Observatory, the North End (of Birkenhead) and (world famous shipyard) Cammell Laird. I think if there's an imaginary epicentre of what I did, it'd be the North End. It's like a ghost town now, there's something amazing about it. The industry's kinda half clinging on. The shipbuilding's still going, I'd be heartbroken if that went'. Everyone knows about the docks of Liverpool' The Coral co-founder says of the town's more famous neighbour. 'I love it round there, I do loads of writing there and in (revitalised seaside resort) New Brighton'.
'People were asking if I was addicted and I said 'No, there's a dependency', cos it's doing it's job' Andrew says of his time being prescribed codeine. 'It kills the pain, it makes you feel alright and it makes you able to do stuff like this as well' the poet states. 'I think everyone gets a golden two months and if you get further into it that's when the trouble starts'.
'We've spoken about this and I don't think it's a pro-drug book, it's an observation book. And I think the long poem that I wrote 'In Praise of Codeine' (after Thomas A. Clark) is not actually in praise of codeine, it's one element of it. It's saying it's this, but it's also
that
. I'm grateful to it. Clark's a long standing, arguably minimalist poet who wrote 'In Praise Of Walking' so what I did was ape the layout, stanzas and breaks. So I mapped it, it's basically the layout of his poem but I changed things. To me that's a statement almost as much as the little blurb on the back, cos it encapsulates what both of us felt about it at the time and getting the poems together'.
'
Low
was certainly the catalyst, but then it opened out Nick was saying 'You need to play this' plus I've always had this interest in Krautrock'. 'It needs a soundtrack in the way a film needs a soundtrack' the keyboardist suggests. 'It was arguably the best collaboration I've done. I've worked with other artists and poets, but this was like nothing else' Andrew enthuses. 'It was hard to finish wasn't it?' 'It was, yeah. It was easy to do it, but it was hard to put a full stop to it' Nick agrees. 'The very nature of it was addictive in itself'.
'It would've been like
this
!' Andrew states, indicating a book two inches thick if the project had continued. 'When we were getting the manuscript over and handing it to Alan, there are kind of lost B-sides if you like cos maybe they were too repetitive or there was a stronger poem to fit in. The mode of editing was me sending one and Nick saying 'That's brilliant, that's a real keeper'. The final poem was a very early one 'Morphine Prayer' and I said, 'That's got to go at the end, that's a final statement'.
The way the collection was pieced together, with poems sent back and forth and the importance of the running order makes the writing process sound very similar to making an album. 'It was like constructing an album really, it kind of is, but more so on this' Nick nods. 'It was a true collaboration' Andrew agrees. 'We were talking about dividing the poems up and then we decided to keep them as they are, like a dream tapestry' Nick explains. 'That was kind of deliberate when we were putting the manuscript together, when we got the copies sent through, I gave a copy to my wife and she read it and she's say 'This is definitely one of yours' and there were a couple of times I sent a text saying 'I couldn't remember whether they were mine or not!'
'All the prose-y bits, they're all mine, so I knew those' Andrew states. 'I was registering the book with ISBN the other day and you have to put authors and it wouldn't let me at first, then I realised I'd put down Andrew Power and Nick Taylor, and I thought, actually that's more like it you know! I've collaborated before, but I've never collaborated on anything as remotely rewarding as this. That's not to say the others weren't, but this was very much shared experience. And it was happening in unreal time over that summer'. Nick's other hat obviously, being a musician came into it and my interest in music from the 1960s to 1980s, all those things we never would have imagined, as it literally just me sending him a poem' Andrew says. 'After a few exchanges it was like 'This sounds like a book to me, it was as simple as that'.
Featuring vignettes of European travel, the recollections stem from life on the road with The Coral and Andrew's trips across the Continent to his home in France and beyond. 'Transience is the friend of imagination' Nick says. 'When you're on the move you're in another suspended kind of state, you're in the world but you're not at the same time'. 'Gare Montparnasse' (after Georges Perec) underlines the slightly out of body atmosphere of travelling. 'Perec, was a member of the Oulipo group in Paris, a slightly surreal group and he famously wrote a novel without the letter E in it' (
La Disparition
(1969) translated into
A Void
(1995)) Andrew explains.
'I was in Paris last summer and he'd done a piece where he observed a certain corner of Paris and noted down everything that was happening. I was in Montparnasse Station going back to our house in Southern France. I thought 'I'm gonna sit here and observe before we get on the train'. I think the train was five past seven and I was feeling rough in a lot of pain. I took some painkillers, sat down and literally wrote everything that happened in the little waiting room within that timeframe, 18:33 – 18:59 as it is, in the same manner as Perec. It was slightly surreal cos you're watching it in that kind of, you're there, but you're not quite there'.
As the above example highlights, the writers, musicians and locations mentioned spark off other avenues to venture down. 'It lends a deeper reading' Andrew states. 'It's weird how literature, art, music and certainly poetry for me, opens up other doors and I think this book that kind of combination. Thomas A. Clark's in there, Kerouac's in there, obviously he's much more famous. They're not put in deliberately to say, 'We know these people and you don't'. It's an invite'.
'It's not an elitist thing' Nick concurs. 'I always like books with slang in that I don't understand, you've got more entry into the secret world then and that's what all art's about for me. Entering a secret world that's not available, but when you're in it becomes illuminating, because you're earned the right to be in it'.
Confessions of An English Opium-Eater
by Thomas De Quincy, when I was 16 in Hype Studios Mick Head (leader of legendary Liverpool band Shack) recommended it to me. He has loads of references in his songs like that'.
A facet of
Lowdeine
is the poem's structures, which are presented in scores of different formats, including a recently minted one. ''In 'Roam the Epic Shores' there's a sequence where its three sets of 280 characters across two pages' Andrew notes. 'The little prose bits I wrote are 280, the length of a Tweet. So that is actually a form. There's an overlapping project where I've written 280 sets of 280s since November 2017.
Lowdeine
took over, so a lot of the 280s are in here. It's a form, it's not metre, it's not iambic pentameter or tetrameter or any of those technical things. The adage 'You've got to know the rules to break them', which fits with art and music, you're gonna have listened to a shitload of music before you make your own. I could write a sonnet in iambic pentameter, if I put my mind to it quite easily. You can break away from form and sometimes the best poetry is an amalgamation of form'.
Continuing the theme of evoking a certain place and time,
Low
, famously evoked a city that was falling into decay as Berlin struggled through the 1970s. 'Berlin back then was not a happening place' Andrew states, comparing the city to the desirable locale it is today. 'Bowie went there to escape. He wandered round, he went back to how he was. That album is so indicative of East and West, you flip it over and Side 2 is the East'.
Christiane F
the highly controversial autobiography of the teenaged Bowie fan who slipped into severe drug addiction in the 1970s provides a celluloid snapshot of the era. Filmed in 1981 with a soundtrack constructed around tracks from Bowie's Berlin period, the movie features the singer in a
concert scene
.
'Bowie called the albums (
Low
,
"Heroes"
,
Lodger
) the 'Berlin Triptych', he accepted it was a linked series of things, but he accepted the moniker, cos why not stick some myth on to it?' Andrew suggests. 'It's taken from being immersed in that liminal zone that Bowie was. It's an album that's associated with Berlin, yet most of it was recorded in a chateau outside of Paris'. The making of the album is covered in 'Profil Aromatique' 'It's the name of the coffee I was drinking in France' Andrew remembers. 'It's about Bowie leaving the chateau and going to Paris and Eno started Warszawa while he was away. He came back and Eno said 'I've got this' and Bowie had bought this weird African instrumental album of voices and that's where he got the idea for the vocal. It's so atmospheric, it's got this wailing voice that comes from nowhere. Then imagine listening to that completely tuned into it fifty times a day for eight weeks!' he marvels, recalling his and Nick's recuperation period, prompting raucous laughter.
With the singer a huge presence throughout
Lowdeine Chronicles
, a story concerning a near-miss meeting with the former Mr. Jones in Liverpool in the early 1990s seems an ideal way to conclude proceedings. 'Bowie was in (side project band) Tin Machine at the time and a mate of mine ran a pro audio company' Andrew explains.'They hired in a DAT machine (then cutting-edge tape recorder) and he said 'I can't be arsed going, do you wanna go down and deliver this DAT machine to the Royal Court?' So we turned up and handed it over. They weren't really my thing Tin Machine but they were fucking brilliant, musically. At the end of the show we went to get the DAT machine which had been taken backstage. I remember the stage door for the Royal Court goes straight onto the street and I turned and Bowie had walked straight past me, it was ghost-like...' 'Like how he was in
Twin Peaks
?' Nick offers. 'Er, yeah… very much so!' Andrew laughs.
Lowdeine Chronicles is out now via Erbacce Press, available here
Nick Power & Andrew Taylor Links