Interview: Maps & Atlases
Alex Yau catches up with Maps & Atlases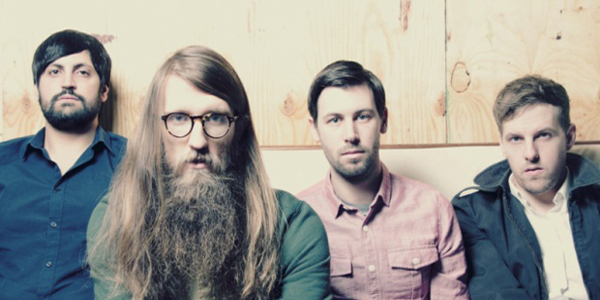 We're invited into the dressing room of Chicago's
Maps & Atlases
to chat with half of them – vocalist Dave Davison and bassist Shiraz Dada. They've only been in Manchester a couple hours and although the comfy couches we're sat on are lit by a hue of warm amber lighting, the journey to the city hasn't been as relaxing. Shiraz says:
"I was held hostage by a child on the airplane. The child in front of me screaming and touching me."
The band's full-length debut
Perch Patchwork
was a complex machine known for its intricate guitars and 'math-rock' rhythms developed from previous EPs, but it was also a diverse and accessible recording. The four-piece have just released their second full-length EP
Beware and Be Grateful
and, despite many critics assuming the band have spent countless hours creating the record, Dave and Shiraz stress it was quite an easy process. Dave explains:
"We don't think we took an especially long time to complete it. It was lot more leisurely and we spent more time on our previous album."
Shiraz adds:
"I find it funny how people thought we put a lot of time into it. We did little bursts here and there but it was pretty quick."
This time round, the band focused more on improvisation and the freedom to have fun with the record. Dave explains:
"I think we've really evolved as a band. We've really gotten into improvisation and that's one of the aspects we wanted to incorporate on this album. It was the looseness and we wanted the freedom to have fun. It wasn't as meticulous as our previous releases. We did take a good amount of time but it was just really fun."
Maps & Atlases are always constantly evolving, desiring something different with each subsequent release. Having layered their previous album with strings, flutes, woodwinds and a variety of instruments, the focus this time was less on volume and more on how the band was using their instrumentation. Dave explains this process:
"With this album it was more about manipulating our instruments and it was definitely a learning process for sure. We kind of wanted to be different from the beginning, we never really used many effects or anything and we're really experimented here."
Has this always been the plan from the beginning? "The mind-set of the band in general is just to continue to grow and challenge ourselves. That was something we set to do at the beginning, especially more so than any other release. We wanted to expand the context of what we could do as a band and challenge how our band either challenges a guitar solo, or does this and that." Would it be worth carrying on as a band if you didn't constantly change then?
"It we weren't discovering new processes, it wouldn't be worthwhile to record new music. We wanted people to hopefully enjoy and find our music meaningful and that's been the common thread between our releases. I have no idea what we'll do next but I'm sure it'll have the best intentions. That path will reveal itself as the course of the album looms."
I ask Dave and Shiraz whether the album been difficult to translate into a live setting.
"The last album was a process of making an album without regards to practicality or regards to how it was going to translate live. The transition to how it exists in a live setting is part of the challenge but it is fun and it helps us transition and grow as musicians. We haven't really played the album too much but we're figuring it out and I'm excited to see it progress. It's exciting for songs to feel really new and it's also exciting to let them click where they take on this new life in the live sphere."
Shiraz adds:
"We're starting to develop this mind set and go for it in every sense, regardless of what people might say."
Has the band lost anything through the transitional process? The answer seems to be no. Many have pointed out that whilst
Beware and Be Grateful
has carried on their penchant for complex music, it's their catchiest collection of 'pop' tracks to date. I ask the band what they think of this. Dave responds: "We've bonded over experimental music at art school but from the beginning we've been conscious of the fact that we grew up as fans of pop music and stuff on the radio. We wanted to make music that exists in that way and is fun and enjoyable. The common thread between everything we've done is that they're ambitious but meaningful and enjoyable and we want to push these ideas together." The final question then is whether they believe they've achieved that on
Beware and Be Grateful. "We've found we've been achieving this more. People who never knew our band or found our music was too outside of their tastes have listened to this album and said: 'Oh, I can get into this.' We wanted to make music that didn't go over heads but is ambitious. 'Beware and Be Grateful' was the closest to achieving that."