Interview: Lay Llamas
Ben Wood interviews the Lay Llamas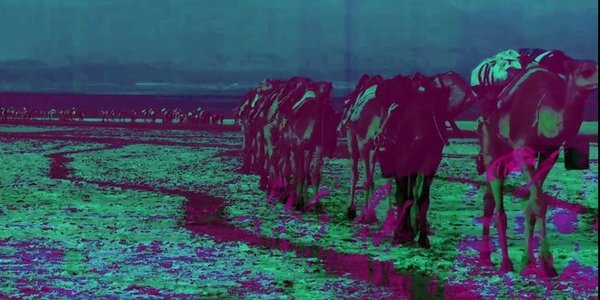 Like labelmates Goat, Italy's
Lay Llamas
combine spacey grooves, Afro-futurism and a nice line in self-mythologising. Currently touring the UK in support of the mysterious Swedes/Sicilian duo Nicola Gunta (founder, live bassist) and Goiele Valenti (lyricist, singer) discuss debut album
Ostro
and their intriguing stew of influences.
The Lay Llamas love a good yarn. They claim to be space travellers from a Nigerian tribe, dedicated to the search for a higher consciousness. But anyone expecting their spacey krautrock grooves to originate from a band of addled longhairs are in for a shock. In person, the band's Sicilian founder and bassist
Nicola Gunta
and lyricist and frontman
Gioele Valenti
are young, fresh-faced, charming and enthusiastic - a long way from anyone's stereotype of a psychedelic outfit.
Nicola explains that the band's fondness for pagan, magical, ritualistic imagery isn't a po-faced statement but an attempt to synthesise all their favourite influences into an entertaining whole: "We aren't talking about real history or ethnomusicology, but creating an imaginary world. It's not very original maybe but we try to create a new version from the ideas that inspired bands like Funkadelic - mixing African cultures, electronic music and space travel."
The band's music has been described as a 'big patchwork of weirdness'. Their influences include library music and shoegaze, as well as psychedelia, krautrock, American minimalist composers like La Monte Young and more modern acts such as Animal Collective. Some of the chords and organ sounds are influenced by Spacemen 3, while Nicola mentions "another big influence - a [Seattle] band called the Master Musicians of Bukkake".
"We have no frontier!", says Gioele, admitting: "The sound of
Ostro
is not something we planned. It just came..." The band are very influenced by a sense of place, and recorded
Ostro
in an old house in the Segesta countryside of Sicily, alongside the ancient Greek temple of Hera, which was built in the 6th century BC. He says: "We feel a real connection with our Sicilian roots. Both of us are very interested in it - particularly the pre-Christian era - pagan, in a very open sense... it's something to do with a deep sense of time." Nicola enthuses: "Everything smells very ancient there, it creates a real atmosphere. We recorded
Ostro
, in front of these big stones - they say nothing but you can feel all these years of history, of different people - Arabic people, French, Greek, Spanish, Roman... it's like the stones talk to you and say 'you are only a person but you must make a new version of that history...' A very important message from the stones!"
The album's title was inspired by a dream Nicola had where "a weird guy I'd never seen before says to me: 'Your album title will be OSTRO!'. It soon transpired that it's a wind that blows straight from Africa to the Mediterranean sea, north towards Sicily." The word seemed to sum up his fascination with the area's unique mix of cultural and historical influences. Nicola explains: "Sicily is between Europe and Africa. It's by the sea, so you have travel, trade, different cultural influences... [inspired and made possible by] the flow of the sea." He continues: "I think the countries of the Mediterranean have their own atmosphere, which is different again from much of Africa. Spain, Morocco, Tunisia, Italy, Greece - it's like a little continent of its own. There's a real mix of cultures."
The steady grooves and flowing soundscapes of
Ostro
are open to interpretation, rather than a deliberate attempt to deliver a certain message, says Nicola: "In every artistic work, the artist can't predict how the listener will perceive it. Making this album, I was very keen on repetition. Quite often in a track there's one note, one rhythm... but with musical colouration around it, that the listener can grab hold of. When you repeat a sound enough, it can change the listener's consciousness... take them out of the ordinary world and into a trance..."
On the other hand, Gioele's short, mantra-like lyrics prevent
Ostro
being completely open-ended. Nicola says: "Gioele's lyrics are almost like a mantra, giving instructions to the listener, guiding them. Explaining the trip. 'We are to go there... come with us...' Without them. maybe the music would be totally open to every direction. They give the album more focus."
Speaking of focus, Nicola wants to clear up one common misconception: "I'm saying this for my mum, I don't take drugs! It's a bit if a cliche that people have to take drugs to either make or listen to this sort of music. I don't think so... our brains are very powerful and we can imagine anything. The music is consciousness-changing in itself."
In recent times, there has been a whole wave of bands influenced by psychedelia and krautrock. Nicola wonders if "there are too many people playing this kind of stuff at the moment." He suggests that "if you take something really cool from the past, you need to do something new with it. If not, it's just a revival." Gioele describes The Lay Llamas' approach as "a sort of pastiche taking from lots of different influences to create a totally imaginary scenario." Nicola says the band's multilayered music is largely escapist, without a wider political or cultural agenda: "It's to do with expressing something with the different influences I have in my mind. Nothing more... It's cool if you get something different, and deep, apart from the music, but it's not my plan!"
Gioele feels an affinity with the UK's pagan monuments, and would love to play at Stonehenge one day. But for now, The Shacklewell Arms will have to do, and the band plays a blinder (read the
review
). The grooves build and build; Gioele is every inch the charismatic frontman; and band mastermind Nicola is transported, lost in the music. Next stop, the stars...