Interview: Jordie Lane
The Nashville based Aussie singer songwriter chats about his collaboration with producer Clare Reynolds on new album Glassellland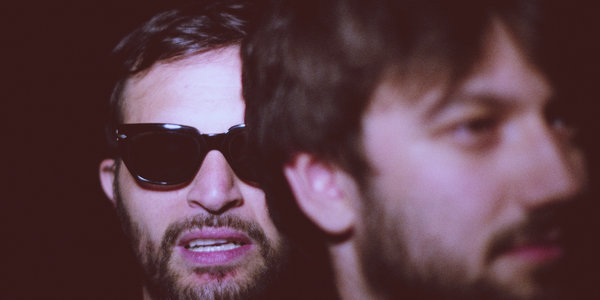 One of the most unspoken relationships in the music industry is that of the musician and their producer. Sure you get the greats, those who work with artists and bands to hone their sound, building artistry by subtly drawing out their unique sound. Nuance, understanding and power. For some it can be the most important thing, assisting the creation of their own communication with the outside world. It can be an intense relationship, drawn out over decades, or over in the blink of a furious eye. It is seemingly a love story of battered emotions, long blisses, and everything in-between.
So when a romantic pairing becomes a recording partnership, the double edge of intimacy can maximize that creative output, times a thousand. With
Jordie Lane
and Clare Reynolds, the fruition of their combined passions is one
Glassellland
, a dreamy, voluptuous record ready for your delectation. So called because of its roots in the suburban Glassell Park, Los Angeles, the record is shaped not only by their delicious desire to find the fantastic in the everyday. It is also built in the pursuit of dreams. Tapping into the American spirit, with a bevvy of musical influences, whilst learning about the entire process of creating an album. All in the comfort of their own home! With a definitive collaboration of skill, and labour of love, "the album was made the way it was supposed to be made", Reynolds states when discussing the album:
"When you're touring you don't get to plant your feet on the floor as a person… When we found this place we didn't even know we were recording an album, it just started. It was like being in a studio where we live and cook and sleep was part of finding the realness that had to occur, rather than finding a fancy studio."
So lets back up a little. It's been 7 years since the release of Lane's album
Blood Thinner
, for which huge accolades and a ferocious touring schedule had him leading a nomadic life. Reynolds had her own busy career as a singer/songwriter. She also ran a song writing night in Brisbane, to which Lane was invited along to perform. They struck up a friendship, writing and singing together, eventually coming to perform in the hit theatrical production
Grievous Angel: The Legend of Gram Parsons
as Emmylou Harris and Gram Parsons.
Their organic arrival on the doorstep of love lead to years touring together, moving to L.A, and setting the scene for the record. The "studihome" rented In Glassell Park; a warehouse loft conversion kitchen that had just the right set-up, and a shed a few blocks down. Finding these nooks formed the baseline of the records timbre. Moving from Australia to L.A, both found a difficulty in settling completely, as you might expect. Lane confides; "Its taken longer than a lot of other cities we have stayed in. It's a kind of tough love situation. You love it more because you had to work hard to work it out."
The process of recording the album really pushed things forward, using their private spaces to record and arrange every piece of the record. In "going back to school" with their art, they have managed to create spaces and resonances that go deeper than previously delved.
"Clare and I have a new understanding of creating musical harmony… and all of that became part of the song writing rather than an acoustic guitar and a voice leading the band. Sometimes a drumbeat or a keyboard or an ambient sound came before that. It's a different way of song writing."
You can hear this within the short 'Interlude 31', which features an ice-cream truck tune right from Glassell Park itself. In the very first track, 'Symmetry' simmering with tentative keys and slow strummed strings, the stretched audio underneath slowly reverbing to a halt as the track ends. It is the playful twists that set out the store of what's to come. It speaks of a Lane we know, raw reference to obsessive behavior, told with the maturity and grace of a life well lived, breathing new life into familiar spaces.
This dual relationship, the shared skills they acquired, added to their intimacy as musicians. Both were comfortable with each other's roles. As Lane says; "The real genius of Clare being the producer is she encourages me to try and tame my fears. I get scared when we press record". Within this relaxed approach to making music, Lane would work from 6pm to 6am, when he felt at his best to "use all the energy out there", whilst Reynolds 'day-owl' approach would have her heading off to the studios in the day, coming home to work on the record together until 2am. Here, they were alone on their creative island, choosing not to share their explorations with anyone else, until the finished record emerged.
Reynolds muses on the process "'We didn't think about what anyone else would think. It was more than just making an album, which we have done before. Doing this together, and coming from quite different musical backgrounds... all of those elements start to come in because we weren't thinking it we were just feeling it. So there is this merging of all the things we love. I could see there was a lot of sides to his music that weren't being explored… my skill is helping artists find themselves, and be their best selves. Jordie is great at performing and entertaining and writing songs. Our skills actually helped each other". Within this nurturing environment, the realms of what they could create opened up. The full extent of this can really be heard in 'America Wont You Make My Dreams Come True'. It is both a mascot to their exploration of the American Dream, and a testament to how far off the map they can go. It showcases the intertwining of their vocals, and the diversity found within the record. Emerging with the swirling cacophonous sounds that dreamily engulf the vocals, it perfectly captures the dizzying heights you can strive for.
This is a track they feel "sums up a lot of the album". As Reynolds explains; "we both came here to literally make our dreams come true… its been really hard and really amazing experience. Through it you do learn all the good and bad things about a place… It's sung with irony but at the same time it has made our dream come true because the dream changes as you live in a place, now I don't see Hollywood as somewhere that will sweep you up and make your dreams come true, you make the dream that you want because you live it and you want it."
Having recently made the move to the calmer setting of Nashville, Lane muses over the track, and its meaning. 'This song now, more than ever, has a lot of weight and meaning to us. We wrote [it] from a place of sincerity. Our hopes and desires for this place, not from a place of sarcasm like some might think. The overwhelming belief that anything is possible is one of the fundamental elements that I think makes the American people so resilient in times of hardship. But with everything going on here over the last few years, there is a little sense irony that creeps into this song, considering so many people continue to arrive hoping that America will bring them safety and solace. There was this internet troll who replied to an Instagram post of mine that said: "make your own dreams come true!"… Maybe he does have a point? "
The track 'Dreaming The Life', which explored the moving realms of what it means to 'make it'. This number wouldn't be out of place on the soundtrack of a seventies road movie, alive as it is with low slung riffs and choral lilts. 'Better Not Go Outside' has a touch of Bob Dylan about it, sung with wit and wise words centered around all those things you should be afraid of, if you're not doing them right! The harmonica is a nice touch, one that doesn't feature too heavily on the record. 'Black Diamond' has this in spades however, along with a good injection of the tall tales we all know and love from Lane's back catalogue. This one? Why it's the tale of a Miner and a hooker's ghost.
Any avid listener will find that the record is also a deeply personal one. Lane himself stresses "It's all about our personal struggles and relationships". The first single plucked from the record 'Frederick Steele McNeil Fergusson' explores the idea of family history and received guilt. The solid pace picked by the track ends in a shimmer of keys, uncovering a weakness beneath the strong silence of the protagonist. Perhaps the most personal is 'Rambling Mind', the record's ending, which perfectly vignettes Lane and Reynolds' bond, as Lane sings "
she knows the way I think, how does she squeeze all the truth from my drink
." It's a beautiful and raw track, soulfully haunting with Reynolds beautiful operatic strains throughout. "No tricks, just her beautiful voice", as Lane puts it. It captures the subtleties of a love that simultaneously quickens the heartbeat, as it soothes. Still, Lane muses, "we can't help our environment in America creep in to the songs… It's an interesting time to be an outsider observing." The USA has a special place in their hearts, but the track 'A Piece Of Land' captures many different facets of love for two homes divided by as much water as cultural difference, and the magic in finding this.
So here we are, through exploration and reshaping of musical ideologies and new skills, this record has shaped its own private continent. The spaces and soundscapes of
Glassellland
exist completely within this record, born from the best values of Lane and Reynolds collective home with a deep understanding of their own and each other's creative processes. Finding the magic in finding your own space, the madness and joy in everyday if you seek it. Striving for your own dreams, and the satisfaction in all of this. Reynold's is at her eloquent best when she notes; "you make the dream that you want because you live it and you want it… it's not always pretty but it is what you want, or it's not what you want so you change it." Here's to evolution, with a hint of revolution.
Glassellland is out now through Blood Thinner Records