Interview: Husky
Clementine Lloyd chats to up and coming Australian band Husky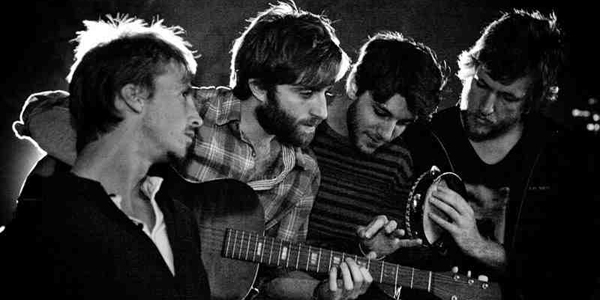 Back in 2011,
Bearded
ventured to Australia to place an eager finger on the pulse of Melbourne's vast music scene. Being lucky enough to catch a
Husky
gig totally by accident, the love affair has continued to this very day. With their arrival to our beloved shores, an interview with lead singer and namesake Husky Gawenda was impossible to turn down! Naturally we hightailed it down to Kentish Town ahead of their first London tour date to discuss the Debut Album, touring and female facial hair.
Bearded: Forever So is out on the 28th May in the UK. Has it been well received?
I haven't seen many reviews, perhaps a few online things, but it all seems positive so far. It came out last year in Australia [where] we had across the board good reviews. It's always a bit scary with your first record. The important thing is that people like it, not necessarily that the reviewers like it. We were lucky though; the people who reviewed it [in Australia] were the people who liked it.
B: Well you went from recording the whole thing in your back garden didn't you?
Yeah. I was living in a house in Northcote at the time. It was a really big dilapidated but charming house with a huge back garden and a rickety bungalow in the garden. That was our control room. We ran all the cables through the garden into the house and used the house as tracking rooms. Then Gideon [Preiss – keyboardist] and I took the roughs over to LA to see Noah [Georgeson].
B: So the record was mixed in Los Angeles by Noah Georgeson. How did you guys meet?
It was sort of coincidental. We were looking for someone to mix the record and were speaking to a lot of different people, locally and overseas. His agent recommended him. We researched him and found all these great records that he had worked on and loved his sound. So we got in touch and sent him the songs we'd recorded and he was really interested in mixing the record. I had one conversation with him, we spoke for an hour, and basically just talked about the music we liked and the styles, and production and mixing we liked… I think you can tell sometimes straight away with a person that you are on the same level and how we work. As soon as we arrived in LA we hit it off as people, Gideon, him and I. It was a really smooth process mixing the record.
B: Within the record itself, the lyrics appear to be quite dark, but the tunes that accompany it are light and airy. Is this a conscious atmospheric creation?
I don't know how intentional those things are, they kind of just happen on their own… I probably wouldn't use the work 'dark' personally, but that doesn't mean they're not. Everyone has their own interpretation and perception of them, and if yours is that they're dark, that's totally legit. I think there is a kind of melancholy to them and nostalgia definitely, and sometimes some darkness too.
B: The character 'Josephine' pops up a fair bit, is that a real person or an abstract?
Yeah, Josephine is a person, but it's also a concept. It sort of represents something. When Josephine pops up its not necessarily literally related to a person I know. The fact that [she] pops up throughout the album, more represents a theme that runs through.
B: Where did you get the inspiration from the song on your album 'Fake Moustache'?
I always thought that one day fake moustaches on girls would become fashionable… The first line of that song came out of nowhere, so I wrote it down, the rhythm of the guitar almost clashes with the rhythm of the melody. It's a weird song, it ended up being just about a weird girl I know.
B: You won Triple J Unearthed in Australia in 2011. Have you noticed a big change in your lives since this event?
It was definitely an instigator of a lot of things that followed. In Australia [the radio station] Triple J is very influential, so it really has the power to take and unknown band and expose bands to a lot of people. So before we won that we were totally unknown. We recorded the album so we finished it but I don't think anybody knew us. We had a tiny following from playing live around Melbourne and Victoria, but not really around the country and certainly not outside Australia… we won with our song 'History's Door' which we had uploaded a day or two before. Then it got added to rotation and played a lot. It was a really good response to that song.
B: Was that the catalyst for starting a UK tour?
It was definitely something we wanted to do anyway. We are releasing the album here, and so we wanted to tour, but it helps to have [Triple J] and also Sub Pop, who also helped with the release over here.
B: Did you enjoy playing the Great Escape festival?
Brighton is beautiful and it's a cool city. It seems quite arty. There are things about it that remind me of parts of Melbourne. We had a good time, about a month or two ago we did SXSW, and that was a lot more hectic. As a band it was quite challenging in a lot of ways. The Great Escape wasn't so much like that, it was relaxed and not as crowded. We had a really good time.
B: What is the best and worst thing about touring?
The best thing is obvious, playing shows. That's what makes it worthwhile. No matter how tired you are, how sick you are of sitting in a tour bus or on a flight, or sleeping in a hotel room with three other "grown" men, once you get to the show… it makes it worthwhile. When there are people there to hear you and see you it's the best thing in the world.
B: Are there plans for a new album on the horizon?
Yeah. Nothing has been recorded yet, but I've been writing a lot. I think when we get home we will be home for about a month, so we will start demo-ing some new stuff. We are hoping for a new record next year. Definitely next year.