Interview: Hafdis Huld
She's a superstar in Iceland yet more of a cult concern over here. But as long as Hafdis Huld can carry on charming us with her homespun folksy pop, she's not remotely bothered…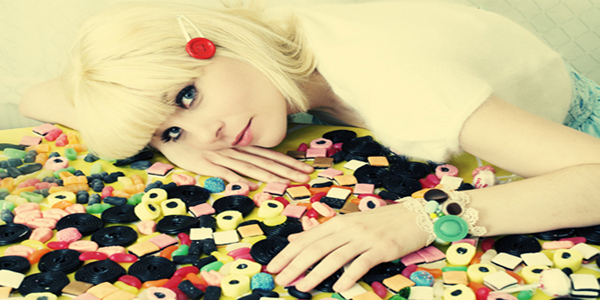 Crammed into a corner of the world's smallest dressing room, Hafdis Huld is slightly frazzled after a nightmare journey across strike-hit London. But despite her tiredness she is on good form, and very much as she is on-stage – bubbly and enthusiastic, with a fondness for going off on a tangent.
Snatching a few minutes backstage at the Borderline after soundchecking for the night's gig, Hafdis has the confidence of a seasoned performer. After spending much of her teens singing with Icelandic techno collective
GusGus
, she took time out to find her own style, collaborating with the likes of
FC Kahuna, Tricky
and conceptual hip-hoppers
Deltron 3030
, as well as starring in several Icelandic films.
Collaborating with Tricky on his
Knowle West Boy
album was a lot of fun, with Mr Thaws belying his fearsome reputation: "I thought he was lovely… we got on very well. He didn't seem like a scary guy at all. He's quite a colourful character but I see that as a plus – it's more interesting. And he says I sound like Jesus – that has to be good!"
It's a pretty varied CV, she admits: "I tried out quite a lot of things. When I joined GusGus I was 15 years old. I travelled the world, we released albums and I learned a lot from it. I left the band before my 20th birthday and I soon realised that if I was to put a band together it probably wouldn't sound like that."
Hafdis continues: "After GusGus, so many people said 'we thought we'd get a dance album from you'… I still enjoy dance music. But if I'm doing something as Hafdis, then Hafdis is in charge. There's going to be banjo, acoustic guitars, harmonies… 'cos after taking time off I realised that's what I really enjoyed. I wanted more space for words, more people playing instruments."
Hafdis has divided her time between London and Iceland in the last few years, graduating from the London School of Contemporary Music with distinction in 2006; and last year she followed her debut album
Dirty Paper Cup
with
Synchronised Swimmers
. The latter was co-produced by boyfriend Alisdair Wright, who also co-wrote the majority of the songs on the album, and played many of the instruments. Both albums have produced Icelandic Number Ones, and Switzerland loves her too.
However, she says, "As long as people come to the gigs and enjoy it, then it doesn't really matter how big the venue is. It's all about the atmosphere… some of the most brilliant gigs can be not in the biggest venues… I play national holidays… in Iceland to several thousand then it's quite strange to come to England and play to a few people in a small candlelit café. If I play Kongulo in Iceland [her tribute to French 'Spiderman' climber Alain Robert] I do the rock star thing [mimes holding mike into crowd, stadium-style] and they sing the song to me. If I did that at the Borderline, they'd be like 'the mike's supposed to be the other way around!' Hopefully one day I'll play to thousands here one day!"
Hafdis seems utterly at home on-stage, joking with the crowd and explaining the stories behind her songs: "I don't get nervous, I just really enjoy it… there's a room full of people that have come to listen to my songs and my stories, and that's quite an honour… When I go to gigs, I really enjoy it when people take the time to explain what the song is about. Then you pick up on all sorts of little things in the lyrics that you wouldn't if you had no idea what the back-story is… If I was quiet on stage, people would think 'she's a bit off tonight!'"
The singer reckons record companies have given up trying to mould her into a cookie-cutter pop star: "I used to get that when I first went solo and was working on my first album. Now people have just accepted: 'well, we're not going to change that one'! You're never going to please everybody. If you're true to who you are, at least the fans you have will be real fans. If you put on a character, and pretend to like something and you're stuck with that…. Who wants that? I'm always like this… it doesn't matter if you meet me in Tesco's in the queue or my gig – that's honest."
This insistence on emotional honesty, and her fondness for blogging, has won Hafdis some seriously dedicated fans. She says: "It's flattering. I live in the countryside in Iceland… and I'm growing potatoes and beetroot and doing video blogs of things that have nothing to do with music. People who follow my music are interested in the stories, and I sing about my life, so they follow that. I get people asking: 'is your dog's foot better?' because my puppy stepped on something and hurt his foot... I like it. For music like mine, it helps if my listeners feel like they know me. My music's about my life… and they're interested in what I get up to."
As for musical influences, Hafdis says: "I've always struggled with this question…I used to sing a lot with my mum, harmonies… Icelandic folk songs mostly… She's not a singer, she's a teacher, and drives trucks sometimes."
She muses: "I think other people never know quite who to compare me to. People say Bjork because she's Icelandic and we have the same accent... She's amazing and she's a megastar – of course you're going to compare me to the only Icelandic singer most people have heard of. But I think our music and vocal styles are incredibly different… although I admire her I don't think I sound like her at all. And I heard Cerys Matthews on the radio and I said 'that's who I'm supposed to sound like? She sounds nice but she doesn't sound like me…'"
After four more UK gigs, Hafdis plans to spend December writing for the next album (which she is looking forward to, as "I've been singing these songs for a while now"), before touring Belgium, Holland and the US. She is determined to release the new one in Iceland before everywhere else: "The first album came out first here and then in Iceland; and a lot of people were not happy with that, because I'm Icelandic!"
Then our time is up. There's another crowd to win over – but for this magnetic performer it shouldn't be hard…