Interview: Gulf
The Liverpool alt. pop unit chat about their future plans, plus a stream of new track Out Here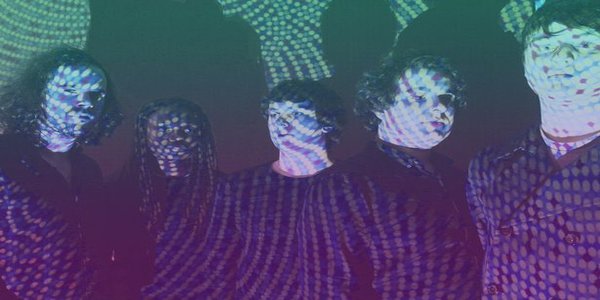 With a string of increasingly excellent cuts regularly appearing on their Soundcloud page and an impressive live show to boot Merseyside quintet
Gulf
have been picking up a score of laudatory notices for their expansive alt pop. Fresh from a superb support slot for fellow Liverpool band Outfit at their album launch at The Kazimier (
review
) and with a set of festival appearances imminent, the group have issued swooning new track Out Here (see below).
Comprising of Mark Jones, lead vocals/synth/guitar, Femi Fadero guitar/backing vocals, Thomas Murray, guitar/backing vocals, Jake Brown, bass and Joshua Gorman, drums, while the five piece have been tagged as psychedelic, the group's tracks have a pronounced dancefloor element to them. An obvious enquiry to begin with then, who are the band's influences? 'The answer almost always depends on the day of the week the question is asked really' Femi says. 'Michael Jackson, Chic, Earth Wind and Fire, Daft Punk and (Swedish psych rockers) Dungen. Our influences aren't really defined by genre, but the artistry of the musicians and the impact they've had on us as individuals'.
Citing the totemic likes of
Thriller
and US funk pioneer George Benson's
Give Me the Night
as recent practice room stereo staples
Multi-Love
by Unknown Mortal Orchestra is also selected alongside
Picture You Staring
by Canadian synth pop crew TOPS who Gulf recently supported.
A bit of prosaic question, what inspired the band name? 'It actually took us a while to settle on a name' Femi states. 'I remember we had a rule to only go for four letter words. We picked a name then found out that another band had already got it, with an 's' on the end. So we went back to the drawing board, went round and round and finally found Gulf; which by definition is a bigger version of the original name we found. So it all worked out in the end in some weird and cyclic manner'.
Powered by the exemplary engine room of bassist Jake and sticksman Joshua, the pair propel the group's sleek psych-pop forwards with consummate style. Has this dancefloor element always present in Gulf's sound? 'We write songs that make people want to dance, nothing beats being on stage and playing in front of a dancing crowd' Femi states. 'We played at SWN Festival in Cardiff and had quite a few people throwing beautiful shapes, the others tapped their feet and bopped their heads too. Witnessing all-out dancing is the perfect answer to the ever so important question 'Are they into it?''. The short answer is: Jake and Josh just love making people dance'.
With a three guitar line up, Gulf's tracks are awash with shimmering textures, with none of the players merely doubling up the same guitar lines or sonically tripping over each other. 'The general response to people finding out about our tri-guitar sound is often surprise, and I really don't understand it. It really isn't as complicated as it seems' Femi ruminates. 'The parts just tend to fall into place, I generally avoid using conventional chords when writing so I guess that kinda makes it easier to end up with parts that complement each other well or fill missing gaps. Tom, Mark and I take up our own groovy little spaces in the Gulf club sandwich. Plus we're all fully aware of where we all sit in the grand scheme, so it's quite easy not to step on each other's guitar toes. Three guitarists isn't that rare is it? the axeman ponders. 'Radiohead? Lynyrd Skynyrd?'
Possibly the highlight of the band's compact set at present, the propulsive rush of
Emitter
is a standout moment. What inspired the track and the memorable title? 'In one of its early incarnations, this song had the grooviest middle section I think we've ever written. The drums were super steady and the bassline pulsed and the guitars chopped and danced around them beautifully' Femi recalls. 'If an image could define the section it would be one of those radio towers with visualized airwaves rhythmically emitting from them' (cf:
legendary 1930s Hollywood film studio RKO)
. The name stuck but the section didn't, I'm sure we'll find it a loving home some day'.
Mark and I just sit down and bounce ideas back and forth' Femi says of the lyric writing process. 'For example I'll write a verse and show it to Mark, then he'll pick it apart, add to it or remove the unnecessary bits which would automatically broaden the scope of the song because it makes sense from two points of view. Finding the space between our combined perspectives is usually how we approach lyrics, they're influenced by our lives, our experiences and the things we observe in others and ourselves'.
While Gulf's tracks have been the recipients of positive press in print and in the blogosphere, the group's identity is slightly obscured in their photo shoots and videos. Was it a deliberate move to retain a cryptic status? 'It really wasn't a planned aesthetic' Femi says. 'Besides music we are creative people so finding an image to go with the music was never about 'What clothes can we wear?' or 'What's the perfect backdrop for the way we sound?' it was instantly 'What can we create to compliment this song?' which Mark has been pretty good at doing'
Having a low-key approach also discourages people from any pre-conceived notions of how the band may sound. 'It's quite easy to look at a band and make a judgement on them before hearing a single note' the guitarist explains. 'So on that level I guess when people first heard us, that was quite literally all they could do and they made their impressions solely on the music'.
Transferring their tracks to the stage with spot on accuracy, the band's richly nuanced material loses nothing in translation. How difficult is it to re-create your studio sound live? 'We practice a lot, so we've never really had to work on getting tight' Femi says. 'Because we're all on the same page I guess that this helps the transition. We're also pretty hands on with our recording sessions so recreating the sounds that took ridiculous amounts of time to craft isn't too hard'.
Slowly releasing their music one cut at a time into the public domain, Gulf's Soundcloud page at present features a clutch of tracks, is any new material imminent? 'We've been keeping quite busy writing and recording new songs that should be ready relatively soon. Ocean came out not too long ago and Out Here was the latest release' the guitarist states. 'We've had a few more sessions since then, it's all about adding to the collection right now and writing as much as possible. Our lives at this point can be reduced to writing, gigging and recording; which we're very happy with'.
Leading on from which is an EP or an LP in the pipeline anytime soon? 'We actually haven't had any time to think about it. Unfortunately the small breaks we have have not been filled with thoughts about an official release' Femi explains. 'They've been used for eating to stay alive so we can write, gig and record. We're pretty sure that when the time came though, we'd have a strong collection of songs to pick from'.
Gulf play live:
19th July, Latitude Festival – Suffolk
23rd – Sun 26th July Secret Garden Party – Huntingdon
25th July, Tramlines Festival – Sheffield
1st October, The Waiting Room – London